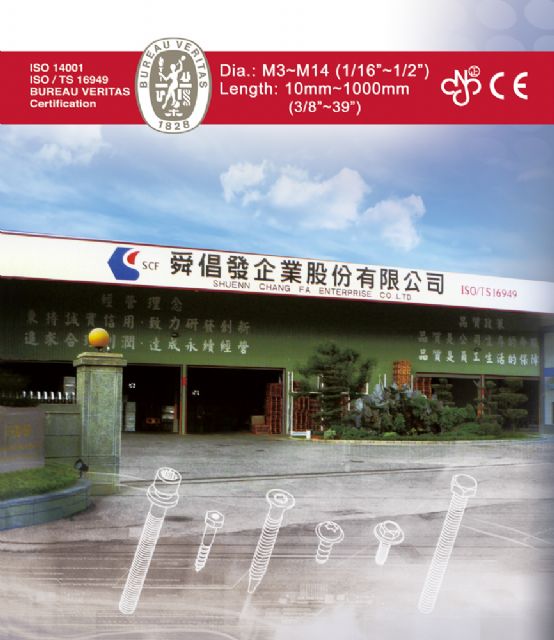 SCF can produce various fasteners with an outside diameter ranging from M3 to M12 and length from 9mm to 400mm (photo courtesy of SCF).
Since its establishment in 1984, Shuenn Chang Fa Enterprise Co. (SCF), Ltd. has specialized in making and developing special fasteners and automotive fasteners with high quality and added-value. Presently, the company is certified by ISO/TS-16949 and ISO14001, with products mostly passing CE certification.
Obviously a quality-driven manufacturer, SCF has spared no efforts on improving quality systems applied in-house, and paid strong attention to every detail of day-to-day operations, from material procurement and tooling to production, on-spot checking and pre-delivery inspection. Meanwhile, SCF continues procuring advanced production equipment, including specialty machines, to strengthen its production capability and efficiency, as well as state-of-the-art quality inspection instruments. Doing so, the company has been well renowned as a trustworthy supplier who assures customers of the best quality.
Undaunted by the increasingly intensifying global competition, SCF focuses on quality and safety, coupled with reasonable prices, to continuously explore the segment for automotive fasteners, with an aim to build long-term partnerships with professional buyers from all corners of the world and achieve sustainable development.
For detailed information on SCF, please visit the website: www.scffastener.com, or dial 886-7-633-1456.