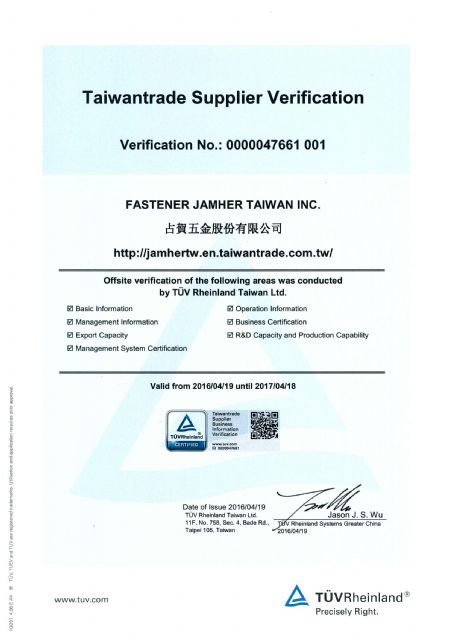 Fastener Jamher is a supplier verified by TUV Rheinland Taiwan Ltd. (photo courtesy of Fastener Jamher).
Established in 1999, Fastener Jamher Taiwan Inc. is an experienced fastener marker, with a modern factory spread over 6,600 square meters and nearly 100 employees on the island.
Possessing strong R&D and manufacturing skills, Fastener Jamher capably supplies a variety of fasteners for automotive customers, and applies different materials, such as carbon steel, stainless steel, copper, aluminum, 8640 and 8740 steel and A286 steel alloy, in production depending on customers' requirements. The firm is able to roll out fasteners, mainly automotive fasteners, in size ranging from M3 to M20, #6 to 3/4", and length from 3mm to 80mm.
Committed to punctual delivery and consistent quality, Fastener Jamher has built a large base of loyal customers from Europe, the U.S. and Japan.
While focusing on division of work in the organization, Fastener Jamher also asks every of its workers in daily operations to stick to standard operation procedures it established, as well as ISO/TS16949 standards, so as to make sure the quality of its automotive fasteners can measure up to requirements by carmakers.
As to production, the firm employs a full line of multi-step nut formers in house, which obviate the need for secondary processing of formed nuts, along with the tapping machines the maker designs and develops on its own, which can prevent abnormal operations caused by human errors from occurring to greatly lower defect rates.
For more information, please check the website: www.cens.com/jamher, or dial 886-6-249-4699.