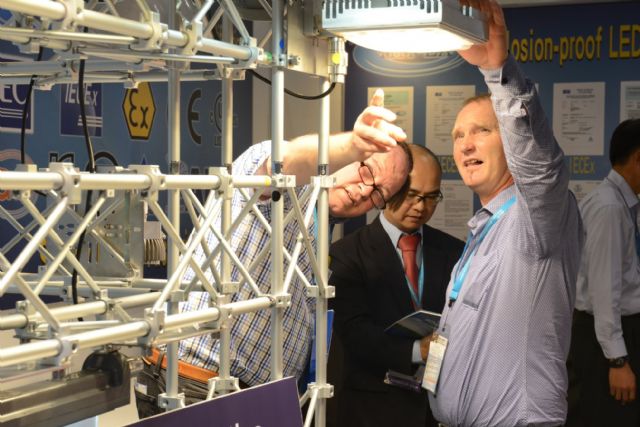 HKTDC Hong Kong Int'l Lighting Fair (Autumn Edition) 2016 is going to take place October 27-30, to remain the world's most successful trade fair of its kind (photo courtesy of HKTDC).
Generate more power for your business with the newest styles and the latest technology at the region's leading trade fair for lighting products. With more than 2,550 quality exhibitors from all over the world expected at HKTDC Hong Kong International Lighting Fair (Autumn Edition) 2016, 27-30 Oct, buyers will be spoilt for choice. More than 38,000 buyers from 138 countries and regions visited the 2015 fair.
The fair's downtown location, Hong Kong Convention and Exhibition Centre (HKCEC) in Wan Chai, places buyers in the heart of Hong Kong's bustling commercial and entertainment district. 
 

Illuminating the Possibilities
With so much on offer, buyers will appreciate the thematic zones which optimise sourcing, including
LED & Green Lighting Zone
,
Hall of Aurora
,
Commercial Lighting Zone
,
Smart Lighting & Solutions Zone
,
Household Lighting
,
Avenue of Inspiration
and etc.
More Value in Concurrent Events
Lighting for outdoor spaces and very specific industrial or commercial situations requires its own trading platform. HKTDC established this by hosting a well-received event, the World of Outdoor Lighting & Lighting Accessories in 2015, and has now refined and expanded the concept to present the first edition of
HKTDC Hong Kong International Outdoor and Tech Light Expo
in 2016.  
The Outdoor and Tech Light Expo's venue, AsiaWorld-Expo (AWE), is home to the concurrent HKTDC Hong Kong International Building and Hardware Fair 2016 so buyers, such as town planners, developers, architects, landscape artists, specialist retailers and hardware chains, can find complementary products under one roof.
Themed for Buyer Convenience
The Outdoor and Tech Light Expo covers a wide range of lighting products and accessories for commercial/ industrial use, categorised for efficient sourcing.
Outdoor Lighting
encompasses lighting for public spaces such as lamp poles, street lights and tunnel lights, as well as commercial lighting such as underwater lamps, garden and lawn lights. Buyers can find underground lights, floodlights, bulkhead lights, halogen lamps and track lights as well as flashlights and lanterns. 
Lighting Accessories, Parts and Components
 covers products such as ballast, drivers, fluorescent light fixtures, lamp holders, bases and lamp shades, dimmers, reflectors, switches and transformers.
Professional and Industrial Lighting
houses exhibitors of situation-specific lighting, for example, for warehouses, workshops, laboratories, or even for event venues, studios and theatres.
Advertising Lighting
includes any lighting related to marketing, promotion and advertising such as signage and billboard lights.
Join In for Maximum Value
Seminars and forums offer buyers updated information on the latest standards and regulations and the newest breakthroughs in lighting technology. Networking events, too, give buyers more value by creating the opportunity to meet industry peers in a social situation.
HKTDC offers exclusive incentive for first-time overseas buyers. 
For enquiries, please contact Ms Veronique yeung at tel: (852) 2240 4235, or email: hklighting.visitor@hktdc.org
Fairs Details:
HKTDC Hong Kong International Lighting Fair (Autumn Edition) 2016
27-30 October 2016
Hong Kong Convention and Exhibition Centre
Admission: For trade visitors aged 18 or above only
(Admission fee: HK$100 per person)
HKTDC Hong Kong International Outdoor and Tech Light Expo 2016
26-29 October 2016
AsiaWorld-Expo, Hong Kong
Admission: For trade visitors aged 18 or above only