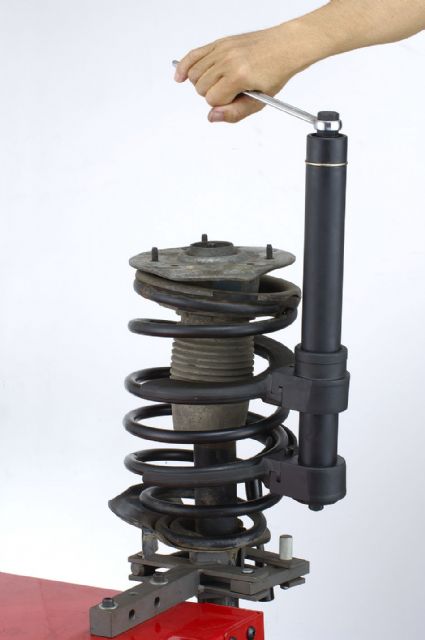 Taiwan's hand tools specifically for auto repair and maintenance have enjoyed high reputations in the global market, mostly thanks to local insiders' dedication to continuous improvements of products and quality.
Years ago, as Japanese cars in the 1970s, Taiwan-made exports, as confirmed by a local supplier recently, were often the object of taunts and jibes in movies and real-life, targeted by foreign users as examples of poor quality and design; but such negative stereotyping generally does not apply today to Taiwan-made exports, at least not automotive repair tools.
After decades of earnest industry and technical help offered by officially-backed agencies such as the Metal Industrial Research & Development Center and Taiwan Regional Hand Tools Association, Taiwan makers of auto repair and hand tools are proud to stamp "made-in-Taiwan" on their wares. In fact insiders will agree that Taiwan deserves the title "Kingdom of Hand Tools," especially when local suppliers  have significantly progressed in controlling product quality, R&D capability, and branding, able now to turn out tools as good as those from major global brands, but with an enviable edge: competitive pricing.
Trustworthy Name
Reality is that branding or brand-building is difficult, time-consuming for most Taiwan auto-repair tool makers, which are hindered by size and resource limitations.  Sound Han Industrial Co., Ltd. has proven to be an exception: successfully building a globally popular private brand "Hans" by improving product quality in the long-term.
Founded in 1973 in Taiwan's central city of Taichung, Sound Han started up as an OEM maker of only sockets. After over three decades, the company has become a competent ODM (original design manufacturer) and OBM (original brand manufacturer) as well as diversified its product line, including spanner wrenches, hand sockets, impact sockets and accessories, air impact wrenches, hex key wrenches, screwdrivers and bits, pliers, locking pliers and roller tool chests and cabinets, over 90% of which are exported.
Changing Negative Stereotype
M.H. Chang, PR Director, says that embarrassment inspired his company to turn around the Taiwan-made image some 18 years ago, when Sound Han tried to impress foreign buyers with its products but was hobbled by the negative stereotype: that  Taiwan-made goods were some of the worst globally; and ever since the company has been trying to improve product quality.
The dedication has born fruit: Chang says that, regardless of prohibitive R&D costs, the company effectively improved the durability of its interchangeable impact-wrench adaptor, making it 20 times as tough as counterparts. Also, the company's spark plug sockets are so precisely sized that buyers praise them highly and are recommendable for use on Japanese cars. Sound Han's tools are so durable and of high quality to be particularly well-received among professional European users.
Sound Han deserves special mention for being zealously dedicated. Chang says that the company did not give up on improving a conventional, unprofitable wrench that a client had returned, regardless of faulty use.
"The house brand Hans is a German, masculine name for we hope to evoke in customers trust, that a Taiwan brand can be as good as a German one," Chang says. "However, we discovered that building trustworthiness in a brand has to be based on a steady emphasis on R&D and product improvement."
Touch-sensitive Maker
If nothing else, Jing Xiang Kai Ind., Co., Ltd. is able to offer high-end, cool auto repair tools featuring comfortable grip and superb finish that are marketed under the Pard brand.
Officially established in 2007 in Taichung County, central Taiwan, Jing Xiang Kai, with more than 30 years in auto-repair tool making, is a "seasoned newcomer" in the line on the island, turning out a variety of sockets, screwdrivers, wrenches and pneumatic tools, most of which are sold under its own Pard brand small portion on OEM basis.
Realizing the importance of product differentiation when branding, Jin Xiang Kai has emphasized more so-called feel and touch of auto-repair tools than most Taiwan peers.  "In addition to improving torque rating and durability, we also try to impress users with color contrast in Pard-branded tools," says company president T.S. Lin. "Distinct  color contrast not only makes a wrench stand out but also—by being a size indicator—helps users with quick identification."
The company says that its Pard-branded auto-repair tools are all two-toned in either red-and-black or red-and-white on metal parts and plastic handles, which help to show size, coupled with smooth, bright finish, also make such products more visible on shelves.
Jin Xiang Kai believes good color contrast, which requires costly surface treating to prevent peeling, also effectively enhances added-value, as it helps users with easy size identification, hence achieving better work efficiency. "In short, Pard-branded auto repair tools satisfy users' demand for a comfy-to-hold, easy-to-use tool," Lin says.
The company continues to diversify its line: now trying to apply new design concepts to develop a series of own-branded roller tool cabinets and chests, which will, according to Jin Xiang Kai, also differ from competing models in functionality. Scheduled to be launched soon, these tool chests will help to offer more choices to buyers.
Successful Diversification
One company that has shown upgrading production capability works is Cosda Manufacturing Company, established in 1978 in Taichung County, central Taiwan. The company began by offering metalworking services and later on branched into production and development of auto repair tools. The company's strong know-how in metalwork clearly facilitated its diversification. Cosda runs an integrated factory turning out a wide range of tools for repairing engines, shock absorbers, radiators and braking systems.
Billy Liu, sales manager, stresses that despite being seen as a competent OEM initially, Cosda was not content but aspired to go upmarket via capability upgrades to become an ODM. With years of in-house R&D, her company successfully built Taiwan's first twisted socket demanded by a European client. She adds that "Cosda's in-house capability related to material application and thread structure measured up to the client's expectations, so we won the order. Above all, no other supplier could produce such sockets, except Cosda."
With excellent versatility, Liu says, Cosda has developed engine pressure gauges and coil spring compressors, which all feature user-friendly, easy-to-operate functions and superb quality and durability. Surprisingly, the company is also skilled in developing non-hazardous chemicals to test for leaks in radiators.
Due to our focus on upgrading production capability, Liu reveals, Cosda has even received orders for aircraft repair tools. "Such tools need even more advanced technology to produce and require stricter certifications than auto repair tools," she adds. Landing orders to produce aircraft repair tools reflects the company's long-term effort on honing production capability.
"Many years of capability upgrades have turned Cosda from follower into leader in the line," Liu says. "Our only aim is to outdo ourselves every second."