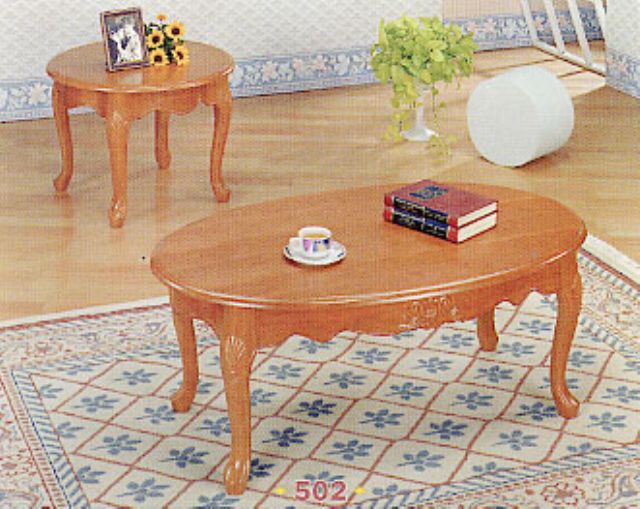 Persistent makers in Taiwan's wooden furniture sector adopt different strategies to survive a severe recession caused by insiders continuously migrating.
Taiwan's wooden furniture manufacturers experienced a golden age back in the 1970s and '80s, but beginning in the late '70s they began suffering from such calamities as (for them) industrial transformation, oil crises, lumber export embargoes, inflation, and competition from emerging markets in the third world. In the 1990s most of the Taiwanese producers in the line joined the mass migration to mainland China and Southeast Asia. This, obviously, led to a drastic weakening in the demand for parts in Taiwan.
Yuan Meng's Green Materials
One of Taiwan's foremost wooden furniture parts makers is the Yuan Meng Wooden Product Co., which specializes in tabletops, chair backboards, and finished closet panels. In addition to its Taiwan operations, the company also employs 1,000 workers in plants in China's Guangdong Province and Tianjin City; there, they not only make furniture parts but also paint and package them under strict quality-control procedures.
The company's products are known for the "green" recycled materials which they employ, including wastes and scrap generated during the production process. "With insufficient sources of lumber in Taiwan," says Chuo Ching-chao, the company's owner, "we have to look for substitute materials. Leftovers, scraps, and even sawdust can amazingly be turned into the best substitute materials; this can solve the lumber shortage problem and reduce production costs as well as our dependence on lumber and other natural resources."
Yuan Meng has developed the production of this substitute material, which can be used in construction, and Chuo says that the company now commands an 80% share of Taiwan's market for it. "If processed by special methods," the owner goes on, "this material will not crack or warp as easily as lumber." This makes it ideal for the production of furniture parts, since it does not deform during shipping.
However, Chuo comments, "We're facing a growing labor shortage problem, especially in central Taiwan where wooden furniture plants are concentrated. Because of the lengthy depression in this industry, fewer and fewer people are interested in finding jobs in it. Unless the government takes some kind of action, this problem will never disappear."
In contrast to the large number of Taiwanese wooden furniture parts makers who have relocated to China to take advantage of the cheap and abundant supply of labor there, Yuan Meng plans to stay in Taiwan and continue marketing its quality "green" products to the world.
Muh Yang Constantly Upgrades Molds and Equipment
Another forerunner in the line, the Muh Yang Enterprise Co., was established in southern Taiwan in 1979 and specializes in making construction materials as well as wooden furniture parts. To keep costs down, the company set up another plant in Vietnam years ago because of the supply of raw materials, such as rubber and oak wood, as well as inexpensive labor there.
Muh Yang has continued to develop new molds and upgrade its machinery so as to meet the needs of its customers, from markets such as India, Malaysia, and Thailand, in terms of quality and specifications. Furniture parts made of harder woods such as oak and maple are exported to the U.S. and Canada.
The firm is known for its production of high-end items such as embossed ornaments, embossed appliqué, embossed corbels, and hand-carved appliqué.
"When Taiwan's wooden furniture makers faced difficulties of transformation and competition in the mid-1980s," recalls the company's chairman, Chiu Hung-jung, "Muh Yang resolved to differentiate itself from the others. So we learned manufacturing techniques and design concepts from Italy, and then zeroed in on such high-value-added and high-end products as embossed appliqués and corbels, which were popular in the European market. "These products require complicated, sophisticated work. They are processed and embossed with molds, and then further carved manually if necessary."
Manual carving is necessary, more and more, to supply the customized products to meet the rapidly changing trends in the market.
But Taiwan is not a member of the Association of Southeast Asian Nations (ASEAN), and so is not eligible for the tariff preferences that the members afford each other. To counter such problems, Chiu says, Taiwanese suppliers should concentrate on high-value-added products. "Our counterparts in Japan have been doing this for a long time," he notes, "turning out products such as varnished wooden bowls or other containers that are commonly seen in black and red colors. By offering such premium wooden products, they've created great value not only in terms of profit but also in culture and reputation."
This is the direction that Muh Yang has taken with its sophisticated embossed and other furniture parts.
Sen Young Focuses on Sound Equipment
The Sen Young Wood Craft Corp., located in central Taiwan, has been making table legs, chair legs, cabinet legs, clothes trees, household accessories, and other wooden products for more than 30 years. Chiu Wen-tsung, who took over ownership of the firm from his father, has used his educational background and practical experience to carefully manage the upgrading of equipment, the sourcing of raw materials, and the handling of labor, costs, and sales.
"Some Taiwanese manufacturers tend to ignore the importance of sound equipment," he comments. "And without proper production schedules and operating plans, they can't assure the good quality of their products and prompt delivery to their customers. This makes them less competitive than their rivals."
The company constantly invests in equipment and advanced production technology, and Chiu takes particular pains to maintain a stable supply and sufficient inventory of materials. "A shortage of raw materials could bring us an operating crisis, so it's essential for us to have sufficient sources of materials," Chiu comments. The supply of workers is vital as well, and "Even when we downsize during bad times, I don't neglect the expertise and experienced workers we need—because the quality of our products depends on the skill of our workers."
Such measures have helped Sen Young remain successful and competitive. Over 90% of its products are exported to customers, Chiu says, who appreciate quality and timely delivery.
However, Chiu complains, "We Taiwanese wooden furniture parts makers are struggling under conditions that threaten to overwhelm us. We're a sunset industry which never seems to draw the concern of the government." Nevertheless, he concludes, "We have the advantages of efficiency, effective management, and passion."