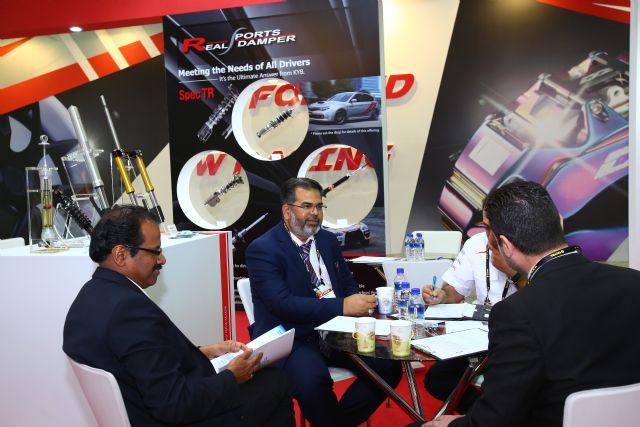 TAIPEI AMPA 2017, to open April 19-22 together with AutoTronics Taipei 2017 and two other trade fairs, will again serve as an effective business platform for suppliers and buyers in the automotive industry (photo courtesy of TAITRA).
The largest trade show for auto parts and accessories in Taiwan, TAIPEI AMPA (Taipei Int'l Auto Parts & Accessories Show) 2017 will unfold from April 19 to 22 at NANGANG Exhibition Center and TWTC Exhibition Hall 1, to again show off the diversity and agility of Taiwan's automotive industry.
At the venue, over 1,300 exhibitors at home and abroad will together display a full spectrum of auto parts & accessories and related products, including vehicle lighting, collision parts & accessories, brakes, suspension & chassis system, repairing parts and tools.
In Tandem with Taipei Automobile Electronics Show (AutoTronics Taipei)
The auto parts industry in Taiwan holds a prime advantage for being capable of offering diverse products. It's also known for its agility in meeting the customized specifications of worldwide clients. For auto parts area, TAIPEI AMPA will build upon the success of the Tires and Rims Area which attracted strong coverage in 2016 while AutoTronics Taipei will unfold the latest product trends in the areas of vehicle electronics, connected cars and smart vehicles. Topics of vehicle safety, energy saving and intelligence will be covered.
Additional Educational and Business Opportunities
Local top-caliber auto parts and accessories suppliers besides, TAIEPI AMPA and AutoTronics Taipei will host overseas exhibitors from China, Singapore, Malaysia, Thailand, Hongkong, etc. Their participation indicates the duo show's role as an important platform for suppliers to meet new and old customers.
Not only the show ground that attracts visitors' eyes, so does the events being held during the show period. For example, the forum will focus on the hot topic of vehicle connectivity, with big heads from the industry to share their views and insights.
The TAIPEI AMPA, AutoTronics Taipei, Taipei Int'l Electric Vehicle Show (EV TAIWAN), and Taiwan Int'l Mortorcycle Industry Show (MOTORCYCLE TAIWAN) will once again be held at the same time in 2017. For more information about exhibiting or visiting, please go to show website at http://www.taipeiampa.com.tw.