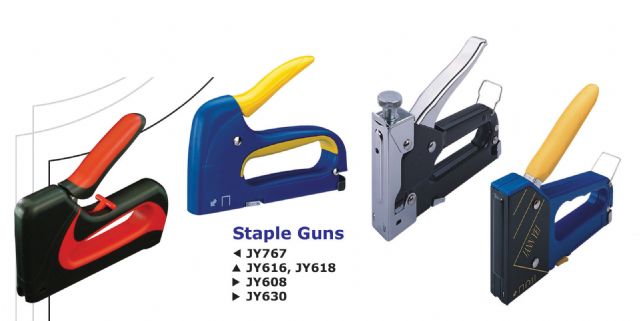 Jann Yei has successfully sailed to its Blue Ocean through unremitting dedication to production and development of staple guns and tackers.
Jann Yei Industry Co. Ltd. is a seasoned and leading maker of high-caliber staple guns and tackers in Taiwan, having been dedicated to development and manufacture of such products for 24 years although their profit margins are lower than those of most other hand tools made on the island.
Founded in 1984 in Taichung County, central Taiwan, Jann Yei began as a subcontract maker of low-end tackers and staple guns for larger contract manufacturers, a business model that mired Jann Yei in mere survival for some time, leaving the maker in even worse fate when foreign buyers turned to emerging nations to look for lower prices.  As the cliché goes, when the going gets tough, the tough has no option but to go upmarket, by building higher added-value to garner fatter margins and profile. So Jann Yei refocused to concentrate on quality and functionality enhancements, a proven way to go upmarket and fend off undersellers. The strategy switch has paid off, with the maker achieving product differentiation to widen the gap of superiority, leaving behind emerging competitors, to build a reputation as a world-caliber supplier of staple guns.
Wide Range
Jann Yei's product line includes electric tackers, staple guns, hammer tackers and cable tackers from the low end to high, about 50% of which goes to Europe, and the remainder to North America. And the maker accepts custom orders for various applications, while continuing to build its OEM (original equipment manufacturing) and ODM (original design manufacturing) expertise backed by 24 years of experience. Equally able as a market-sensitive supplier, Jann Yei in recent years has branched into developing markets as Russia and Eastern Europe, supplying them with economical models, with a couple of major retailers and globally-famous brands as clients.
Thanks to R&D
Jann Yei's rising success, not totally due to in-house work, is mostly attributable to devotion to R&D, says chairman T.Y. Chen, a consistent program run for years with a number of design companies and the government-funded Industrial Technology Research Institute (ITRI) for years, aiming to tap state-of-the-art technologies and   synergy to develop better staple guns and nails.
Adopting the timeless strategy to improve on a quality original, Jann Yei has made better its hot-selling JY series tackers to develop a line of electronic staple guns, which come with innovative functions. The N688, for example, can be set for four different specifications, enabling it to tack various types of nails to install cables and wires of different shapes and sizes, as well as being safe to use with a retractable guard in the front. Also, these electronic staple guns are all-round improved, featuring compact exterior, extended durability, and, especially for industrial-applications, are  plastic-coated to withstand exposure to harsh temperatures, corrosive chemicals, and impact.
Multi-functional Tackers
Another notable series is the JY 667 and 669 multifunctional cable tackers, which use specially designed nails to attach both round and flat cables on various surfaces, with this series having been independently invented and multi-nationally patented. The JY 667 and 669 series truly user-friendly for users can easily install cables of various configurations without using other tools. Another dedicated cable tacker, one made for decorating X'mas trees, is also innovative, practical and comes with a plastic ring for safety, according to Chen.
Jann Yei is also known to be a supplier who tries to offer integrated services. For example, the maker also designs packaging to suit different types of products, which enhances added-value. The JY667 cable tacker is shipped inside compact blister cards to accentuate the product's streamlined exterior, also giving an overall look of tidiness.  The JY669 is packed in specially-designed color blow-mold cases as an effective attention getter, while exterior graphics highlight the model's capability to handle larger diameter cables and wires.
Quality Sensitive
Years of cooperation with the ITRI and other institutes not only enhance Jann Yei's R&D capability, but also give it an image that may be more valuable than making real improvements to products. The considerable R&D investment has borne fruit in achieving some degree of product superiority, at least relative to China-made tackers: its low-end, conventional tackers last 20-times longer than China-made counterparts and work for over 40,000 repetitions, but are not as profitable as middle- and high-end models, according to Chen.
Jann Yei's products are globally certified to CAS, UL, GS/TUV and CE mark standards, as well as meeting eco-standards as RoHS (Restrictions on Hazardous Substances) requirements and having been SGS tested, making this supplier totally green. Furthermore, the company uses only green finishing techniques, having completely eliminated toxic materials as lead and trivalent chrome, so Jann Yei also fully qualifies as a socially-responsible corporate citizen. And more than claiming to meet eco-standards, Chen says that clients are welcome to ask for test reports on finished products, and is confident that clients will remain loyal as long as it continues to sharpen quality and engage in R&D.
Not Mutually Exclusive
The days of modest margins are over as Jann Yei now shows the industry that being specialized makes sense, not just to satisfy one's need to achieve, but also for the bottom-line: the maker now posts considerable profit by making staple guns and tackers, instead of other mainstream hand tools; while the extra bonus, one that is priceless, is that being profitable and eco-correct are not mutually exclusive.