Exhibitors at HKTDC Hong Kong International Lighting Fair and the Outdoor and Tech Light Expo Increase Over 10% year-on-year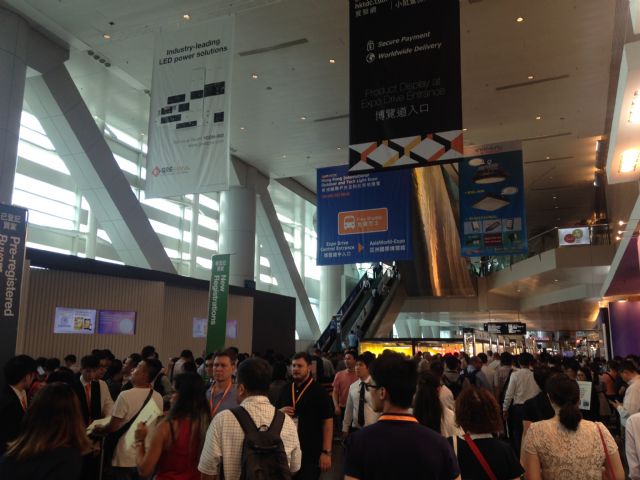 Hong Kong Convention & Exhibition Centre is crowded with a large number of visitors and buyers to look for what the latest lighting products are displayed at Hong Kong International Lighting Fair Autumn Edition 2016.
Organised by the Hong Kong Trade Development Council (HKTDC), the 18th HKTDC Hong Kong International Lighting Fair (Autumn Edition) opened today and continues through 30 October at the Hong Kong Convention and Exhibition Centre (HKCEC). To encourage cross-sector business opportunities, the HKTDC has also launched the brand new HKTDC Hong Kong International Outdoor and Tech Light Expo this year, which runs from 26 to 29 October at the AsiaWorld-Expo. 
The inaugural Outdoor and Tech Light Expo and the 18th HKTDC Hong Kong International Lighting Fair together form the world's largest lighting marketplace, welcoming over 3,000 exhibitors from 37 countries and regions to showcase their state-of-the-art lighting products and solutions. Compared to last year's lighting events, the number of exhibitors this year has increased more than 10 per cent, which reflects the industry's positive sentiment towards the market. Products such as LED green lighting, smart lighting and outdoor lighting products are in particularly sharp focus. 
The HKTDC has organised 77 buying missions with more than 7,000 buyers from over 4,900 companies, to seize new business opportunities during the fair period. Notably, a number of renowned lighting products distributors from emerging markets are participating in the buying missions, such as Etna Home Store from Brazil, Wipro Enterprise Ltd from India, Anh Minh Chau Trading from Vietnam, Seng Hup Lightings & Décor from Malaysia, LEDIN Sp. z o.o. from Poland, and Huda Lighting from the United Arab Emirates.
The HKTDC provides a professional sourcing platform for the lighting industry by gathering exhibitors from around the world to present new energy-efficient and creative products as well as the latest technologies to potential buyers. This year, the Lighting Fair welcomes a record of over 2,650 exhibitors from 37 countries and regions. Companies from Canada, Hungary, Ukraine and the UAE are taking part for the first time, offering more diversified options for buyers. 
One of the fair's highlights, Hall of Aurora features 530 local and international brands, including BJB, Citizen, EGLO, Lumileds, Neo-Neon and Megaman. 
To keep abreast of industry trends, more than 1,000 exhibitors are displaying a wide variety of energy-efficient products at the LED & Green Lighting zone, providing innovative energy-efficient lighting solutions. Other thematic zones include Smart Lighting & Solutions, Commercial Lighting and Household Lighting.
Among the many innovative and creative products at the fair are the world's first spiral shaped filament LED light bulb SIMBULB (Booth: 1D-D36), which won the Good Design Award 2015 and Red Dot Award 2016; the smart Aroma Diffuser Lamp (Booth: 1B-E37) that serves as a diffuser, humidifier, Bluetooth music player and lamp; 180°motion activated LED Security Light (Booth: 3C-D18) equipped with a WiFi-enabled camera, built-in microphone and speaker, and a Floating Bulb (Booth: 3B-D35) that uses magnetic floating and wireless induction technologies.
Building on the success of the World of Outdoor Lighting & Lighting Accessories 2015, this year the HKTDC is expanding the scale of the event by launching the debut Hong Kong International Outdoor and Tech Light Expo, which opened yesterday and runs until 29 October at the AsiaWorld-Expo, to meet market demand and foster cross-sector business.
The inaugural fair gathers about 380 exhibitors from Hong Kong, the Chinese mainland, Malaysia, Korea and Taiwan. It comprises four major zones: Outdoor Lighting, Lighting Accessories, Parts and Components, Professional and Industrial Lighting, as well as Advertising Lighting. A wide range of unique professional and industrial lighting products for different working environments are on show, including the LED Down Lights by Hella Marine made of high-grade 316 stainless steel, which is popular among the automotive, marine and industrial sectors (Booth: 10-A05), and the APOLLO 2 Series LED Street Light, which is made of die cast aluminium and equipped with a lightning and surge protection system (Booth: 8-G02).
During the Lighting Fair and Outdoor and Tech Light Expo, renowned industry experts are invited to explore technological breakthroughs and analyse the latest market trends. Today's (27 October) seminar on "The Latest Development of Smart Lighting" at the HKCEC features representatives of LEDinside from Taiwan, Leedarson Lighting Holdings Pte Ltd from Singapore and Neonlite International Ltd sharing up-to-date smart lighting technologies and product trends. Another seminar, "Latest Standards and Regulations for LED Products" will be held tomorrow (28 October) at the AsiaWorld-Expo. Experts from leading companies including TÜV SÜD, Intertek HK and DEKRA will discuss the regulatory standards for LED products in the United States, Australia, Asia and the Middle East.
In addition to the lighting events, the Hong Kong International Building and Hardware Fair and Eco Expo Asia run from 26 to 29 October at the AsiaWorld-Expo. The four parallel fairs generate strong synergy across related business sectors, adding value to the experience for exhibitors and buyers and creating more business opportunities. A free shuttle bus service between the HKCEC and AsiaWorld-Expo is provided during the fair period.
In the first eight months of 2016, the total value of Hong Kong's exports of lighting products reached HK$6.1 billion. The city's top three export markets are the US, the Chinese mainland and Japan, which together account for nearly 60 per cent of the total export value. Hong Kong's exports of lighting products to the US increased by 2.8 per cent compared to the same period last year.