Three-day show draws 28,000 buyers and visitors from over 63 different countries of world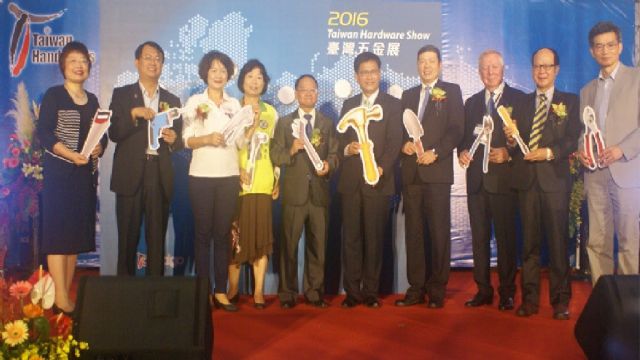 THS 2016 drew a large number of visitors and buyers during its three-day run (photo courtesy of EDN).
Held in Taiwan's central metropolis of Taichung, home to local manufacturers of hand tools and related hardware products for the fourth year, Taiwan Hardware Show 2016 (THS 2016) again served as an effective one-stop shop for visitors looking for fine hardware products made on the island, to not just facilitate sourcing for foreign buyers but pump considerable growth momentum into the local economy.
With support from Taichung City Government, the exhibition, organized by Taiwan Hand Tool Manufacturers' Association (THTMA), celebrated its 16th anniversary on October 12 through 14 at Greater Taichung International Expo Center, just a few minutes away on foot from Taiwan High Speed Rail Taichung Station.
Varieties of exhibits displayed by a total of 400 exhibitors at home and abroad were organized into eight designated areas—namely Tools & Accessories, Locks & Fittings, Fasteners & Fittings, Building Supplies, Garden & Outdoor Equipment, Automotive Supplies & Accessories, Machine & Plant Equipment, and Safety Equipment & Products—at the venue.
Moreover, visitors could learn more about the Taiwanese central metropolis by visiting the Taichung pavilion set up by Taichung City Government at the venue, and source interesting, marketable products in a special area for select hand tools, as well as the Changhua Waterware pavilion.
To ensure participants more value-added service and educational opportunities, show organizers also held a popular series of workshops and forums during the exhibition.
During the show's three-day run, over 28,000 visitors and professional buyers from some 63 different countries of the world were present, most of whom gave the thumbs up to distinct features of THS 2016, including a full line of hardware products available on the showground and its close proximity to where a large number of competent, reliable suppliers cluster.
Given that over 70 percent of Taiwan's hand tools are currently made in the central region, which covers Taichung and Changhua, Taichung Mayor Lin Chia-lung paid a sincere compliment at the THS 2016 opening ceremony to local hand-tool manufacturers for their contribution to local economy, and said that the industry's brisk development has laid a solid foundation for sustainable economic growth and employment in the city. In addition to hand tools, Lin added, Taichung is also home to aircrafts, smart machinery and bicycles manufacturers.
To ensure a better visitor experience and help promote local manufacturers' products, Lin stated that Taichung City Hall has been planning to construct two more exhibition facilities in the city. By doing so, he expects to see more world-caliber exhibitions take place in the city in the future, besides THS.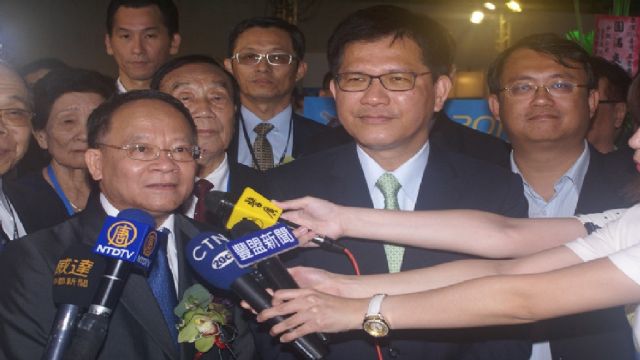 Taichung Mayor Lin Chia-lung (center, front row), and THTMA chairman Yu Hsian-chen (left) among celebrities were present at THS 2016 (photo courtesy of EDN).
Yu Hsiang-chen, doubling as chairman of THTMA and Re-Dai Precision Tools Co., Ltd., a globally known supplier of wrenches, sockets and impact wrenches, noted that THS has evolved into a so prestigious exhibition of truly fine hardware products across the globe that many international heavy-weight buyers would like not to miss out on it among others in Asia. For this reason, the total exhibition area of THS 2016 was expanded to 17,571 square meters, 16 percent more than the 2015 edition.
Additionally, Yu mentioned that the exhibition had lots of features to attend, including various value-added services offered to visitors, face-to-face procurement meetings arranged between exhibitors and buyers, industry seminars, presentations for new hand tools, and, particularly, factory tours that buyers can easily arrange with exhibitors on the spot to make their participation even more worthwhile.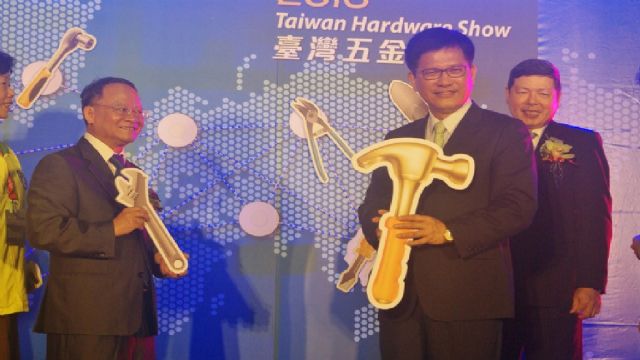 Taichung Mayor Lin and THTMA chairman Yu together presided over the opening ceremony for the show (photo courtesy of EDN).