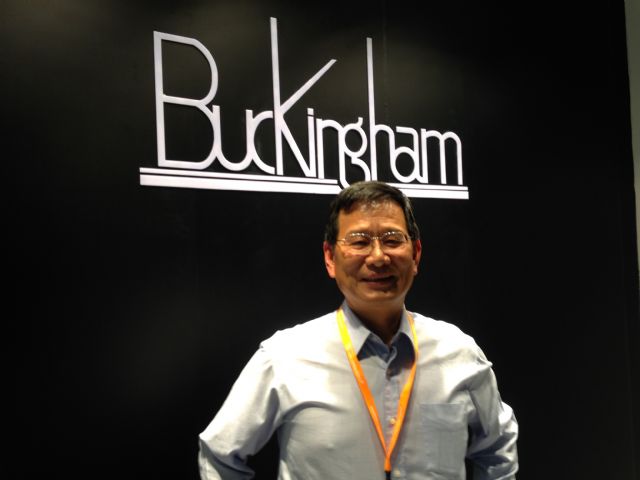 Michael Lin, general manager of Buckingham and executive vice chairman of Taiwan Compatrion Investment Enterprises Association of Kushan.
This year's HKTDC Hong Kong International Lighting Fair Autumn Edition, held October 27-30 in the Hong Kong Convention and Exhibition Centre, again proved the unparalleled presence of China in the global market for lighting fixtures: Chinese companies continued to make up the majority of over 2,500 exhibitors on the showground. The rise of them, mainly on a price-slashing strategy, has distressed most players in the marketplace, though, from another viewpoint, price-sensitive consumers have benefited from such competition.
In view of the overwhelming competition from their Chinese counterparts, a total of 146 Taiwanese exhibitors at the venue all made the utmost of their efforts to capture attention from global buyers with various higher-end lighting fixtures on display, with an aim to set up a higher profile.
Among them, Buckingham Industrial Corp., a maker and designer of commercial and residential lighting, was a striking example. It saw foreign buyers continuously flocking into its black-white-toned closed booth, mostly thanks to a relaxing, appealing ambience effectively created there by comfortable lighting with its LED lighting fixtures coupled with minimal, contemporary interior design.
Despite happy with the outcome, general manager Michael Lin of Buckingham admitted in an exclusive interview with CENS that Taiwanese suppliers are losing the shares they have commanded to Chinese undersellers in U.S. and Europe markets as an inexorable trend.
However, Lin feels that a ray of hope still remains for Taiwan's lighting fixture industry in this scenario, as long as insiders can take advantage of their competitive edges to change the way them compete in the global market.
Safety Matters Most
Since Taiwanese manufacturers generally possess abundant know-how and time-tested manufacturing technologies, Lin stated that product safety can be a core value they promise to customers rather than low prices and me-too functions.
Apparently, the general manager upholds safety of a lighting fixture. He said, "When it comes to the use of luminaries in homes and other places, I think safety matters above all, for unsafe lighting fixtures, typically those with incredibly low prices, are prone to breaking and exploding, to put users' lives and properties in danger."
In this logic, Lin emphasized that to design and develop a human-centered lighting product is to ensure end-users unquestionable safety, which cannot be achieved without profound knowledge, well-honed manufacturing skills and safety-consciousness. "In this aspect, Taiwanese makers are better than suppliers from emerging countries, especially when the former are generally more than willing to invest in quality to make their products truly safe."
Just for information, Buckingham's lighting fixtures, including downlights, LED spot lights, LED track lights, LED downlights, ceiling mounts, outdoor lights, wall lamps, ambient lights, pendants, LED light bulbs and batten lights, all measure up to international safety standards and carry a 50,000-hour warranty.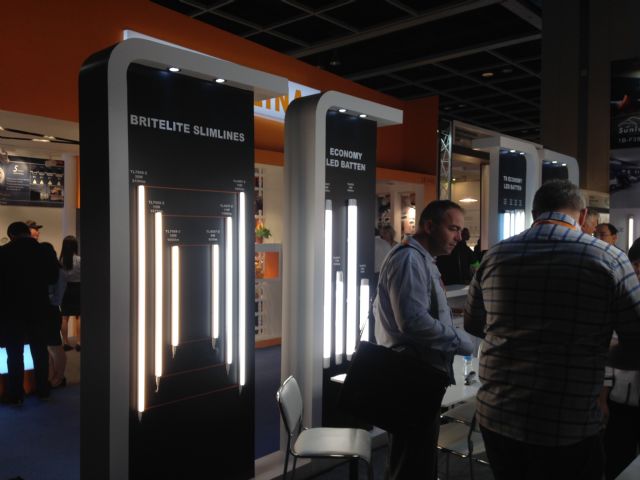 LED luminaries take center stage at this year's HKTDC Hong Kong International Lighting Fair Autumn Edition.
Riding on Green Trend
With environmental protection and carbon reduction increasingly concerns worldwide, Lin suggests Taiwanese manufactures try to make their production greener, so as to win a better recognition from foreign buyers who tend to value a good supplier by its contribution to environmental protection among criteria.
Taking Buckingham for instance, Lin confirmed that despite already a Taiwanese industry-leading manufacturer, the company has dedicated itself over the past years to continuously improving production processes to reduce carbon emission, and introducing pollution treatment and handling equipment into its factory located in Kunshan, China, to minimize the impact of hazardous waste generated during production on the environment.
With the effort paying off, he went on to say, the company was granted a business & product carbon footprint certificate as one of the foremost manufacturers in the country four years ago. "We are proud of the achievement, which is part of our human-centric business philosophy, not to mention our products mostly meet RoHS (Restriction of Hazardous Substances) requirements," said Lin.
In doing so, the supplier has effectively set itself apart from its peers, with ever more buyers, especially those from advanced countries, holding it in high esteem. And this, to some extent, explains why Buckingham's booth could be kept busy by a constant influx of foreign visitors during HKTDC Hong Kong International Lighting Fair Autumn Edition 2016.
By underlining what Buckingham has done to achieve green manufacturing, the general manager implied that in business, success is often within reach of those capably riding on trends.
Cross-sector Cooperation
From a macro viewpoint, Lin said that growing popularity of LEDs in the global lighting industry has actually put pressure on conventional lighting fixture makers, particularly those with little knowledge of characteristics of such light source, which was first heavily used in the electronic devices.
"The advent of LEDs has subverted the traditional business models in the lighting fixture sector, and such technologies have also advanced to levels beyond our expectations," Lin commented. So, to stay competitive in the transition, in which LEDs are increasingly applied as the mainstream light source, the general manager advises his Taiwanese peers should focus more on cross-sector partnerships with local ICT firms to tap synergies.
His advice makes sense, as Taiwan is noted for having well-established electronics and ICT industries, and such companies generally possess richer know-how of LED control technologies than local lighting makers. With LED technology increasingly matured, an interesting observation on the island is that ever more ICT insiders venture into LED lighting (a major reason conventional lighting fixture makers are distressed as Lin mentioned above). For example, Dr.Light is a Taiwanese emerging LED luminaries brand established by a group of engineers originally employed by Acer, a globally known brand of PCs, and made its debut at the inaugural Hong Kong International Outdoor and Tech Light Expo, held October 26-29 in AsiaWorld-Expo.
Given conventional lighting makers are experienced in designing fixtures and ICT firms are versed at LED control technology, Lin emphasized that the both sides should actively work together, to not just reduce unnecessary competition among Taiwanese companies, but complement each other's advantages to better compete globally.
In conclusion, Lin holds optimism towards the future of Taiwanese lighting fixture makers, as well as the prospect of the global lighting market. "With a global population continuing to increase, market demand for lighting will definitely pick up at a very robust pace in the short term," said the general manager. He added that growing application of LEDs and other new technologies, including wireless control and smart home, will also broaden the future of lighting products, to grant Taiwanese makers more opportunities.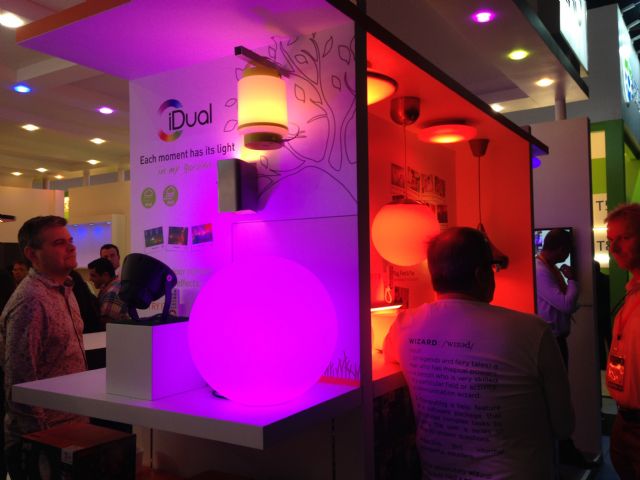 IP-enabled LED lighting fixtures are a rising trend in the global lighting market.