World's largest lighting fair posted a record high of 2,667 exhibitors from 37 countries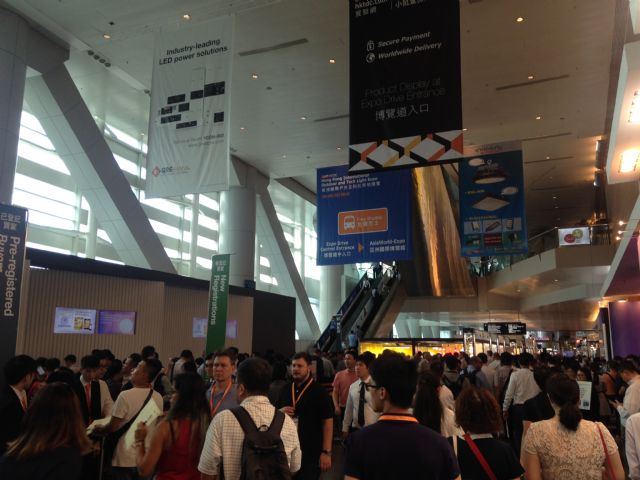 A large number of trade visitors flocked into Hong Kong Convention and Exhibition Centre on the first day of HKTDC Hong Kong International Lighting Fair Autumn Edition 2016.
Recognized as world's largest, most successful trade fair for the global lighting industry, HKTDC Hong Kong International Lighting Fair Autumn Edition again lived up to the unparalleled reputation in 2016 by not just continuously scoring high turnout, but bringing together trendsetting technologies and innovative products that will combine to drive the future of lighting in the coming decades.
The exhibition, organized by HKTDC (Hong Kong Trade Development Council) and held October 27-30 in Hong Kong Convention and Exhibition Centre, scored a record high of 2,667 in its exhibitor number, compared to 2,555 posted in the last edition. Those exhibitors were from 37 nations, including China, the U.S., Italy, Taiwan, Japan, Australia, the Netherlands, Russia, Spain, Singapore, S. Korea, and so forth, with China, as usual, being the largest source.
Also underlining the trade fair's continuously rising global prestige is the participation of several first-time exhibiting countries this year, including Belize, Hungary, Ukraine and UAE.
4-in-1 Format
Noteworthy is that three other exhibitions, namely the inaugural Hong Kong International Outdoor and Tech Light Expo, Eco Expo Asia and Hong Kong International Building and Hardware Fair, were held at AsiaWorld Expo in conjunction with this year's Hong Kong International Lighting Fair. With over 77,000 trade visitors from 148 different countries of the world converging as reported by HKTDC, which represented a 5.6 percent growth over last year, the four-in-one format proved successful and helped reinforce Hong Kong's status as world's most important hub of lighting technologies and products.
In a post-show report, Benjamin Chau, deputy executive director of HKTDC, made the following comment: "At the four fairs this year, buyer attendance increased 5.6 percent compared to last year. We saw vibrant business momentum at the fairgrounds, which is an indication of optimism about market prospects. As users become more conscious of environmental protection, and companies place greater emphasis on energy-efficient and socially responsible strategies, the potential for green business is vast, and eco products emerged as a highlight of the fairs. Exhibitors and buyers from around the world can make full use of the HKTDC's one-stop, large-scale, cross industry sourcing platform to develop new markets." 
To help facilitate the sourcing at the show, five featured zones were set up this year, namely Hall of Aurora, where a total of 404 exhibitors representing over 530 brands were present; LED & Green Lighting Zone, which accommodated 1,901 exhibitors as the largest zone among others on the fairground; Commercial Lighting Zone, in which various lighting technologies and products specifically for commercial purposes were displayed; Smart Lighting & Solutions Zone, which underscored the trends for smart, IP-enabled lighting with varieties of applications and solutions demonstrated by 41 exhibitors; and Household Lighting.
One more attraction of the lighting show for participants is its solid name as an effective business platform. This year, HKTDC invited over 7,900 professional buyers representing some 4,900 companies from all over the world to add to the buying ambience at the venue. Those invited companies included Etna Home Store of Brazil, Wipro Enterprise of India, Anh Minh Chau Trading of Vietnam, Seng Hub Lightings & Décor of Malaysia, LEDIN of Poland and Huda Lighting of UAE.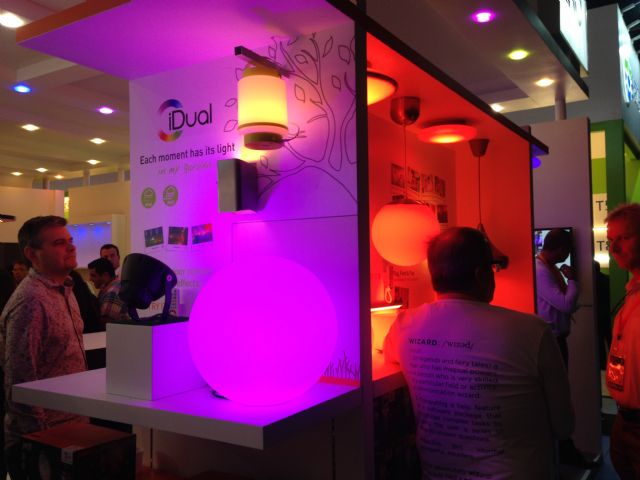 Smart lighting was a big hit among others to visitors at the exhibition.
Robust Market Outlook
In addition to organizer's decades-long promotional efforts, the fair's astounding success is also built on the steadily expanding global market for lighting. In the next five years, the marketplace is widely expected to continue to gain steam for a couple of reasons, including sustained growth of the global population, continued advances of technology, growing concerns about carbon emission and environmental protection and the emergence of new lighting applications.
According to a report by McKinsey & Company, a U.S.-based market research firm, size of the global lighting market is estimated to hit euro111 billion by 2020 for a compound annual growth rate (CAGR) of 3 percent between 2016 and 2020, with the growth to be led mainly by general lighting, automotive lighting and backlights.
The report says that general lighting is the biggest segment of the market, which is projected to reach euro88 billion by 2020 for a five-year CAGR of 4 percent, with household lighting products to contribute roughly 40 percent to the total. In this field, Asia will remain world's biggest regional market, where demand for conventional and LED lighting has hit the levels of euro20 billion and euro1.5 billion, respectively, for the moment.
As for LED lighting, market prospects are also promising. LEDinside, a Taiwan-based market research institute, indicates in a report that global market demand for LED lighting is predicted to mount to US$30.5 billion in 2016 from US$25.7 billion in 2015, with the penetration rate of such products to rise to 36 percent from 31 percent.
An interesting observation mentioned by LEDinside is that many of global LED lighting suppliers in the wake of continuous price drops of LED bulbs and lamps for household use have shifted focus to specialized applications, such as government projects, industrial lighting, commercial lighting and landscape lighting, for higher gross profits. Given the transition, which is believed to further pump growth momentum into overall market demand for LED lighting products, some of global market researchers opine that global sales of LED lighting will show a CAGR of nearly 17 percent during 2016-2020.
Most agree that North America has become one of the fastest-growing regional markets for LED lighting products. ReportsnReports.com, an American market research report publisher, notes that LED lighting fixtures are expected to entirely replace conventional incandescent bulbs and lamps soon in the market, with overall sales to explosively surge to US$63.1 billion in 2020, compared to only US$13.6 billion in 2014.
Major factors behind the astonishing growth include continued declines of retailing prices, resulting from economies of scale generally achieved in production of such products, and increasingly buoyant local realty and job markets. Hopefully, ReportsnReports.com indicates, the North American market will see a CAGR of 21.12% between 2014 and 2019, to suggest a bright future of the global LED lighting industry.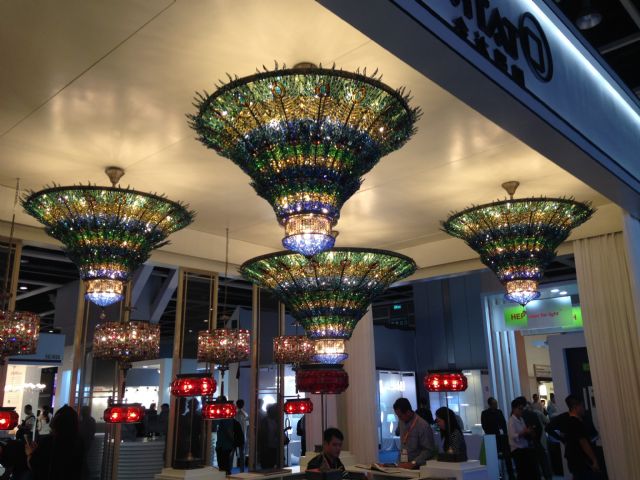 A total of 2,667 exhibitors from 37 different countries of the world took part in the show.
Noted Innovations on Showground
It is not overstated that visiting Hong Kong International Lighting Fair is definitely a valuable journey to lighting innovations. This year a number of notable innovative lighting products were showcased to help enhance visitor experience.
Among those products, AZ e-lite Bluetooth LED Ceiling Light & LED Downlight by AZ-Lite (HK) Limited was a striking example. The smart lighting solution includes a dimmable ceiling light (BCR1930) and downlight (BDR412) coupled with a control app that is available on Apple Store and Google Play. Users can easily tune a light color ranging from 2,700K to 6,500K with a mobile Internet device installed with the control app, to set the mood in the room. Also, wide-ranging color temperature of the lights makes the solution suitable for different purposes.
Inspired by many research findings that intricate controls and high prices are among major causes to persistently low consumer acceptance of smart lighting, MEGAMAN®, a lighting brand owned by Neonlite Electronic & Lighting (HK) Limited, launched its INGENIUM® Smart Lighting Solutions to address those problems. Developed on the concept of K.I.S.S. (Keep it Simple & Smart), the solutions include the brand's INGENIUM BLU®, a simple and economical smart lighting solution for consumers with tight budgets and in fond of convenient control of a small, domestic lighting system over Bluetooth technology; and INGENIUM® ZB, which is compatible with ZigBee gateways for interoperability between the brand's LED lighting products and other equipment, and enables wireless control of the system.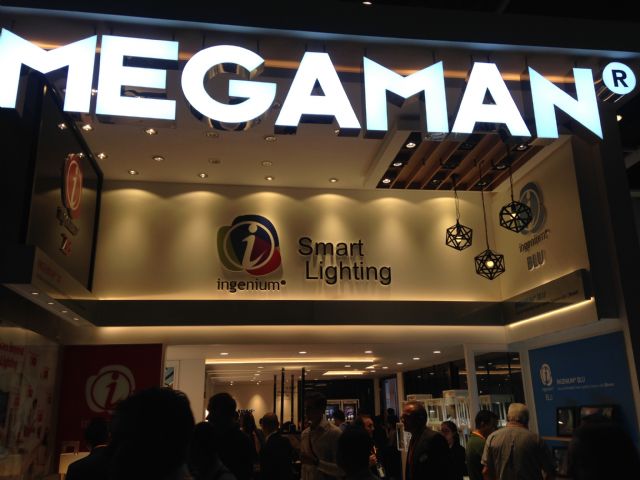 In MEGAMAN's booth, various smart lighting solutions were demonstrated to capture visitors' attention.
Lighting integrated into household items have been a trend that shows no sign of fading away. For instance, Emoi Smart Aroma Diffuser Lamp Speaker demonstrated by Shenzhen Emoi Lifestyle Co. in Hall of Aurora combines a Bluetooth-enabled music player and speaker, lamp, aroma diffuser and humidifier into a small, exquisite streamlined housing, to help greatly enhance the quality of user's lifestyle and emotional appeal.
Also displayed in Hall of Aurora was Stellar, a lantern cum Bluetooth speaker developed by Advance Bright Ltd. of Hong Kong. One appealing feature of the product among others is its colorful, minimal circular exterior, achieved by a rugged, soft housing made of silicon rubber, which is anti-slip and IP65-rated. Just like a twist-action ballpoint pen, this luminary is built with a twist switch that allows users to turn on and off the light, and adjust brightness to accommodate need.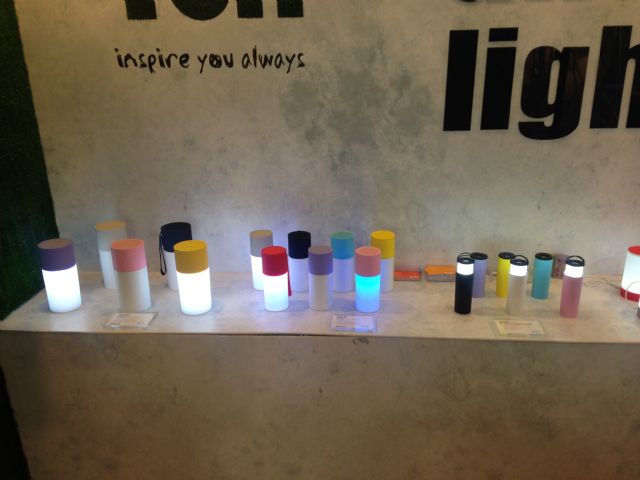 Stellar, a lantern cum Bluetooth speaker developed by Advance Bright.
Another eye-catching product showcased by Green First Corporation of Taiwan at the venue was the Elegant & Simply Wireless Speaker with Dimmable LED Lighting. This speaker-integrated LED desk lamp highlights a simple, minimal curved body that is made completely of wood and bamboo for a natural vibe, and can be used together with electronic gadgets compatible with Bluetooth. Giving off glare- and shadow-free, comfortable light and allowing for brightness adjustment, this product not just adds charm to user's home, but is ideal for reading.
Tons Lightology Inc., a listed Taiwanese developer and maker of lighting products, brought its 2016 Red Dot Design Award-winning product, RA-501R spotlight, to the exhibition. This bi-functional display lamp is developed with a sliding bracket and LEDs from OSRAM, which feature high quality, energy efficiency and color rendering, and can serve as a 360-degree downlight with high cut-off angle, and a flexibly adjustable spotlight that can swing 90 degrees upside down and rotate 355 degrees. With subtle light distribution and anti-dazzle optical design, the lamp gives off comforting light without UV or IR radiation, and has a long lifespan of up to 40,000 hours.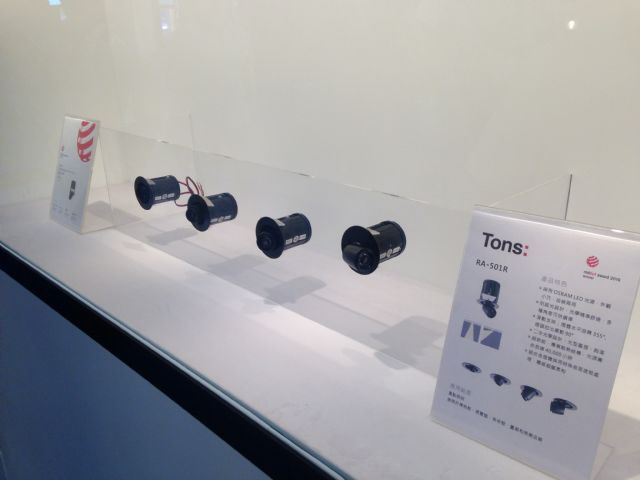 Taiwan's Tons Lightology displayed its RA-501R spotlight, which just won Red Dot Design Award in 2016.
Concurrent Events
Retaining its tradition, this year's Hong Kong International Lighting Fair Autumn Edition also provided a slate of concurrent events to help participants stay up to date on the latest developments of the global lighting market and related technologies.
In a workshop on "The Latest Development of Smart Lighting", for example, Ivan Lin, director of LEDinside, provided an overview of current developments of smart lighting and human-centric lighting; Fred Bass, director of Neonlite International, talked about "K.I.S.S." (Keep It Simple and Smart), a smart-lighting product concept that he believes can solve many operational problems with which consumers generally have trouble dealing when using smart lighting systems; and Kellen Yang, sales and marketing director of IoT Business Unite of Leedarson Lighting Holdings Pte Ltd., gave a lecture on how smart lighting can work with IoT.
During the show, HKTDC also assisted to arrange a press conference, in which QEE Technology (HK) Co., Ltd. and its subsidiary QEE Technology (Shenzhen) Co., Ltd. announced their strategic cooperation with Bridgelux Inc., a globally leading developer and manufacturer of LED arrays and chips. By forging the partnership, QEE Group, a Hong Kong-based branded vendor of LED luminaries, will adopt Bridgelux's original packaged LED chips in all its existing and future products.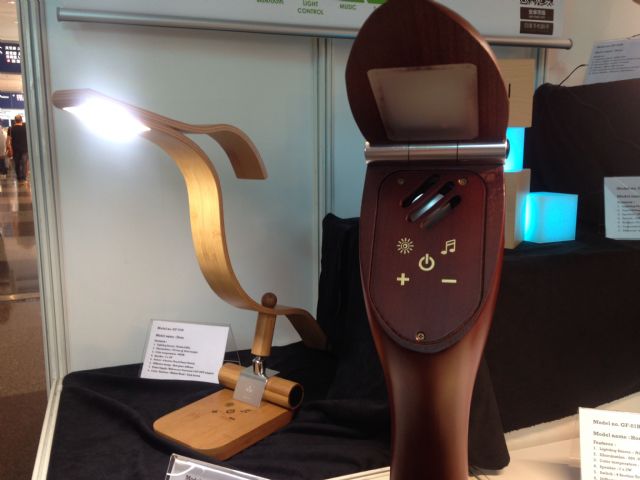 Elegant & Simply Wireless Speaker with Dimmable LED Lighting (left) demonstrated by Green First Corporation of Taiwan.
As Taiwan's best-known export media, CENS, which is now owned by Economic Daily News, the largest business-focused newspaper on the island, held a booth in Drive Hall at the show to provide useful buyer guides and real-time business matchmaking services to professional buyers in needs of high-quality lighting products from Taiwan. With extensive information about Taiwanese suppliers of nearly all kinds of machinery, CENS's publications were sought-after by buyers.
The next HKTDC Hong Kong International Lighting Fair Autumn Edition is scheduled October 27-30 at the same venue.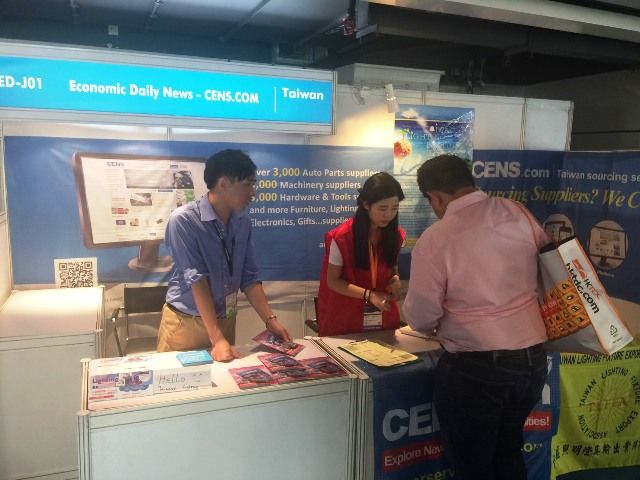 CENS's booth in Drive Hall at the show.