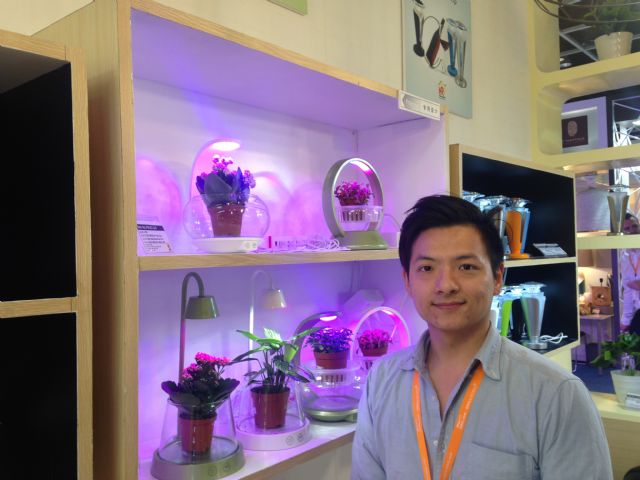 Kevin Chen, Home Resource's product management coordinator, introduced the LED Growth Lights series at HKTDC Hong Kong International Lighting Fair Autumn Edition 2016.
With LED lighting increasingly applied in growing plants and crops indoors as a promising trend in the industry, Home Resource Industrial Co., Ltd., a major LED lighting manufacturer in Taiwan and with operations across the Taiwan Strait, brought its LED Grow Lights series to this year's HKTDC Hong Kong International Lighting Fair Autumn Edition, held October 27-30.
Kevin Chen, product management coordinator of Home Resource, introduced that the series are developed to meet increasingly strong market demand for grow lights, and has lots of features designed to enhance home décor and address concerns that consumers may have on growing house plants.
Firstly, lighting fixtures of the series all have impressive and functional exterior designs. For instance, one classic model is designed with a structure resembling a desk lamp—a lamp-head is connected to base by a slim arm with curved top—and in elegant hues, with the base capped by a transparent shell with an opening at the top for better accommodating plant containers.
Another model has the light source embedded in the inner side of the curved top of a round arch spanning a space over the base, where a plant container holder is mounted. The futuristic, sleek exterior design adds charm to the fixture and makes it easy to carry.
On another front, Home Resource also places heavy emphasis on optical research for the products. Chen stressed that the series are all built with not only red and blue LEDs but white ones as light sources to differ among conventional grow lights. "Research has found that wavelengths of red and blue light affect plant growth," said Chen. "But, Home Resource's growth light adopts white LEDs additionally, mainly for ornamental purposes." Therefore, Chen continued, the lighting fixtures can give off light as required for growing plants, and be switched to white light for displaying and decorative purposes.
Furthermore, the series are also noted for optimally engineered light distribution and beam angles, to allow plants to grow and develop in the direction and within the range of light sources without sprawling branches, a merit especially significant when users would like to keep the areas surrounded by their houseplants clean and tidy, Chen emphasized.
"The series were debuted only two to three months before the show and have been patented in China," said Chen, adding that the products actually piqued professional buyers' intense interest.
A Well-established LED Lighting Maker
Founded in 1988 in Taipei as a lighting-fixture exporter, Home Resource has become a leading LED-lighting manufacturer in China, offering LED lighting fixture, spotlights, aluminum exterior lamps, aluminum bulkheads, streetlights, garden lights, flood lights, metal halide fixtures and high pressure sodium fixtures.
In 1992, the company invested in setting up a branch in Ningbo, China as Taiwan's first lighting maker with overseas operations in the country; then it established a factory in Dongguan, Guangdong, to make LED lighting fixtures.   
Over the past two decades, the company has won the Red Dot Design Award of Germany, Excellent Quality Award of Spain, and Good Design Product of Taiwan, as well as acquiring some 60 patents from Europe, the United States, China and Taiwan, to attain an enviable track record in the line.
The company's products are GS, CE, ETL, CUL certified, and its operations at the Taipei headquarters was certified with ISO9001:2000 by KEMA of the Netherlands in 1999. The ISO certification was upgraded to 2008 version after review by Dekra of Netherlands in early 2011.
This maker is trying to upgrade from contract supplier to OBM, backed up by its strong in-house R&D team, partnerships with foreign designers and Taiwan's academic institutes, and fully equipped laboratories.