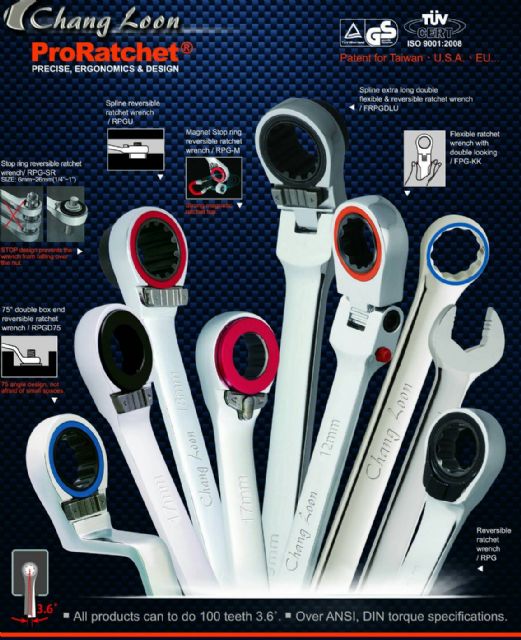 Chang Loon's ProRatchet® family includes 36-, 72- and 100-tooth high-precision gear wrenches.
A specialized manufacturer of wrenches and other hand tools in Taiwan, Chang Loon Industrial Co. has just launched a new ratchet wrench with enhanced precision and utility, to underline its strong commitment to continuous improvements of functionality and quality.
Made of high-quality steel with Chang Loon's time-tested techniques and undergoing special thermal treatment, the ratchet wrench highlights higher torque, stronger structural durability and longer lifespan than competing models. Plus, its ergonomic handle and light weight ensure users not just a comfortable grip, but greatly reduced fatigue when they use the tool.
Moreover, a fine 100-tooth ratchet is built into the tool, with each small turn moving precisely through only 3.6 degrees. Compared to a conventional 72-tooth ratchet mechanism that generally calls for a 5-degree turn to complete an operating cycle, the improvement, which underscores even smaller backlash, achieved by Chang Loon's consummate metalworking skills, makes the wrench easier to use in confined spaces and more efficient and effort-saving.
A High-profile Maker of Ratchet Wrenches
Founded in 1974 in Changhua County, central Taiwan, Chang Loon has specialized in making wrenches meeting GeprUfte Sicherheit (GS) standards for over four decades. The company supplies two major lines of products, ratchet wrenches and bolt cutters, mainly on an original equipment manufacturing (OEM) basis, and today is Taiwan's largest exporter of ratchet wrenches by volume,
The veteran maker's products have been sought-after by customers in Southeast Asia, Central Asia, Southeast America, Canada, the U.S. and Europe.
Chang Loon's current success is attributed partly to its unremitting efforts on continuous upgrades of production technology. To that end, the company has constantly resorted to technological cooperation with its foreign counterparts in Asia and Europe, as well as OEM collaboration with globally prestigious branded vendors
Focus on developing and providing customer-oriented services is also among factors behind Chang Loon's sustained development in the global market. For instance, the manufacturer offers innovative packaging to help customers boost the added value of their sales. The company knows that catching the attention of customers is critical, and has come up with refreshing ideas for packaging that effectively raises the visibility of the products in the spacious display aisles of big-box wholesalers.
The company's inspiration for its eye-catching packaging design comes mainly from customers' needs, which are determined by their specific situations. For instance, the company's ready-to-display packaging is tailored to address buyers' concerns about the rising cost of raw materials, as well as meet the need to cut labor input for buyers who want simply to deliver pre-packaged products to retailers.
Commitment to Quality and R&D
Chang Loon places strong emphasis on product quality, and its ratchet wrenches boast a higher torque rating and stronger structure than those of competing models that meet international standards, such as ANSI and DIN. This achievement is a result of the company's effective production system and rigid quality control.
To secure a supply of raw materials with dependable quality, Chang Loon uses steel only from Taiwanese suppliers and pays special attention to heat treatment, which is a key to a sturdy structure and long service life. Advanced testing instruments, including precision projectors and tension testers, assure that quality-control standards measure up.
Commitment to R&D is another factor that has enabled Chang Loon to survive and prosper amid the underselling rivalry by competitors from emerging countries.
To make sure that the development process is carried out properly and in line with up-to-date information and market trends, the company's management and supervisory staff form part of the R&D team to play an active role in every R&D decision.
Chang Loon also assures that its R&D projects will be successful by providing newly-developed hand tools to users on a trial basis and then, based on their feedback, rounding off their rough edges. This goes on until the tools are ready for launch; it is a costly process, but it allows the company to fine-tune its products until they are perfect.
The company has brought in an advanced 3D prototyping machine, which is fully computerized and provides a high degree of precision, to speed up development and make sure that prototypes take shapes in accordance with draftings and drawings.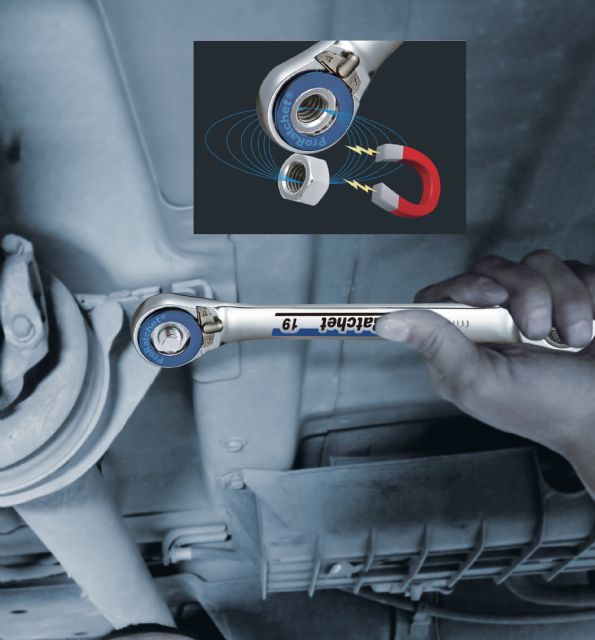 A unique external design makes Chang Loon's wrenches easily recognizable.
R&D Materialization for Enhanced Brand Recognition
All of these features help to give Chang Loon a basis for the development of its ProRatchet® into a well-recognized brand name among customers worldwide. Unlike other companies that focus on volume alone, however, the company aims to achieve brand-recognition globally by dedicating itself to innovation that differentiates its products from others on the market.
One way Chang Loon sharpens its brand recognition is to make the heads of its ratchet wrenches thinner and lighter than those of competing models, so that they are readily recognizable.
A patented design feature of Chang Loon ratchet wrenches is a colored ring embossed on the head that clearly shows the size of the wrench in Imperial or metric units, effectively preventing users from wasting time searching for wrenches of the sizes they need.
Despite the development of a hand tool's functionality having hit its ceiling, Chang Loon will continue to take advantage of R&D to build value-added features into its products through packaging, exterior appearance, and function.