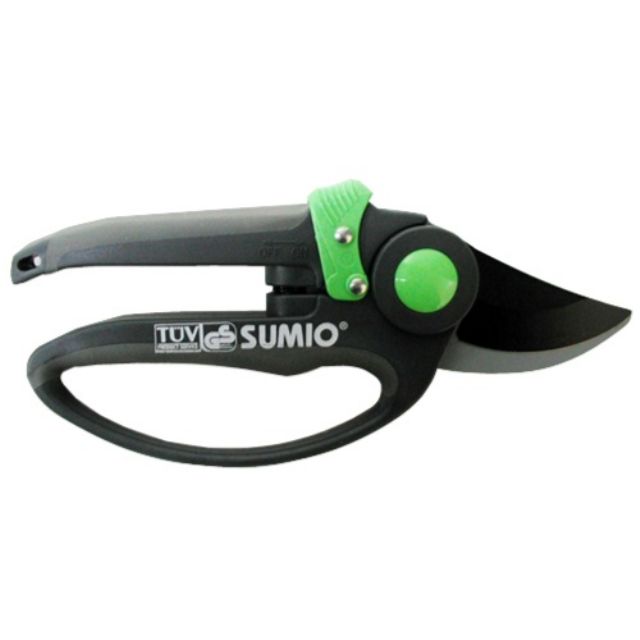 Geon Hung's SUMIO-branded pruning shears feature handles with ergonomic design to secure effort-saving operation.
Since its inception in 1976 in Taichung County, central Taiwan, Geon Hung Enterprise Co., Ltd. has been specialized in manufacturing and marketing digging tools, cultivating tools and garden tools under its own brand SUMIO worldwide.
Backed by consummate designing know-how, Geon Hung also supplies on an ODM (original design manufacturing) basis. The company is in a position to supply a wide range of garden tools, including pruners, long-reach shears, glass shears, weeding knives, seed spreaders, rakes, trash pickers, knife sharpeners and hose reel sets.
The firm's newly launched Heavy Duty Lever-compound Pruning Shear boasts ergonomic design on its handles, compact look and improved structure for effort-saving functions. The shear, featuring patented multinational utility and a 19mm cutting diameter, enables users to easily cut any large, hard deadwoods.
With unbeatable quality, Geon Hung's SUMIO-branded tools have been well received in the world's major markets, including North America, Europe and Oceania. Also, the company will attend National Hardware Show, to be held May 6-8 in Las Vegas, the U.S. to display its latest garden tool products. 
Geon Hung Enterprise Co., Ltd.
No. 22, Lane 63, Wenchang 1st St., Tado Xiang, Taichung County, Taiwan
Tel: 886-4-2699-2308
Fax: 886-4-2699-2916
Email: sumio@ms16.hinet.net
Website: www.sumiogarden.com