To most of foreign buyers looking for hand tool innovations, Taiwan Hardware Show (THS), the largest trade fair for such products by size on the island, has become a must-see yearly exhibition, for it gathers a number of Taiwanese hand-tool makers, who mostly have established high profiles in the global market. At the 2016 edition, the tradition continued.

With support from Taichung City Government, the exhibition, organized by Taiwan Hand Tool Manufacturers' Association (THTMA), THS celebrated its 16th anniversary on October 12 through 14 at Greater Taichung International Expo Center, just a few minutes away on foot from Taiwan High Speed Rail Taichung Station.

During the show's three-day run, over 28,000 visitors and professional buyers from some 63 different countries of the world were present, most of whom gave the thumbs up to distinct features of THS 2016, including a full line of hardware products available on the showground and its proximity to where a large number of competent, reliable suppliers of hand tools cluster.

Varieties of exhibits displayed by a total of 400 exhibitors at home and abroad were organized into eight designated areas—namely Tools & Accessories, Locks & Fittings, Fasteners & Fittings, Building Supplies, Garden & Outdoor Equipment, Automotive Supplies & Accessories, Machine & Plant Equipment, and Safety Equipment & Products. As usual, hand tools remained the biggest category at the venue.

Re-Dai
Among Taiwanese hand-tool exhibitors at the exhibition, Re-Dai Precision Tools Co., Ltd., a globe-caliber maker of wrenches and ratchet spanners, showed off strong R&D prowess by exhibiting its newest Xi-On series socket wrenches.

The tool is made of high-quality steel and processed with special thermal treatment for structural durability, and has an ergonomic handle to assure users of an anti-slip, comfortable grip. However, what truly enhances added-value to the product to outperform similar models is its improved ratcheting mechanism, which enables users to turn, remove seriously stripped bolts and nuts with ease. The mechanism has been patented globally.

Justifying success of the innovation, Re-Dai chairman H.C. Yu indicated that the series have received high accolades from professional buyers in Germany, the U.S. and Japan, and contributed nearly 20 percent to its annual revenue.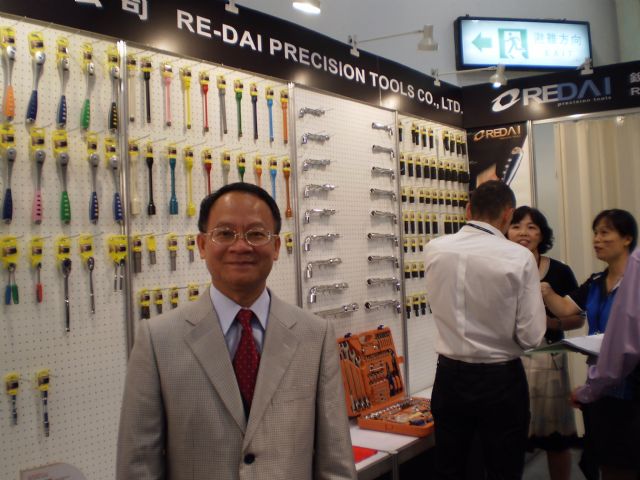 Chairman H.C. Yu of Re-Dai.
To say that Re-Dai is one of Taiwan's highest-profile hand tool makers is not overstated. Since founded in 1984 in Taichung City, central Taiwan, home to the domestic hand tool industry, the firm has been dedicated to developing and manufacturing wrenches and socket wrenches targeted at professional users. Presently, the company capably churns out some 15 million units of various tools yearly, which are delivered globally on an ODM (original design manufacturing) and under its "REDAI' brand.
In addition to value-added functionality achieved by Re-Dai's constant investment in R&D, Yu noted that reliable, consistent quality is also among attractions of the company's products, which stems mainly from his company's well-integrated in-house production capability, from cold forging, lathing, thread rolling, deburring, to heat treatment, surface finishing and packaging. Plus, its products all are made under strict quality controls conforming to the ISO-9001 system.
Thanks to the efforts mentioned above, Yu stressed that the firm's products, covering over 600 different items that can be categorized into hand tools, pneumatic tools, auto repair tools and insulated tools, have been tested to meet DIN, ANSI, JIS standards, and passed GS certification.
Allprofessional
On the payoff of continued hard work on upgrading production technologies and materials for snips, Allprofessional Mfg. Co., Ltd., established in 1980 in Taichung, attracted a constant influx of visitors and buyers interested in its professional-caliber snips made of special, fine steel displayed in its booth during the show.
Allprofessional is one of the best-known, biggest snip makers in Asia, supplying varieties of snips, all of which are made in compliance with ANSI standards and feature unbeatable quality.
Pointing to the cutting blades of a snip among others showcased at the venue, president David Huang of Allprofessional said that his company has joined hands with China Steel, Taiwan's largest steelmaker, and a local university to build a cross-sector R&D team to jointly develop the high-hardness alloy steel, which has been tested to be comparable with those measuring up with ASTM Grade 11 standards in hardness.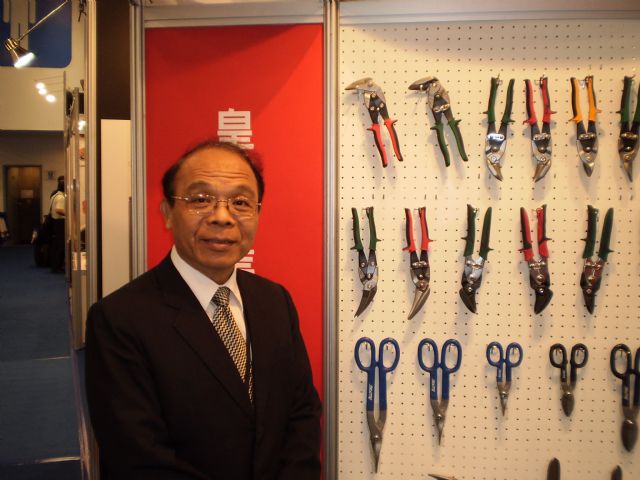 Allprofessional president David Huang.
Unlike its peers who usually take trial-and-error methods to raise product quality, the company resorts to computerized technologies, like X-ray diffractometry, to observe and analyze metallographic structure and hardness of materials, and then improves these characteristics and related processing methods to achieve the best quality. Such advanced methodologies work, as most of the company's snips can even cut steel plates with a surface hardness rating of HRC 40.
Carrying out stricter quality testing standards can also reflect the company's confidence of its snips. Huang stated that each of Allpro's snips is subject to a rigorous testing cycle—cutting paper and cloth once each, then sheet metal 0.66mm in thickness for five times, and finally cloth and paper each again. And only those undergoing the cycle repeatedly for 100 times without causing any damages to the blade's edges can be shipped to customers.
With annual capacity of over 5 million units, the company ships its snips worldwide mostly under its "ALLPRO" brand to enjoy a 35 percent share of the global market. Following decades of development, Huang said proudly that "ALLPRO" has become a name associated with top-caliber snips among professional end-users from all corners of the world.
Proxene
The RW series ratcheting adjustable wrench unveiled by Proxene Tools Co., Ltd., a specialized adjustable wrench maker headquartered in Taichung City, was an eye-catcher at THS 2016 for featuring greater torque performance and better functionality, which was a winner of Taiwan Excellence Awards in the year.
General Manager Arthur Wu of Proxene introduced that the ratcheting adjustable wrench, one of the most conspicuous models of the company's FasWrench family, is made of high-quality chrome vanadium steel and goes through proper heat treatment for enhanced tension, while offering great precision thanks to its improved gear design. Hence, the wrench has been tested to generate 130% stronger torque than ASME requires, and exceeds most international standards, including ISO 6787-1982, BS 6333-1995, DIN 3117-1988, JIS B.107.8-2010 Heavy Duty, SABS 1211-1984 Heavy Duty, CNS, and so forth.
Furthermore, the tool is built with the so-called "Magic Button," which enables users to easily switch the tool with single fingers to a ratchet or regular mode for different purposes, as well as a wider jaw opening for an easier grip of different-sized bolts and screws, an improvement especially significant at a time when the tool is used in confined spaces.
Wu stated that this easy-to-use, multifunctional, high-torque and effort-saving tool has been patented in Taiwan, the U.S., EU, Canada and China, and delivered worldwide, including Australia, Europe and the U.S., mainly for use in workshops and professional purposes.
Most agree that Proxene is a Taiwanese top-notch manufacturer of wrenches and adjustable wrenches, as, Wu confirmed, it delivers its products under the "Fulco" brand globally to have held a 12 percent share of the global market for professional-caliber wrenches for the moment.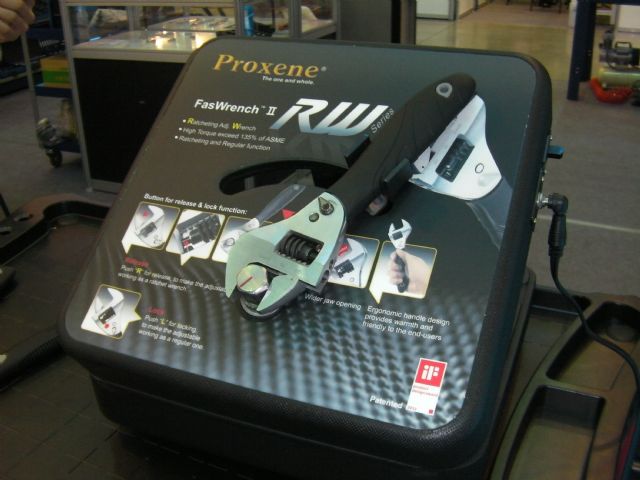 Proxene's RW series ratcheting adjustable wrench.
With its name increasingly recognized by professionals, the chairman continued, the firm expects combined shipments of its ratcheting adjustable wrenches, including 8-, 10- and 12-inch models, to have exceeded 300,000 units in 2016 for various purposes, such as auto and motorcycle repair, petroleum production, mining, plumbing and electrical installation, construction and agricultural equipment maintenance.
Believing that small improvement can result in big difference, Wu stressed that although adjustable wrenches have gone a long way as one of the most commonly used tools in industries, Proxene, however, continues to invest in R&D to improve such products, in an effort to satisfy end-users with "truly friendly, easy-to-use adjustable wrenches with the finest quality."
"Leading the market to create demand while always thinking ahead of our customers is Proxene's corporate philosophy," Wu concluded.
Infar
One auto-repair tool exhibitor at the exhibition, noted for having remained truly professional to offer personalized services for 30 years, was Infar Industrial Co., Ltd., established in 1978 in Changhua County, central Taiwan.
Infar is a major supplier in the line in Taiwan, running two factories in Taiwan and another in China, hiring 700 workers overall. The company offers a wide range of wrenches, ratchet wrenches and sockets on an OEM (original equipment manufacturer) and ODM basis, with a moderate portion sold under its own INFAR, brand.
Terence Chen, product manager, said that the company has consistently acquired state-of-the-art production technologies via close cooperation with the government-funded Metal Industries Research & Development Centre (MIRDC) and domestic colleges. For example, the company once introduced innovative, eye-catching colors on its wrenches and ratchets, an idea which originated with Chen's plan to give Infar wrenches individual, stylish features to build popularity, especially with younger North American users, and eventually proved successful to drive its shipment.
Equally remarkable is Infar's commitment to quality and service, which puts it a head above the competition globally. "Infar is fully responsible for quality with our lifetime warranty. For instance, a customer once returned a used wrench that was bought from us at least 10 years earlier, which had completely worn out from extensive use," Chen said. "We unhesitatingly replaced it with a few new ones for free, which may sound incredible but is our way to offer the best service."
To enhance added-value of products, Infar also designs packaging. With an in-house team of R&D engineers, the company can develop economical and practical packaging that help the company and customers to cut cost and reduce material waste. Furthermore, the company works with four other suppliers in the line to offer one-stop shopping services for foreign buyers.
Chen's commitment to professionalism may be inspired by the Japanese as he believes in achieving the spirit of "Shyou," which means a devoted, respectful master or seasoned expertise in Japanese. Such belief helps the company to religiously offer top-notch quality and service, which has enhanced corporate profitability.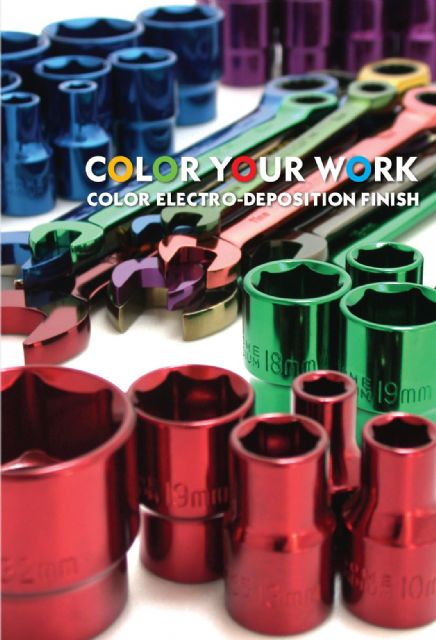 Infar's brightly colored hand tools and accessories.