Over 70,000 visitors and 2,200 exhibitors attended trade fair to generate tremendous potential for business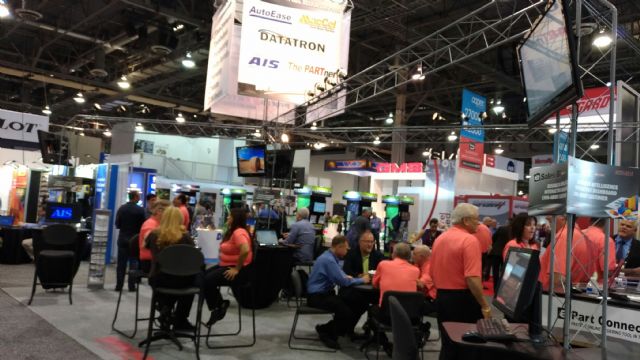 AAPEX 2016 hosted over 2,200 exhibitors from some 100 countries.
Held annually at Sands Expo in Las Vegas, the U.S., AAPEX (Automotive Aftermarket Products Expo) is the largest trade fair for the aftermarket in North America, as well as world's second most influential only next to the biennial Automechanika Frankfurt of Germany.
With auto sales in North America and Europe steadily growing along with market demand for new cars in emerging countries recovering, AAPEX again saw a large number of suppliers, visitors and buyers from all over the world cram into the Sands Expo during its 2016 edition, to represent the global aftermarket auto parts and accessories industry, which is valued at several hundreds of billions of dollars.
AAPEX 2016, held on October 31 through November 2, hosted over 2,200 exhibitors, mostly automotive aftermarket manufacturers and suppliers, from 100-plus countries under one roof, with total exhibition area of 2 million square feet.
During the four-day span, more than 70,000 visitors, including some 44,000 targeted buyers, from all corners of the world flocked into the venue, together making the exhibition a hustling, lucrative marketplace for automotive aftermarket goods and services.
Exhibits were systematically organized and laid out in Level 1 and Level 2 of the exhibition hall according to categories. Level 1 accommodated mainly exhibitors of conventional auto parts and accessories, such as air fresheners, car seats, dash covers, floor mats, sunroofs, heat transfers, air conditioners, coolers, radiators, engines, electrical parts, filters, belts, hoses, brakes, drivetrain, exhaust and chassis system parts, wheels, steering system parts, etc., as well as hand tools, power tools and diagnostic equipment.
In Level 2, visitors could see a wide spectrum of exhibits categorized into several sections as described by show organizers, including Automotive Technology, AWDA (Automotive Warehouse Distributors Association), General, Import Vehicle Community, Mobile Heat Transfer/Heating/Air Conditioning, Paint and Body Equipment, Remanufacturing, and Tool and Equipment.
Brisk Auto Sales and Production Worldwide
It is safe to say that AAPEX 2016's robust exhibitor and visitor turnout is attributable to the brisk auto sales and production worldwide seen throughout the year, as well as an increasingly brightening outlook for the global automotive aftermarket industry.
With market demand in China and Southeast Asian countries gradually turning around, coupled with the persistent growth in North America and Europe, IHS Automotive, a U.S.-based market research firm, forecasts global auto sales to have reached 89.8 million units for a 2.7 year-on-year rise in 2016, after an anemic growth of less than 1.5 percent a year ago, the smallest expansion since 2010.
Justifying the forecast, the market research firm indicates that the U.S. and Europe would remain the major growth engines for the global auto market in 2016, with the former benefiting from low interest rates and oil prices and the steady recovery of local economy and labor force participation, and the latter gaining steam from strong sales in West Europe.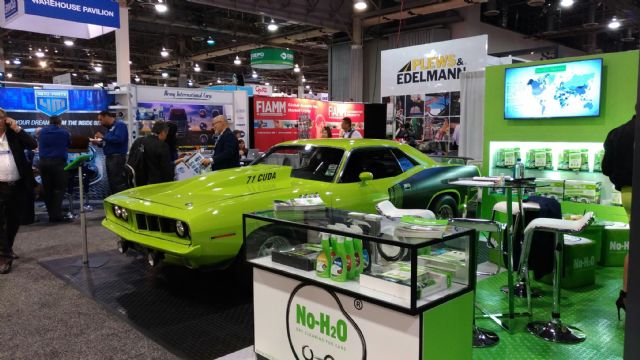 AAPEX has served as the biggest, most influential platform for the automotive aftermarket in North America.
Meanwhile, China is expected to have witnessed a 5-6 percent increase in local auto sales, mainly driven by a cut on purchase tax on some car models, albeit the continued economic growth slowdown. Also, IHS notes that overall auto sales in the ASEAN (Association of Southeast Asian Nations) member countries, particularly Thailand and Indonesia, have returned to a growth trajectory since the second half of 2016, while those in India, where oil prices and interest rates have remained at low levels, are estimated to have seen a double-digit growth rate in the year.
The prosperity of the global auto market can also be reflected by brisk car production worldwide. IHS Automotive projects global new-car output in 2016 to have risen 3.2 percent year on year.
In Europe, overall car production is estimated at 21 million units in the year, up 1.7 percent yearly, mainly thanks to local vigorous demand and increasing exports to the U.S. In the meantime, car output in the NAFTA (North American Free Trade Agreement) bloc throughout 2016 is projected 18 million units to stay on a robust growth course, while that in Japan, China and ASEAN bloc to show a 2.3, 5.2 and 1.3 percent increase, respectively.
On another front, the thriving global automotive aftermarket also contributes to AAPEX's bigger-than-life presence. The U.S.-headquartered research firm, Global Industry Analysts, Inc., reports that size of the global automotive aftermarket is projected to double to US$722.8 billion by 2020 from some US$360 billion seen in 2014. During the period, while the U.S. will remain the largest market of this kind, Asia Pacific, the firm stresses, is expected to witness a compound annual growth rate of 6.4 percent to lead among regional markets in the world.
One main factor among others sustaining the swelling global auto aftermarket is the continuously rising average ages of vehicles in operation worldwide, Global Industry Analysts states. In Europe, for instance, the average age of vehicles on the road has constantly risen since 2008, to 8.4 years in 2013, according to a survey by the market research firm. In the U.S., the average car and light-duty truck in operation were 11.6 and 11.5 years old, respectively, in 2014, compared to 10.9 and 10.6 years old in 2010.
One more interesting observation regarding prolonged car use is that with car quality being continuously improved, ever more consumers in the U.S. intend not to scrap their old cars when buying new ones, as reported by USA Today in July, 2015.
Products & Services Meeting Tech Trends
With various in-vehicle information systems, advanced driving assistance systems becoming the main parts of vehicles to enhance driving safety and comfort, Global Industry Analysts points out that market demand for auto electronic parts and components, as well as tech products, is expected to post the strongest compound annual growth rate of 4.4 percent among other categories, such as mechanical parts, electrical parts, body and structural parts, lubricants and gels, and chemicals, during 2014-2020.
To keep up with the abovementioned trend, AAPEX organizers set up "Automotive Technology" section the first time in the 2016 edition, in which varieties of tech products and services that have influenced the daily operations in the aftermarket sector, including vehicle telematics solutions, mobile payments, inventory optimization tools, cloud computing and solutions, were displayed and served to inspire industry insiders to come up with new business models in a world of connected cars.
Among exhibits of the first-ever section at the show, SmartACX Mobile Phone App by MAHLE Service Solutions of the U.S., for instance, is developed for its SmartACX Arctic Pro 1285 and KIA's ArcticPRO 1299 service machines, allowing technicians to remotely monitor the values and status of the said machines once connected to those via Wi-Fi or Cellular Data. Automatically displaying values and alert notifications on a smartphone installed with the app, it can greatly enhance efficiency and productivity of a workshop.
ManagerTM SE Truck Edition from U.S.'s Mitchell 1 deserved rave reviews for being the industry's first shop management software specifically for trucks. The software provides independent shops that service medium- and heavy-duty trucks with integrated repair, labor estimating and management tools on one platform, to help maximize efficiency of day-to-day operations.
Also following the tech trend at the exhibition was NVH App by Vibrate Software Inc. of the U.S., which leverages internal sensors of a smartphone and tablet to turn them into an all-in-one NVH (noise, vibration and harshness) diagnostic tool. A product of the firm's 25 years of experience in vibration diagnostics, the app helps technicians to detect exactly causes to the vibration on a vehicle and fix it with ease.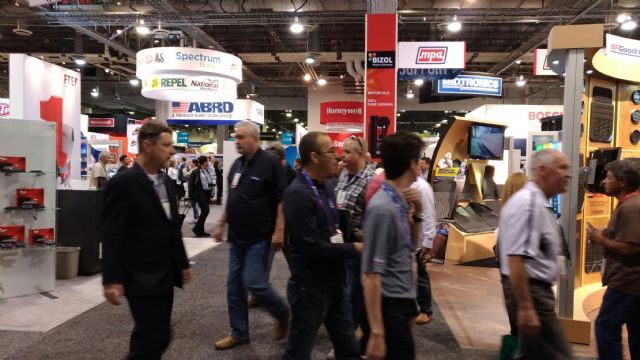 A large number of visitors and buyers crammed into the Sands Expo during AAPEX 2016.
Appealing Packages for Better Buying Experience
In addition to various innovative, marketable products to address aftermarket demand, novel, impressive and practical packaging designs exhibited by exhibitors to enhance buying experience and product added-value were also among hits with visitors at AAPEX 2016.
For example, the U.S.-based Federal-Mogul Motorparts launched its unique Champion® oil filter package, which features a cylinder style tube with a spin-off cap allowing for easy access, to differ from conventional box-style packages and boost the visual appeal of such parts on retailers' product shelves.
Srubbblade Inc. brought to the exhibition its SCRUBBLADE Platinum windshield wipers readily visible in a gripping, delicately designed package. To allow consumers to touch and feel the windshield wiper without opening the package and ensure effective exposure and interactive experience when placed in a waterfall modular display, the patented package design has a moon shaped cutout in the upper portion, and looks clean, bright, simplistic and educational.
Concurrent Events
As a yearly tradition for industry insiders, the show offered a slate of educational professional forums and expert seminars during its three-day run, to provide participants a clear picture of how the global automotive aftermarket has evolved.
Among the arranged events, Let's Tech was a new program featured at AAPEX 2016 to bring more attention to anything informative and impactable in the automotive aftermarket. Invited speakers included representatives from such well-known companies as DENSO, APA Engineering Pvt. Ltd., ZF Services, etc., with topics revolving around the development and presentations of new technologies, products and tools.
Service Professional Program was a series of expert seminars and organized to give the attendees extensive, in-depth insights into the status quo and future development of the automotive aftermarket industry and the market.
At the seminar "Aftermarket Outlook," NPD's Director of Industry Analysis, Nathan Shipley, revealed how sales in 2016 measured up to expectations, share insights into consumer attitudes that will shape the coming year, and provide his outlook on sales for 2017. Three speakers, including Debby Bezzina from University of Michigan Transportation Research Institute and Mike Pina from U.S. Department of Transportation in the seminar with the topic "What the Aftermarket Needs to Know About Connected Vehicles" together shed light on how connected vehicles have changed people's lives and the industry.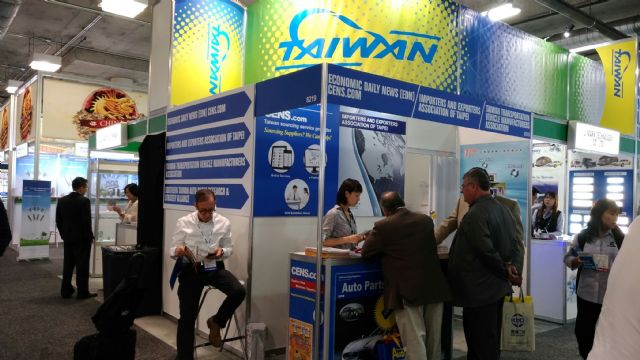 Taiwan Pavilion organized by CENS and EDN at the show.
Taiwan Exhibitor Group Headed by EDN+CENS
To promote Taiwan's high manufacturing reputation in the auto parts and auto repair tool industries, CENS and EDN (Economic Daily News), Taiwan's largest business-focused newspaper publisher, together organized an exhibitor group of 52 high-profile companies of this kind to AAPEX 2016.
Those exhibitors included Jesse Lai Incorporation (a maker of AM gas tanks, fuel filter necks, oil pans, etc.); CTG Tools International Co., Ltd. (a supplier of air tools, auto accessories and hand tools); Metalplus Inc. Co., Ltd. (a producer of chassis parts, kits and components, steering & suspension system parts, stabilizer links, control arms, ball joints, tie rod ends and idler arms); Cub Elecparts Inc. (a manufacturer of power windows, sensors, car door locks, brake switches and tire pressure monitoring systems); Rung Cherng Suspenparts Co., Ltd. (a supplier of suspension system parts, chassis system parts and control arms); Lai Luoh Enterprise Co., Ltd. (a maker of engine bearings, washers and bushings); Keenco Industrial Co., Ltd. (a producer of ratchet box wrenches, socket wrench sets, sockets, etc.); and Sportsman Corp. (a manufacturer of motorcycle accessories).
Also, CENS held a booth at the show to provide professional sourcing guides and magazines to global buyers interested in Taiwan-made auto parts and accessories, effectively helping Taiwanese suppliers build positive links with potential buyers from all corners of the world.
The next AAPEX will held on October 31 through November 2, 2017 at the same venue.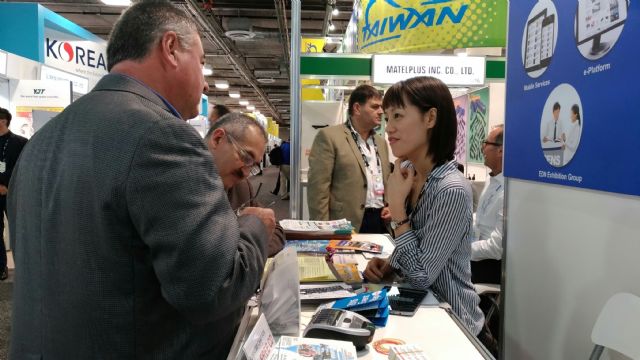 CENS's sourcing guides were popular with buyers at the exhibition.