Suspension parts, electrical parts, engine parts, body parts, etc.
The Taiwan-based Soonest Parts Co., Ltd. provides varieties of auto parts and accessories as a professional supplier in the global market.

The company's product lineup comprehends engine system parts, transmission filters, radiator cooling fans, universal joints, steering system parts, rubber and plastic parts, fan assemblies, suspension parts, auto accessories and many others that can fit most of car makes and models on market.

Backed by profound knowledge of vehicles and decades-long experience in global marketing, as well as an efficient production network composed of veteran contract manufacturers, Soonest provides not just auto parts and accessories with the high quality and short lead time that are beyond customers' expectations, but offers thoughtful, professional services to help them better shore up businesses in their markets.

Thanks to the merits mentioned above, the firm has effectively built a solid reputation among clients mainly from the U.S., Europe and Japan.

Underpinned by its motto "Putting Customers First and Offering Timely Service," Soonest aspires to forge long-term partnerships with customers who deal with Japanese, European, American or Asian cars.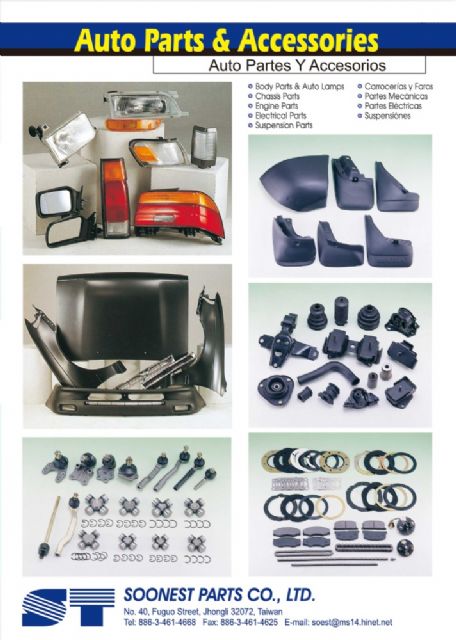 Soonest's product category encompasses nearly all kinds of parts and accessories for carious car makes and models on market.
Soonest Parts Co., Ltd.
No. 5, Lane 73, Chilin Rd., Chungli Dist., Taoyuan City 320, Taiwan
Tel: 886-3-461-4668
Fax: 886-3-461-4625
Email: soest@ms14.hinet.net