Auto body parts, body panels, lamps, mirrors, brake parts, suspension parts, steering parts, transmission parts, engine parts, electric parts, cooling parts, car accessories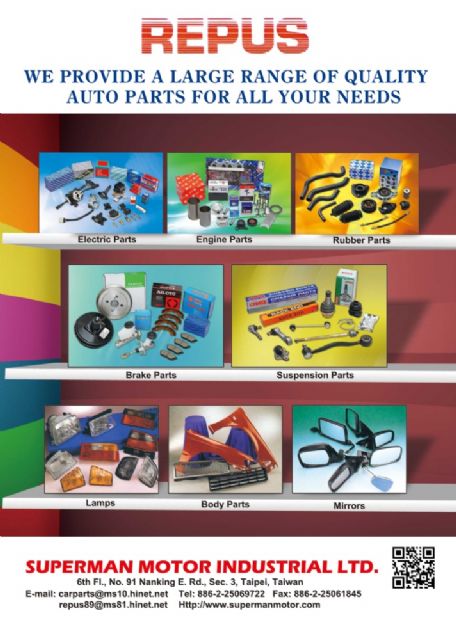 Superman Motor provides parts and fittings for various systems of a vehicle.
Founded in 1988, Superman Motor Ind. Ltd. is an auto parts exporter from Taiwan with a "Repus" trademark, and held in high regard by customers worldwide for its devotion to customer satisfaction
The firm provides a full spectrum of body parts, suspension parts, brake parts, steering parts, engine parts and more, all of which are made in Taiwan with guaranteed quality and pass ISO certification.
To stand out from the competition, Superman Motor offers different shipping options, such as full container load, mixed container load, LCL shipment and airfreight, depending on requirements, with an aim to help save freight cost.
Backed by a professional team with over 28 years of experience, the company is committed to satisfying customers with more premium service, wider product range, faster delivery and more efficient container loading than its peers, and capable of assisting them to source auto parts in various specifications for all vehicles in different markets.
Superman Motor Ind. Ltd.
6F, No. 91, Nanking E. Rd., Sec. 3, Taipei 104, Taiwan
Tel: 886-2-2506-9722
Fax: 886-2-2506-1845
Email: carparts@ms10.hinet.net
Website: www.supermanmotor.com