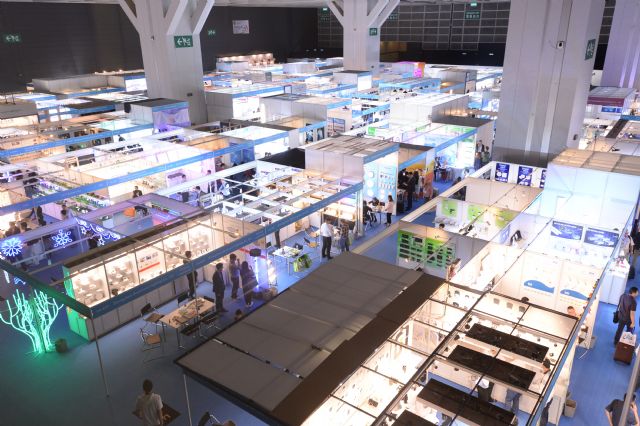 The 9th HKTDC Hong Kong International Lighting Fair (Spring Edition) will host over 1,300 exhibitors from all over the world (photo courtesy of HKTDC).
The 9th edition of HKTDC Hong Kong International Lighting Fair (Spring Edition) will be staged on April 6 through 9, 2017 at the Hong Kong Convention and Exhibition Centre, with around 1,300 exhibitors from all over the world having already prepared to together offer global buyers a one-stop sourcing platform for all finished products, parts and components.
LED Lighting and Smart Technology Remain Buzzwords
At this year's HKTDC Hong Kong International Lighting Fair (Spring Edition), LED lighting and related applications of smart technology will likely continue to take central stage after years of being buzzwords in the industry.
Findings in a survey conducted by HKTDC Research on prospects for the lighting market at the end of 2016 showed that LED and related green lighting products (as chosen by 40% of respondents) continue to be viewed as the category with highest growth potential in 2017.
In terms of LED product applications, respondents believed that indoor household lighting (32%) and smart lighting systems (21%) will see the largest increase in the coming two years. As regards to future development, the majority of the respondents (84%) indicated that smart technology will drive the evolution of the lighting industry over the next two years.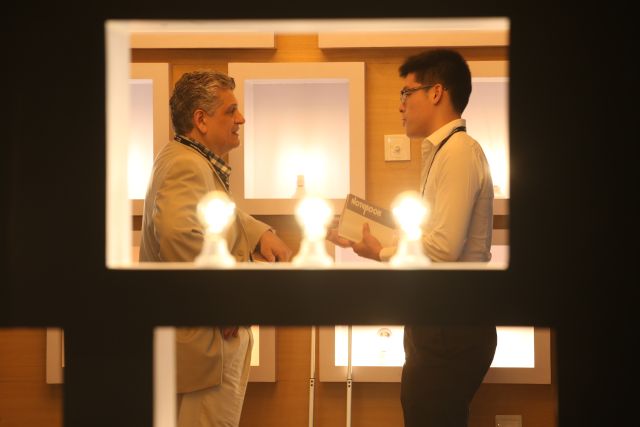 The trade fair aims to lead the way for the global lighting industry by focusing more on new technological applications (photo courtesy of HKTDC).
Thematic Zones Arranged for Easy Sourcing
With energy efficiency being one of the significant trends in the global lighting industry, the "LED & Green Lighting" zone will remain the highlighted zone among others at the show, to feature both functional and decorative LEDs and Green Lighting products.
The lighting industry is actively developing smart lighting technologies and products in response to the development of "smart city and smart home" driven by the Internet of Things. In order to cater market demand, the inaugural "Smart Lighting & Solutions" zone will be set up this year, to showcase state-of-the-art lighting systems, remote control and smart lighting products. Furthermore, the inaugural "Startup Zone" is designed for young designers and startup to showcase their original ideas and new concepts, as well as to communicate with global industry players.
Another highlighted zone, Hall of Aurora, will provide an elegant and extraordinary setting for top-notch branded collections of lighting fixtures. Interior designers and architects, as well as fashion-forward retailers can find high quality and trendy lighting products in the zone. Leading brands taking part in the zone will include Viribright, Forest Lighting, Jaykal, SKY-LIGHTING and many more.
The "Avenue of Chandeliers," a zone established to spotlight glittering and splendid chandelier collections, will serve as a traffic stopper to interior decorators and stylists, also contractors outfitting hotels, restaurants, shopping malls and other development, given that chandeliers in both modern and traditional styles are experiencing a fashion resurgence. And "World of Professional & Industrial Lighting" will cover a broad range of situation-specific lighting, including lighting for warehousing, stadiums and other commercial purposes, safety lighting and emergency lighting. Other product zones on the fairground will include "Advertising Display Lighting", "Commercial Lighting", "Outdoor Lighting" and "Lighting Accessories, Parts & Components".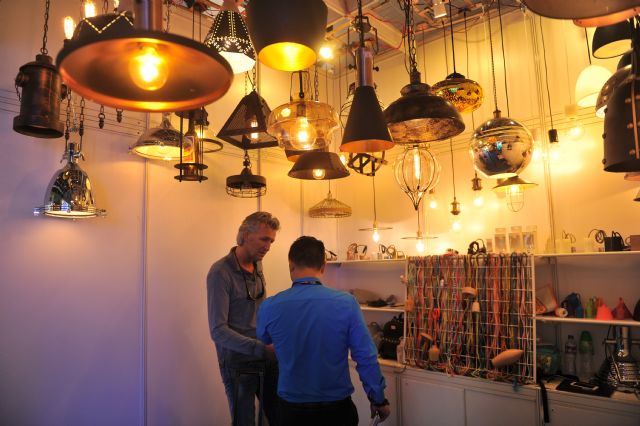 The show has served as a great one-stop sourcing platform for global lighting product buyers (photo courtesy of HKTDC).
Enlightening Events Organized
Different seminars and buyer forums are organized to keep traders abreast of the latest market information. Co-organized with the Hong Kong Institution of Engineers - Electronics Division and Hong Kong Electronics & Technologies Association, the "Asian Lighting Forum" covers subjects such as global market trends and applications of smart lighting. In a range of informative events, buyers will share market insights at forums on business opportunities in different markets, and industry representatives will give the latest update on lighting design trends.
The 10th Hong Kong Lighting Design Competition organized by HKTDC returns. The theme of this year's competition is "Blooming Aura", which aims to stimulate participants' innovation and demonstrate the feeling of liveliness and vibrancy brought about by blooming lights. The Hong Kong Lighting Design Competition Award Presentation Ceremony will be held on Day 1 (6 April) of the fair and all winners' and finalists' works will be showcased at Hall 1C Concourse during the fair period.
Following HKTDC Hong Kong International Lighting Fair (Spring Edition), two fairs will also be held April 13-16 concurrently: HKTDC Hong Kong Electronics Fair (Spring Edition), Asia's largest electronics fair, to showcase the latest consumer electronics; and HKTDC International ICT Expo, which offers the newest enterprise solutions, retail technologies, mobile applications, cloud computing solutions, telecommunications and network products for all businesses.