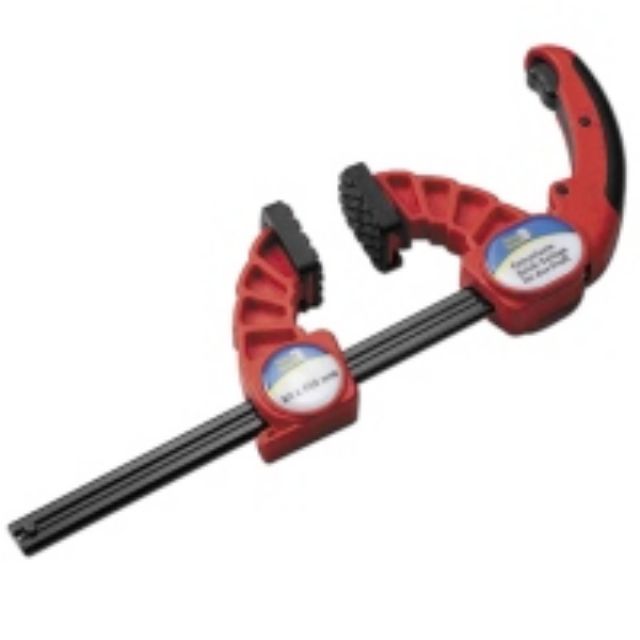 Sample of Great Clamp's quick lever clamps.
Long-term dedication to staying focused on product improvement and corporate  management have turned Great Clamp Company into one of the most seasoned, capable clamp makers in Taiwan.
With a history of several decades, Great Clamp has stayed loyal to living up to its namesake, making various clamps of excellent quality. Presently, the company offers  a wide range of clamps, including manual clamps, bar and spreader clamps, quick lever clamps, quick gear clamps and welding clamps, all of which have proven very popular among buyers of woodworking and industrial tools all around the world.
Xin-zhen Yang, chairman of Great Clamp, plays a proactive role to lead the company to consistently engage in research and development of products and production upgrades. According to Yang, his company puts heavy emphasis on product refinement: making sure to build into clamps with exceptional functionality and minimizing any imperfection, with such devotion successfully turning out products that are clearly superior to competing models.
Also, the company integrates ergonomic design into all its products, which makes its clamps so easy to use and effort-saving, even allowing single-handed operation. Unsurprisingly, such steadfast enthusiasm for perfection has made the clamps some of the most-sought-after globally, many of which are patented in Taiwan, mainland China, the U.S. and Germany.
Also noteworthy is that the company's professional R&D program and experienced staffers keep the company dynamic and driven. Yang is adamant about the importance of sound management for the profitable operation of his firm, and towards that end has done his utmost so as to keep the production running at peak efficiency.
"We insist on a full training program for our staffers, which is vital for Great Clamp, that has successfully upheld product quality and bolstered corporate culture and content," says Yang. "I will not allow any of our staffers to take on a task without first being fully, properly trained." Such uncompromising principle has effectively kept the   company's competitive edge sharp in terms of production.
Besides, emphasis on team spirit is part of Great Clamp's evolving management. "I especially concentrate on teamwork at Great Clamp, because such approach can accelerate the company's progress in production by combining everyone's ideas. There is simply no room for compromise in terms of adopting teamwork," Yang says. "This is a positive corporate culture that we need to reinforce to maximize  production efficiency at Great Clamp."
Backed by a competent workforce and efficient operation, Great Clamp can guarantee delivery of not only a variety of clamps with unbeatable quality, but also offer personalized service, and therefore has built a solid reputation among buyers worldwide. "In addition to self-developed products, we also welcome original designs provided by customers for production on the OEM (original equipment manufacturing) basis, while we assure on-time and rapid delivery," Yang states.
Without being limited by its size, Great Clamp functions as effectively as a bigger  counterpart in the line, mostly fueled by its passion for product and management improvement. So far, the company has successfully distributed its products globally, clearly becoming a burgeoning, dynamic clamp supplier in the global market.