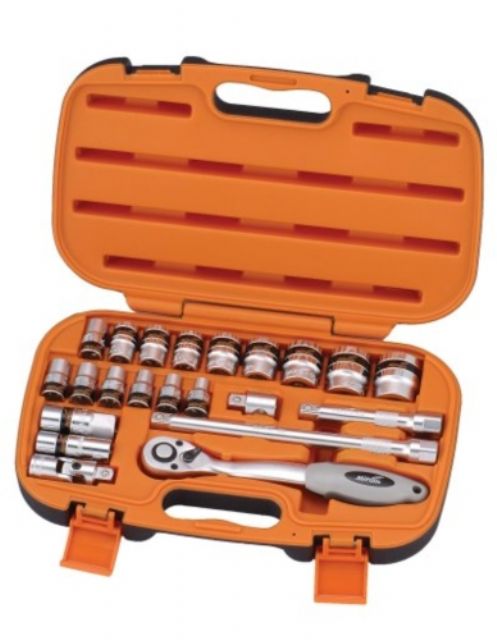 1/2" DR 23 pcs socket set by Chen Der.
Located in Taiwan's central city of Taichung, Chen Der Machine Industry Co., Ltd. is an experienced OEM of auto repair tools, being known as the world-caliber supplier of GS King Tools and Mitools-branded tools.
The company turns out a huge range of auto repair tools such as socket sets, ratchet wrenches, torque wrenches, screwdrivers, spanners, power tools, handy tool kits, shear wrenches, magnetic drills, safety hooks, cutters, gear sockets and auto report tool sets. It also supplies pneumatic, electric tools and related accessories.
Available in metric and imperial sizes, the company's tools all meet global standards for torsion and durability, and are also patented for functionality and packaging as well as popular for DIY and professional purposes worldwide. With production flexibility and ample know-how, the company also accepts custom orders calling for special specifications and functions. 
Chen Der Machine Industry Co., Ltd.
No. 68, Sinsing Rd., Dali Dist., Taichung City, Taiwan
Tel: 886-4-2406-0961
Fax: 886-4-2406-2641
Email: andy3310@ms71.hinet.net
Website: www.gskingtools.com.tw; www.mitools.com.tw