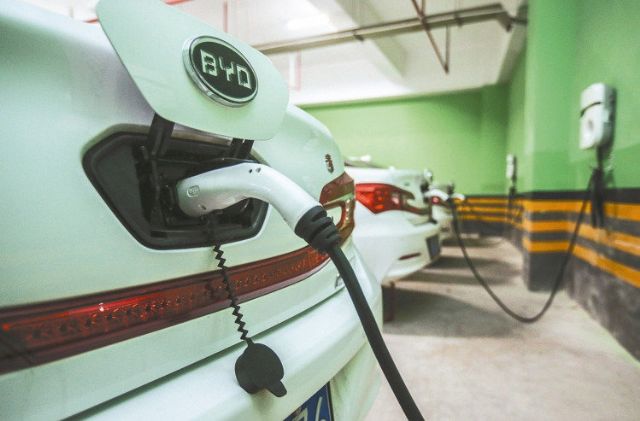 Delta and Pan German, BMW's official agent in Taiwan, are jointly developing EV charging infrastructure in Taipei, capital of Taiwan (photo courtesy of UDN.com).
The Taiwan-based Delta Electronics Inc., a globally leading supplier of switching power supplies and thermal management solutions, and Pan German Motor Ltd., the official agent of BMW vehicles on the island, have decided to jointly establish EV (electric vehicle) charging infrastructure in Taipei, capital of Taiwan.
Delta confirmed earlier the new cooperation project with Pan German, stating that a total of 40 units of Delta's smart AC wall-box EV Charger, which features network communication capabilities, IP55-rated enclosure and a stylish exterior design, will be set up in 20 public parking stations in Taipei by the end of this March as a free contribution to Taipei City Government. By doing so, the Taiwanese electronics firm is expected to boost its presence in the Taiwanese government for EV charging solutions.
Jesse Chou, spokesperson to Delta, noted that in addition to BMW i series all-electric versions, electric vehicles employing connectors Type 1 connectors (SAE J1772) are also applicable to these EV chargers.
Vice president Victor Cheng of Delta stressed that the implementation of the joint EV charging infrastructure development project underlines his company's consummate capabilities to develop and provide EV chargers that meet BMW's strict criteria, including intelligence and reliability requirements. In fact, Cheng added, Delta's EV charging solutions have been well recognized in many countries, and proven a big success in Europe, Taiwan and Greater China.
Justifying the vice president's comment, Chou mentioned that Delta has effectively exported its quick, convenient and high-efficiency EV charging solutions for residential and commercial applications worldwide. For example, the firm's 120kW quick EV chargers have been adopted in Norway and Sweden for use on highways, with each able to charge four vehicles at once. Also, its switching power technologies have applied in electric shuttles employed in Hong Kong International Airport, commercial buildings in Shanghai and the Sun Moon Lake scenic area in Taiwan.
So far, Delta's EV charging solutions have passed certification in Europe, the U.S., Japan and China, and increasingly used by European and American carmakers, such as BMW.
Before jointly developing the abovementioned EV charging infrastructure in Taipei, BMW has allegedly contracted Delta to supply power management systems to its planned factory to be constructed in Thailand. The construction, which involves an investment worth some US$57 million, is scheduled to begin in mid-2017, with the factory to supply batteries for BMW's hybrid cars for sale in the ASEAN market.