Hans Tool markets hand tools and accessories worldwide under its "HANS" brand.
In addition to economics, Gresham's Law (bad money drives out good) is also applicable to a competitive landscape where the market has comparatively low barriers of entry, while the competition seems to be no-holds-barred, especially when the line set between fine and mediocre quality of products traded has been blurred.
From a sensible, pragmatic viewpoint, it is safe to say that the global market for hand sockets, of which Chinese suppliers together have commanded a dominant share over the past years, is in the same situation as mentioned above.
With China swiftly emerging as one of world's major sources of hand tools and related accessories, the Standardization of China removed the definition and related provisions for Class B sockets from its GB/T 3390.1 in 2004, which were described as those tested to generate torque reaching 90 percent of the value required in DIN, retaining only Class A and Class C, classifications of sockets with torque measuring up to 100 and 80 percent, respectively, of DIN requirements.
Then, the Chinese authority omitted the torque testing regulations on "Class C" sockets from GB/T 3390.1-2004 in 2013, further loosening restrictions on sockets of sub-average quality going from factory to market. Also noteworthy is that while China has actively enhanced its role in the development of global industrial standards, including those for hand tools and accessories, ISO has adjusted downward the standard values of torque required in some sockets in ISO1711-1: 2016.
Exceptional Presence in Global Socket Market
With a gallant effort to buck the abovementioned trend, the Taiwan-based "Hans Tool Industrial Co., Ltd" (Hans Tools), a veteran hand tool supplier who has effectively marketed products globally under its "HANS" brand and earned itself a high reputation among professionals, has just launched its "An-Lo Drive" series sockets with unparalleled quality and unprecedented performance.
The name of "An-Lo Drive" is derived from Alun (An-Lo) Chang, founder of Hans Tool, while referring to the sound of "An-Lock" being pronounced, which has an underlying meaning of peace and safe.
"An-Lo Drive" sockets are all made of top-grade material, mainly chrome vanadium or chrome molybdenum steel, using Hans Tool's time-tested cold/hot forging techniques, and treated with advanced hardening and quenching processes along with accurate control of temperature and time, hence featuring incredible high structural flexibility and durability given by well-formed martensite ascertained with a start-of-the-art metallographic microscope.
On the payoff of the hard work, a hand and impact socket of the "An-Lo Drive" series have been tested to assure end-users of 120 and 150 percent higher torque, respectively, than ISO1711-1:2016 standards require, not to mention their high degrees of dimensional precision achieved by Hans Tool's consummate machining capability.
What truly sets "An-Lo Drive" apart from competing models on market is its unorthodox structural design. Compared to conventional 6-point sockets that rely on loading contact corners to turn nuts and bolts, "An-Lo Drive" is developed with computer simulation technology for stress and torque distribution, to feature an optimally engineered, precisely machined shape of the opening, which makes for maximum contact area with the received nut or bolt, and delivers torque through the flats of the driver, instead of pointed corners.
The improvement enables "An-Lo Drive" to generate greater torque output with a smaller amount of applied force; handle rounded nuts and bolts, including those with even poor dimensional tolerances, with ease; and minimize wear caused to bolt and nut heads during operation, a merit especially significant for auto repair and maintenance, given that improperly applied and unevenly distributed torque would damage structure of a nut or bolt rather easily, and hence undermine driver's safety.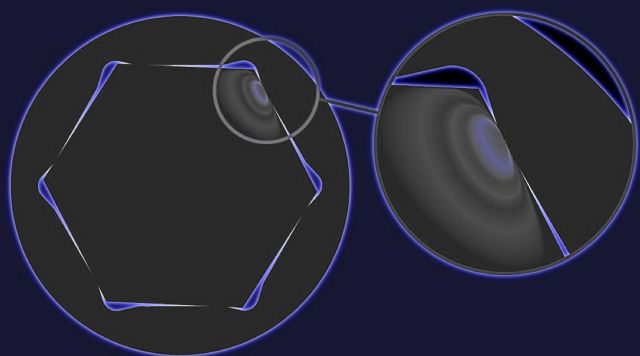 The computer-aided simulation shows that "An-Lo Drive" is improved to turn a nut with torque exerted through the flats (photo courtesy of Hans Tool).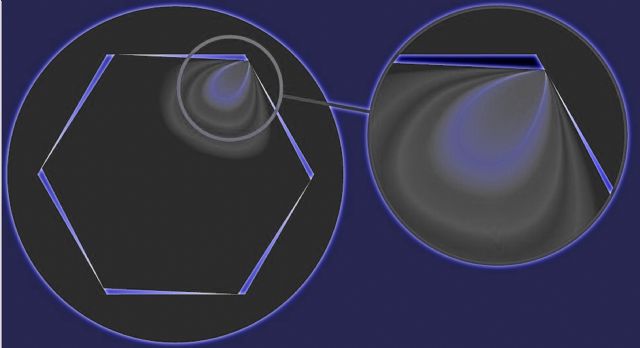 Conventional 6-point sockets rely mainly on loading contact corners to drive a nut (photo courtesy of Hans Tool).
Furthermore, sockets of "An-Lo Drive" family are subject to different surface treatments before final quality inspection, and finished to appealing, dual-toned glossy or matte surface for enhanced added-value.
Highlighted with top-end quality, superior performance coupled with great visual appeal, "An-Lo Drive" is among HANS' proudest products, designed to help not only its customers shore up their businesses, but raise the bar for the global socket market.
About HANS
Following decades of development, HANS has evolved into a high-profile Taiwanese brand of hand tools, globally known by professional buyers from Europe, the Middle East and Southeast Asia. With a commonly seen masculine name in Germany, the brand is notable for its unremitting devotion to continuous improvement and uncompromising work ethics on quality, just as the German reputation that has been recognized worldwide.
Founded in 1973, HANS Tools offers more than 9,000 different items, including not only hand tools in general, but also wrenches and spanners in 90 different kinds, such as adjustable wrenches, open-end wrenches, combination wrenches bits, hex keys, saws, cutters, hammers, socket wrench sets and sockets, cutting pliers, diagonal cutting pliers, universal pliers, locking pliers, screwdrivers, impact sockets, specialty tools for auto repairing and various tool sets and cases.
Applications of these tools include the maintenance and repairing of cars and trucks, aircrafts, vessels, telecom equipment and cable televisions, as well as petrochemical production and resource exploration and mining.