According to the data by the Industrial Technology Research Institute (ITRI) and the Taiwan Transportation Vehicle Manufacturers Association (TTVMA), the production value of Taiwan's automobile parts and accessories industry reached USD 7.342 billion in 2015, with around 2,510 manufacturers, including 410 OEM suppliers, tier-2 and tier-3 satellite factories operating under the Taiwan's 10 automakers, as well as 2,100 parts and accessories factories catering to the after-sales maintenance system.

Most of Taiwanese auto-parts makers are small and medium-sized enterprises (SMEs) which have developed a tightly wound central satellite factory system as well as advantageous customized service featuring flexible manufacturing at small quantity with high diversity. In addition, Taiwanese companies are highly competitive in terms of innovation, craftsmanship and pricing. Therefore, they also play very important roles in the global tuning parts and accessories market.

Exports account for 90% of the total production value of Taiwan's automobile parts and accessories industry. According to the statistics by TTVMA, Thailand, the Philippines and Malaysia are the largest, second-largest and fourth-largest markets respectively for Taiwan among ASEAN nations. Exports to these nations reached USD 110 million, 62.5 million and 58.5 million respectively in 2015. Compared with the same period in 2015, Taiwan's exports to Thailand dropped 10% to USD 82.7 million between January and October in 2016. However, exports to Malaysia increased 6.6% to USD 54.5 million, while exports to the Philippines surged 27% to USD 61.1 million.

Taiwan has a complete supply chain for the information & communication industries. Over the past 10 years, companies have, one after another, worked on system integration, such as in the domain of Advanced Driver Assistance Systems (ADAS). Semiconductor and IC design powerhouses in the upstream are beginning to vie for the business opportunities associated with the Internet of Vehicles (IoV). According to the statistics by Automotive Research & Testing Center (ARTC), the production value of Taiwan's automobile electronic industry reached USD 5.5 billion in 2015, with great development potential in domains for enhancing driving safety such as tire pressure detection, heads-up display (HUD), lane departure warning, LED lighting, collision warning, fatigue detection and IoV. The industry supplies the global market in the forms of OEM, OES and AM, and some vendors are in partnership with Japanese car makers.

Taiwan's outstanding industrial performances have also triggered growth in exhibitions for related sectors. The TAIPEI AMPA and AutoTronics Taipei 2017 will take place between April 19 (Wed.) and 22 (Sat.), as 1,110 participating exhibitors from 15 countries expect to draw 6,700 foreign buyers and 22,000 vendors from Taiwan. Benchmark companies in Taiwan such as TONG YANG, DEPO, E-LEAD and MOBILETRON will be at the shows. For a long time, Japan has been the largest buyer at TAIPEI AMPA and AutoTronics Taipei. It is widely known that Japanese buyers have the most stringent demand for quality, and their patronage to the shows highlights the fact that both shows have received international recognition in terms of scale, available items on display, and exhibition-related services. On the other hand, visitors from ASEAN countries become a larger group. In 2016, nearly 400 Malaysian and 250 Thai buyers visited the shows, while the number of Philippine visitors grew 42% to 220; Malaysia, Thailand and the Philippines were the fourth-largest, eighth-largest and ninth-largest visitors, respectively.

The MOTORCYCLE TAIWAN and EV TAIWAN are also set to take place concurrently. These four exhibitions arguably provide the most professional show platform for the two-wheel and four-wheel vehicle industries in Asia. For detailed information, please visit the exhibition website at http://www.taipeiampa.com.tw. Foreign visitors are welcome to register your visit in advance in order to take advantage of perks such as free airport pickup service.

In light of the significance of the Southeast Asian market to Taiwan's automobile parts and accessories industry, TAITRA is slated to hold the seminars - "Taiwan's Auto Parts Industry and Related Trade Shows" at Kuala Lumpur, Bangkok and Manila on Feb. 20, 22 and 24, respectively, covering issues ranging from Taiwan's automobile parts and accessories, automotive electronics, motorcycles parts and accessories, as well as the current status of Taiwan's electric vehicles. For related information, please contact Taiwan Trade Center in your country:


TAIWAN TRADE CENTER, KUALA LUMPUR         
Tel:+60-3-2031-2388    Fax:+60-3-2034-1388   
Email: kl@taitra.org.tw
TAIWAN TRADE CENTER, BANGKOK         
Tel:+66-2-6514470    Fax:+66-2-6515923     
Email: bangkok@taitra.org.tw
TAIWAN TRADE CENTER, MANILA         
Tel:+63-2-5517349    Fax:+63-2-5516827     
Email: inquiry.manilattc@gmail.com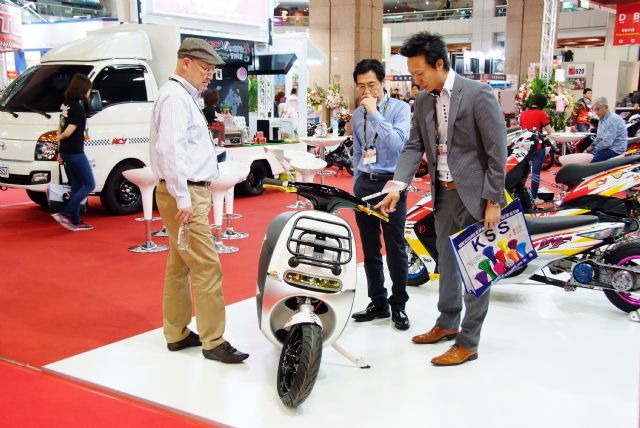 Taiwan's tuning accessories were the main products at MOTORCYCLE TAIWAN (photo courtesy of TAITRA).
Foreign visitors paid a visit to TAIPEI AMPA 2016 (photo courtesy of TAITRA).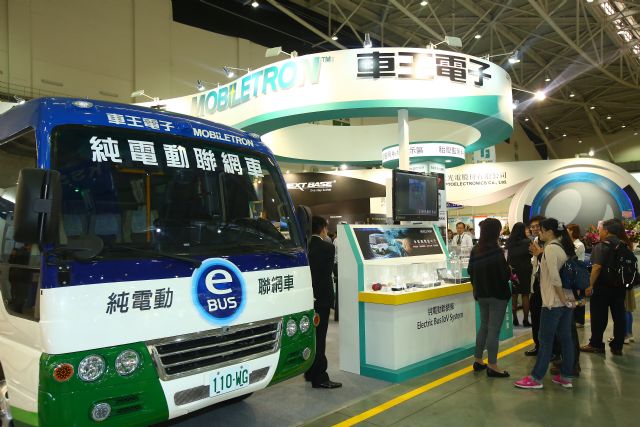 E-vehicles utilizing IoV was one of the highlights of AutoTronics Taipei (photo courtesy of TAITRA).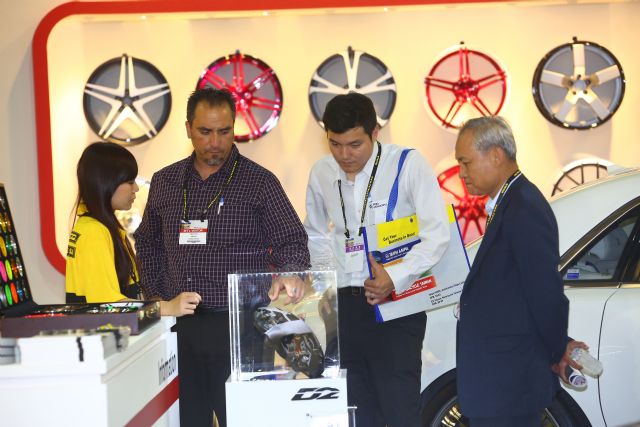 Tuning rims were among some of the important exhibit items at TAIPEI AMPA (photo courtesy of TAITRA).