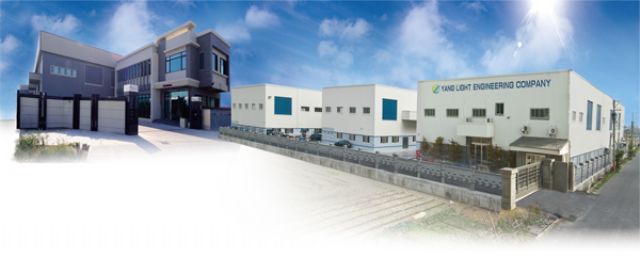 Yang Light's modern factory located in Changhua County, central Taiwan, capably rolls out a variety of quality-approved parts for industrial application.
Taiwan-based OEMs (original equipment manufacturer) have become veritable classic business models in world trade, able to take on just about any order in any volume made according to customers' specifications, and thus have been recognized by foreign customers as the most trustworthy production arms.
Yang Light Engineering Company is one such typical OEM in Changhua County, central Taiwan, who has been turning out, since established in 2005, a variety of quality hardware and industrial parts. Yang Light runs two factories spread over some 13,000 square meters, where over 120 workers and a 20-member R&D engineering team develop myriad of industrial parts, tools and more.
Very Versatile
Trying to sum up Yang Light's line in one or two words would be unrealistic, for the maker has rolled out automotive ratchets, tie-downs, knit straps, fasteners, zinc buckles, shackles, pulley fittings, medical equipment, telecommunications equipment, motorcycle parts, auto parts, hand tools, and tool bags, all of which meet CE and UL standards. So to describe this OEM as versatile is an understatement. 
Buyers from equally varied segments have bought goods from Yang Light, including military vehicles, watercraft, automotive, agricultural equipment, leisure and sports equipment, furniture, construction and climbing equipment. Shipping some 80% of output to Europe, North America and Japan, this OEM has also filled orders from globally-famous enterprises in the automotive and electronic sectors.
To achieve sustainable development and circumvent underselling by rivals from emerging countries, the company has been increasingly trying to evolve into an ODM (original design manufacturer), going upmarket by tapping its own design skills that are still not easily copied by underselling OEMs. Adopting such strategy has effectively helped Yang Light to grow in the past few years, despite the global downturn that has racked many exporters.
Miraculous Rise
Yang Light's emerging success is a typical story of overcoming hardship and seemingly impossible odds. Starting in a small, shabby traditional house in Taiwan, Yang Light made industrial parts for other subcontractors, backed by meager finances that led onlookers to scoff at the probability of its viability, especially in this increasingly challenging market.
However, company chairman David Yang proved the adage "when there is a will, there is a way." In only a few short years, Yang single-mindedly committed to sharpening production capability, efficiency and R&D, and in the process also shared  business opportunities with over 200 partners across different sectors to build a manufacturing network. Yang's hard work has amazingly achieved triple-digit growth over the past few years to turn his OEM into one of the most globally competitive companies in Taiwan.
Material Science Necessary
Yang Light is also known for its extensive know-how about materials. Knowing metal properties and characteristics is also necessary for an OEM to be successful, for product quality also depends to some degree on proper adjustment of production processes according to metal characteristics, says Yang.
After processing countless orders and handling metals, as well as studying metallic structure and related properties, the company has accumulated considerable  knowledge about copper, zinc alloy, tin, aluminum, stainless steel of grades ranging from 300, 400 and 500 series to 600 and 700 deluxe series, extra-hard metals, industrial plastics and high-density yarn.
Having gained extensive knowledge of metals and other materials enables Yang Light to effectively fine-tune production and material mixing to minimize defective rate. 
For example, the company once succeeded in developing in-house a cam buckle assembly, with the strap made of high-grade yarn widely used to make super-strength cables to lift 60-metric-ton tankers, says Yang. This fail-proof cam buckle assembly is popular as a tie-down device for mountain climbing and industrial safety applications, helping to enhance Yang Light's profile as a maker of superior products.
Exceeding Bigger Makers
"Wielding production efficiency and flexibility is Yang Light's core competence that makes my company more competitive than older, larger competitors," says Yang.
Believing that fully automated production is essential to achieving production efficiency and flexibility, the company has invested considerably in advanced production equipment, including CNC (computer numerically controlled) machining centers, punching, forging, and die-casting machinery and large electric overhead cranes.
As tooling or molding capability is critical to an OEM's product quality, Yang Light has also concentrated on building speedy mold development and production. The maker has spent most of its R&D capability on mold development, adopting computer-aided 3D mold design and rapid prototyping technologies, and occasionally meeting foreign experts to learn state-of-the-art knowledge about molding and mechanical engineering. Such effort has enabled the company to build over 200 molds per month in-house to add new products to its range. 
Earlier Than Expected
Proving its superior in-house molding capability works, Yang cites having built a suitable mold to fill a rush order from an international electronics giant for 60,000 units of tie-down devices, especially creditworthy for the order was filled according to required quality and volume in only a month, exceeding the buyer's expectations by five months, says Yang. 
Furthermore, having in-house tooling capability also helps Yang Light to go beyond being an exclusive OEM, because being able to build tooling enables expansion of product variety. "We solve customer's molding problems to deliver rapid production and unbeatable quality," says Yang.
Committed to Quality
Strongly committed to delivering quality, Yang Light has scientifically installed efficient production and factory floor layout to meet international QC standards, says  Yang, adding that his company became ISO 2008 certified in 2009, the newest edition of the global standard, reflective of the maker's dedication to quality.
As a globally recognized auto parts maker, the company closely adheres to TS16949 requirements, consistently carrying out QC steps as digital quality archiving and hourly spot-checks along each step of production. Also, the company has a variety of precision testing devices, including 3D projectors and hardness, impact and tension testers, with the newest horizontal 200t tension tester having been developed in-house to enable thorough pre-delivery inspection. Noteworthy is that each independently developed tester is SGS approved thanks to the company's R&D competency.
Yang repeatedly emphasizes that the company, backed by excellent production efficiency and molding capability, can confidently deliver on-time, competitive prices and good quality. Also unmatchable production flexibility allows taking on orders for customized products, even ones new to the maker, says Yang.
Boldness Pays
Again citing a real-world example, Yang says the company once accepted an R&D project involving a high-end ratchet wrench requiring specially-forged integral body and mirror-finished galvanizing. "Experienced hand tool makers stayed away from the order, because additional cost incurred by the custom requirements made it unprofitable. So, we decided to take the job," says Yang.
Despite the new territory of making a ratchet wrench, the company, aiming to meet  the customer's specifications, still delved into R&D of forging and electroplating,  eventually succeeding in making the product with acceptable quality and reasonable price in less than two months. The seemingly trivial achievement was actually a milestone to enable the company to sharpen competitiveness and raise recognition.
Besides assisting customers to quickly build samples and prototypes to shorten product development, the company also advises buyers at the initial stage of order processing to suggest suitable metals and metalworking methodologies. "In short, we provide added-value manufacturing services for customers to help them boost competitiveness in their sectors," Yang stresses. Always trying to be loyal to its corporate motto of "one client in one sector," the company, Yang adds, aims to be a fully-integrated provider of manufacturing service.