Riveting machines, magnetic drilling machines, automatic tapping machines, drilling machines, hydraulic punching machines, hole cutters
Founded in 1974, Taiwan-based Atoli Machinery Co., Ltd., also known as Chain-Tongs Co., Ltd., is a specialized manufacturer and developer of riveting machines and related machine tools.

Drawing on its decades-long expertise at machinery, Atoli develops and supplies varieties of riveting machines, portable magnetic-base drilling machines, automatic tapping machines, hydraulic punching machines and hole cutters, which have been marketed globally and sought-after by professionals.

Sustained effort on R&D is a formula of Atoli's current success. The company, which was engaged in trading metal parts and related hardware for machinery in early years of its operation, worked out its first pneumatic and hydraulic riveting machine respectively in 1976 and 1983, and then the high-speed H-type drilling machine in cooperation with ITRI, a local government-funded R&D institute, in 1991.

In the ceaseless R&D journey to newer, more advanced products, the firm has obtained lots of multinational patents for its improved, unique techniques, and built close technological ties with local peers and R&D bodies, hence enjoying a high profile in the line.

Additionally, excellent performance and functionality of its machines also work wonders for Atoli in the global market. Among the company's products, spin riveting machines, for example, are noted for low center of gravity, high rigidity, compact size and lightweight, hence great stability, strong durability and convenient utility. Besides, the series are all highlighted with low power or air consumption, as well as minimized noise during operation, not to mention stylish, streamlined exterior design that enhances added-value.

Committed to achieving high customer satisfaction through speedy delivery, coupled with efficient, considerate service, Atoli has set up its operating offices in China and contracted a sale agent for Hong Kong and Southeast Asian nations, with its distribution network already covering all corners of the world.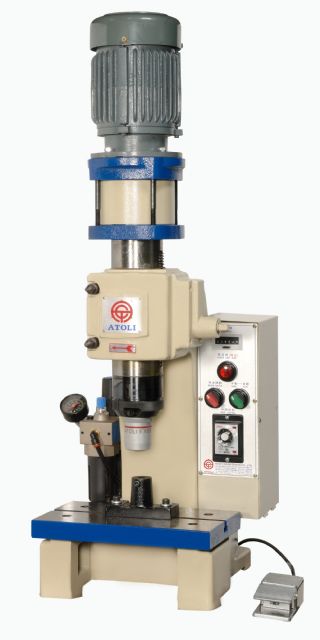 Atoli's TC-141 pneumatic riveting machine.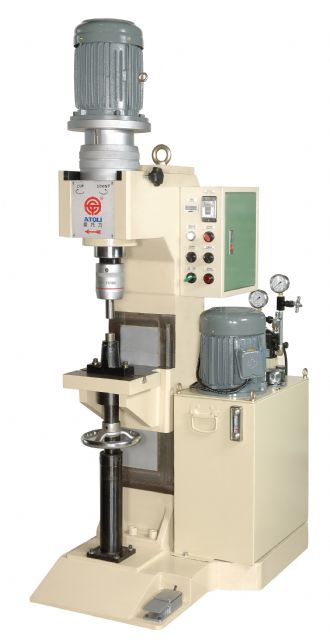 Atoli's TC-155 hydraulic riveting machine.
Atoli Machinery Co., Ltd.
No. 91, Hsiehfu Rd., Tali Dist., Taichung City 402, Taiwan
Tel: 886-4-2287-0860
Fax: 886-4-2286-0876
Email: atoli@atoli.com
Website: www.atoli.com