Backed by some 30 years of expertise in heat treatment, Shun Den Iron Works Co., Ltd. has diversified into hex-key wrenches, aiming to be a world-caliber, top-end supplier of hex-key wrenches.

Founded in 1980, Shun Den began as an OEM (original equipment manufacturer) making forgings, castings and wire products for vessels, machinery and construction. It has accumulated over 30 years of specialized manufacturing experience, especially in mold design and development, able to apply various materials as stainless steel, aluminum alloy, copper, carbon steel and chrome vanadium steel.

The company's product range covers a variety of hardware, hooks, shackles, thimbles, turnbuckles, wire rope clips, nuts, bolts, special screws, clamps, wire parts, stamping parts, fittings, ferrules, valves, etc., with over 90% exported.

Driven by End-user Demand
Driven by end-user demand for high-quality hex-key wrenches, the company decided to venture into the sector in 2009 after several decades of forging, die casting and stamping work, tapping such seasoned skills and know-how of heat treatment to develop high-quality hex-key wrenches.

The company spent over one and half years focusing its R&D on top-end products from Germany and Japan, as well as studying users' experience in machinery and mold maintenance, and ultimately figured out a solution for the technical dilemma of   balancing structural flexibility and surface hardness, which has not been addressed in most wrenches sold in different markets.

The company says that wrenches sold in Europe are moderately hard, being rated  between 50 and 53 and structurally flexible but prone to wear, compared to those from Japan and Taiwan that are high-HRC-processed, hardness-rated between 56 to 62, though more easily fatigued to be more dangerous to users. To build a better product, the company has applied special heat treatment to overcome the problem, hence developing its line of superb quality, professional-grade hex-key wrenches.

Highest Criteria
The company claims that each batch of hex-key wrenches is sample-tested according to a full process to ensure the highest structural flexibility, lifespan and wear-resistance.

The company first tests surface hardness in compliance with requirements, making sure the HRC ratings for ones of chrome vanadium steel and S2 steel reach min.53 and min.56, respectively. The next is the destructive test where the company's QC technicians overload a DIN 12.9-grade hex socket cap screw, ensuring that the wrench remains structurally robust, while each of the six edges is undamaged and untwisted. Eventually, the tested wrenches are fixed firmly and turned 90 degrees for further fatigue, and then only the ones causing no structural fracture can be delivered to customers.

Believing that quality underpins product value, the company insists on the most stringent quality tests to guarantee customers receive the best.

Ready for volume production, the company's line of hex-key wrenches has been be available this year. The maker has confirmed that a couple of interested foreign buyers have inquired about the line, especially in respect of quality and price, adding that more sockets and accessories will be developed, as well as being confident that its dedication to quality will bring success.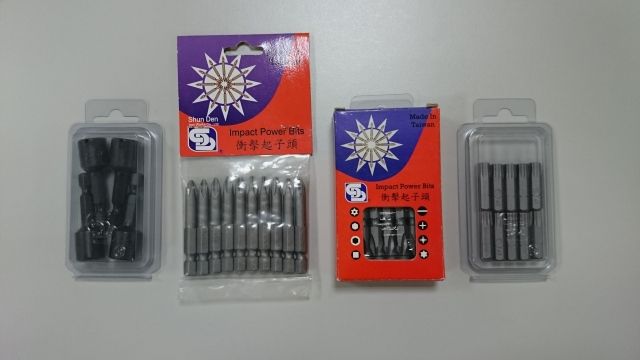 Shun Den's impact power bits.
Shun Den Iron Works Co., Ltd.
No.26, Chiashin W. Rd., Kangshan Dist., Kaohsiung City, Taiwan
Tel: 886-7-621-6851
Fax: 886-7-622-3595
Email: shunden@seed.net.tw
Website: www.shun-den.com.tw