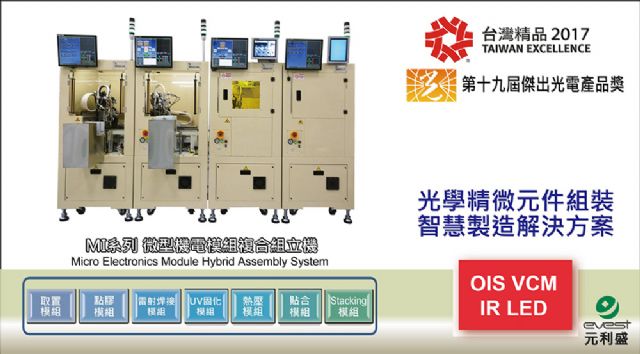 Evest Corporation, a leading intelligent automation solutions targeted at the photovoltaic industry, showcases its MI500 series SmartAuto system at TILS and LED Taiwan 2017.
A winner of the 25th Taiwan Excellence Award, MI500 features outstanding performance, optimally engineered modular construction and unparalleled quality, to ensure users maximized profitability.
This machine has been widely applied in the production of precision components for IRIS recognition systems, smart LED automotive lighting, autofocus (VCM) systems, image stabilization (OIS) systems, MEMS chips, fingerprint identification systems, wearable devices, and VR/AR glasses, etc., with a couple of globally known tech firms already being its users.