At this year's Taipei AMPA (Taipei International Auto Parts & Accessories Show), running from April 19 through 22 at TWTC Nangang Exhibition Center Hall 1 in Taipei, capital of Taiwan, several hundreds of Taiwanese auto parts and accessories suppliers have been exhibiting varieties of new products and technologies, to further boost Taiwan's importance as world's major manufacturing base of this kind.

Among them, five exhibitors that attending buyers won't want to pass over during the trade fair are specially selected by CENS.

Everlight
Everlight Electronics Co., Ltd., one of world's largest LED maker by market share, presents many key components for ADAS (advanced driver assistance system) applications, infrared HIR-C19D product for collision prevention application, active control of vehicle distance for cruise navigation, smart detection system that actively detects to prevent the driver from nodding off, IR89-01C for hand gesture recognition application and ALS-PT17 night vision assistant system for ambient light sensing.

Additionally, the firm also markets its newest ADB matrix intelligent LED headlight with CCD detection that blanks out the light source toward the detected area of the oncoming vehicles from the opposite direction automatically. It is mounted with 24 pieces of LED coming in size of in 2.0mm X 1.6mm, and every single piece emits a luminance of 190lm at an operating current of 700mA.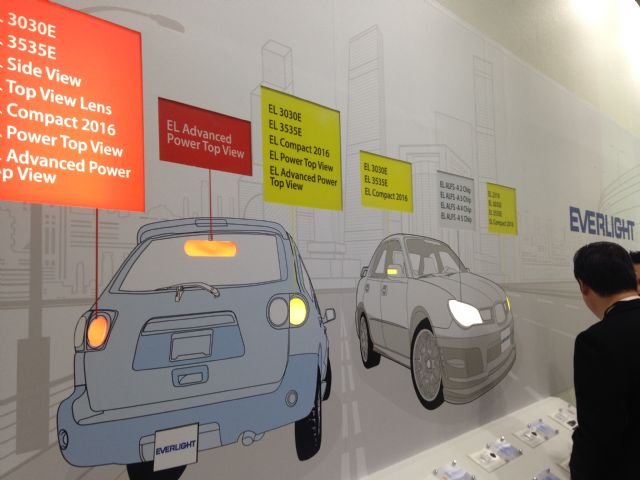 Everlight is Taiwan's largest LED maker who has actively ventured into the automotive lighting sector over the past years.
Tong Yang
Tong Yang Industry Co. is one of the world's largest suppliers of aftermarket (AM) replacement auto parts, a major supplier of original equipment (OE) auto parts to international automakers, and the largest auto-parts manufacturing conglomerate in Taiwan. 
Tong Yang's catalog of 10,000-plus items includes everything that buyers need for one-stop shopping. With over 30 years of experience and more than 10,000 tooling sets in operation, the company serves over 1,800 customers in more than 200 countries around the world. To provide just-in-time delivery to aftermarket customers, the firm has built factories in Taiwan, China, Italy, and Thailand.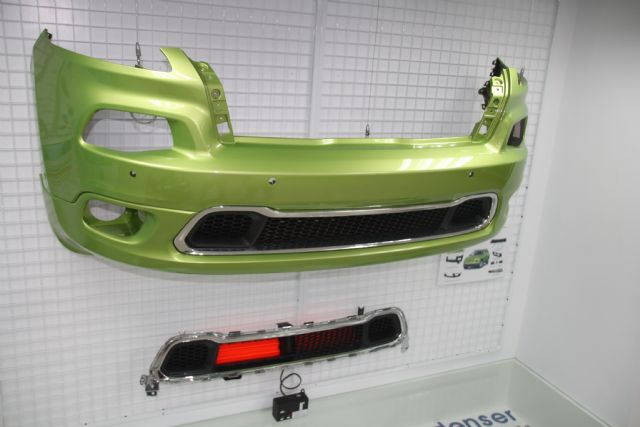 Tong Yang launches active grille shutters as a promising growth propeller for its sales in the aftermarket segment (photo courtesy of Tong Yang).
Nan Hoang
Taking advantage of the persistently growing popularity of its friction-material products in OEM, OES and aftermarket segments worldwide, Nan Hoang Traffic Instrument Co., Ltd., Taiwan's largest supplier of its kind, has been actively boosting global market share and branded sales together with its subsidiaries, with an aim to reach another pinnacle of success in the coming years.
Chairman Austin Cheng of Nan Hoang stresses that the firm's own brand "NHC" has effectively gained solid ground in overseas markets over the past years. For now, NHC-branded products have been distributed and retailed in 18 different countries in Asia, America, Europe and the Middle East. Meanwhile, the company has stepped up exploring the Chinese market, mainly through logistic centers set up by its subsidiaries to accelerate delivery and distribution, and better promote its products under sub-brands there.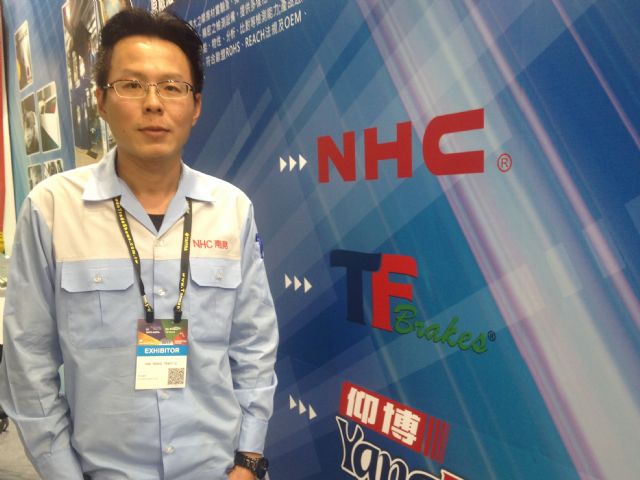 Nan Hoang's chairman Austin Cheng.
Valens
Velans Company Ltd. brings its full line of LED auxiliary lights to this year's AMPA, including truck lights, trailer lights, bus lights, lamps, light bars, interior lights, side markers and warning lights, all of which have been certified to ECE R65, SAE CLASS 1 and ICAO Type 3.
The company's president Willie Chiang stresses Velans is Taiwan's foremost automotive lighting supplier building LEDs into such products, as well as the first beginning promoting third brake lights, underscoring its industry-leading R&D capabilities.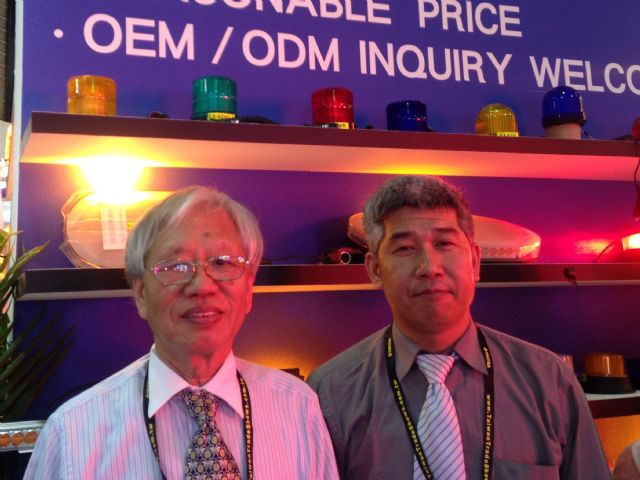 Willie Chiang (left), president of Valens.
Superman Motor
Founded in 1988, Superman Motor Ind. Ltd. is an auto parts exporter from Taiwan, and held in high regard by customers worldwide for its devotion to customer satisfaction
Chairman Peter Hsieh of Superman Motor, an industry veteran with over 40 years of expertise, says the firm provides a full spectrum of body parts, suspension parts, brake parts, steering parts, engine parts and more, all of which are made in Taiwan with guaranteed quality and pass ISO certification.
To stand out from the competition, Superman Motor offers different shipping options, such as full container load, mixed container load, LCL shipment and airfreight, depending on requirements, with an aim to help save freight cost.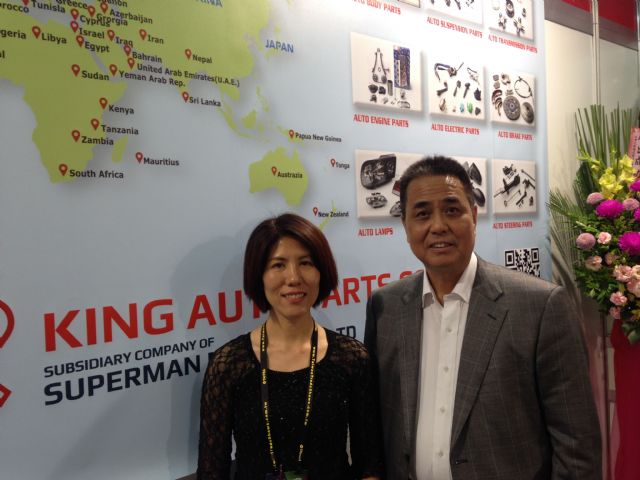 Superman Motor's chairman Peter Hsieh (right).