Zenith Automation International Co., Ltd. is the sole agent of Italy's CAMOZZI Group in the Taiwanese market, supplying a variety of pneumatic components for automation systems.

Founded in 1964, CAMOZZI has become a globally known conglomerate of automation, machine tool, textile machinery and solution businesses following over five decades of development, with the manufacturing and selling of pneumatic components being included in its automation business division.

Presently, CAMOZZI has branches and sole agents engaged in its pneumatic components in 79 countries, and a workforce of over 2,300 people, to serve customers from all corners of the world as a top-five supplier of this kind. Additionally, the group also takes pride of its 13 other subsidiaries mostly having built leading status in different market segments (CAMOZZI's website: www.camozzi.com).

CAMOZZI's pneumatic components are categorized into five unit groups:

Movement Units: pneumatic cylinders, clamp cylinders, functional cylinders, etc.
Control Units: electromagnetic valves, valve terminals, pressure switches, proportional valves, etc.
Treatment Units: filters, pressure regulators, lubricators, etc.
Connection Units: pipe and tube fittings, pneumatic tubes and hoses, complementary tools, etc.
Vacuum Units: suction cups, vacuum generators, installation accessories, etc.
Coming in full size and specification along with high quality, CAMOZZI's pneumatic components have been widely accepted by manufacturers from industries of transportation, electronics, textile machinery, food and beverage, packaging, plastics and rubber, printing and papermaking, woodworking machinery, and many others.
Moreover, CAMOZZI also develops special, innovative applied technologies of pneumatics and hydraulics, such as fluid control, proportional control and customized products, which can be applied in biotech, medical, robot, automation equipment industries and enable end-users easily to work out more competitive products and machines with greatly enhanced value.
To learn more about Zenith Automation, the sole agent of CAMOZZI in Taiwan, please browse the website: www.z-auto.com.tw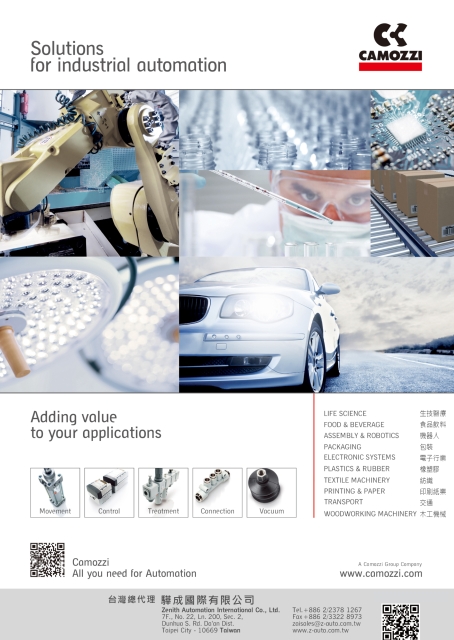 CAMOZZI's pneumatic components feature exceptional quality and has wide-ranging application (photo courtesy of Zenith Automation).