The Taiwan-based Hon Hai Precision Industry Co., Ltd., world's largest EMS (electronic manufacturing service) provider by size and a major OLED supplier for iPhone, is seeing a positive turnout in the investment in the U.S.

It is forecasted that Hon Hai, with the market being positive about the company's plan to invest in the U.S., would enjoy a steady growth as the revenue of the products like iPhone has accounted for 39% and the proportion for other products like clouds service, auto electrics, and Internet of Things-enabled devices has rapidly increased to 38%.

With the support from the partners like the globally known network company, Cisco, and Amazon, world's leading online shop company, Hon Hai, planning to expand its operation and investment in the U.S., aims to combine the advantages of the next-generation network communication and the application for automotive electrics to continuously grow in the market as local demand for broadband communication application is surging.

On the other hand, Hon Hai and Sharp, a Japan-based electronics manufacturer, have decided to jointly explore the overseas markets like U.S. Sharp, now playing as a major role in the Hon Hai's "8K display project" and investment in the U.S, is expected to bring the synergistic effects to the cooperation, as the major objective is to further secure the brand image of high quality global service through retrieving its brand management right in North American.

A source from Sharp said that Sharp has set the "8K display project" and AI network as the two major strategies in their mid-term plan to transform. If Sharp manages to retrieve the management right in North America, the process of internationalization and the promotion of Internet of Things for smart home would be affected.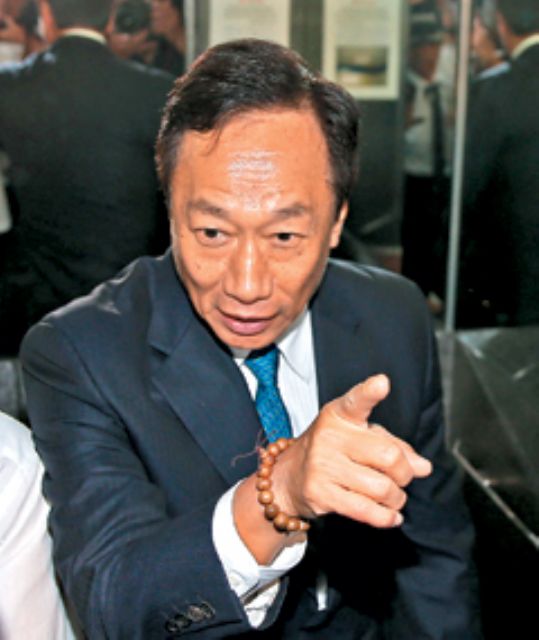 Terry Guo, chairman of Hon Hai Group. (photo from UDN)