As the international prospects for the aviation market has been promising, Taiwan's aviation companies, with its excellent R&D experience and manufacturing skills, plans to enter the global supply chain through developing the high niche products.

According to Current Market Outlook published by Boeing, an American multinational aircraft designer and manufacturer, the forecasted global economic growth rate for the future 20 years is about 2.8 percent, and China will be the nation with the highest aviation demand.

Boeing further forecasted that, by 2036, the world's aviation companies will purchase about 41,030 airplanes, boosting the total aviation industrial value output to US$ 6.1 trillion (NT$185.8 trillion).

On another front, the research paper issued by consulting organization, ICF International, indicates that the value of the global maintenance market, with its 3.8 percent compound annual growth rate, will grow from US$ 6.21 billion (NT$189 billion) in 2017 to US$ 90 billion (NT$2.7 trillion) in 2024.

Such a high demand for airplane manufacturing and maintenance requests will undoubtedly boost the international market of aero parts and bring the positive economic factors to Taiwan's aviation industry.

Taiwan's 2016 output value in the industry has reached US$3.2 billion (NT$100.3 billion)

With the over 20-year support of the government, the outstanding manufacturing skill and the maintenance technology, Taiwan's aviation industry has become the major business partner of several international corporations including Boeing, Airbus A.S.A, Rolls-Royce, General Electronics, and etc.

There are about 150 companies and 14,100 employees in the industry. In response to the expanding market, Taiwan's aviation companies, through actively cooperating with the machine and equipment manufacturing industry, will continue to tap the lucrative market with the added value products and more competitive prices.

Riding on the international trend of industry 4.0, Taiwan's aviation companies expect to witness the expansion of the nation's market scale and the boom of the entire industry value through using the technology of customized smart manufacturing and supply chain information integration.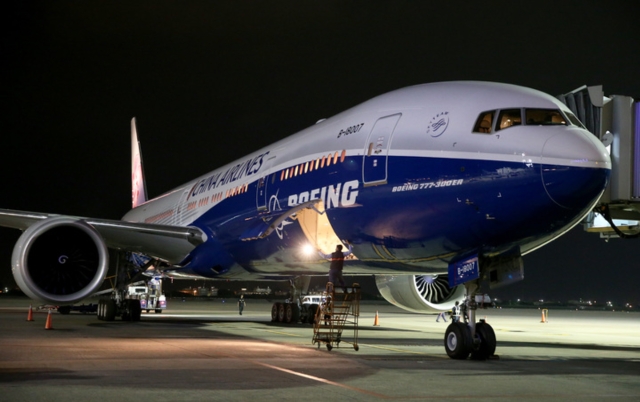 Boeing 777-300ER (photographed by Chen Chia-Ning).