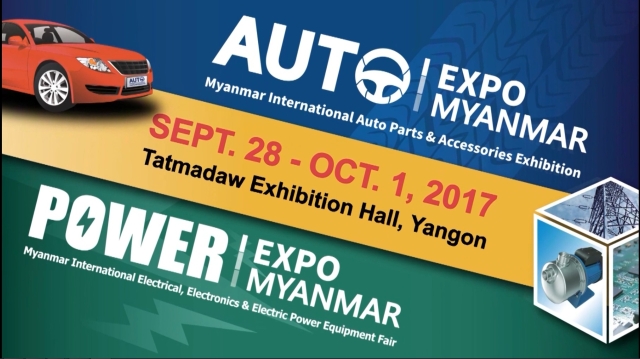 The countdown is on for the launch of two shows that will put Myanmar on the fast track forward. AUTO EXPO Myanmar 2017 and POWER EXPO will kick off in just 25 days on Sept 28, showcasing the ultimate products for a nation in transition.
The twin shows are returning for their fifth year, and will mirror the tech muscle of eight participating nations, namely India, Thailand, China, Korea, Malaysia, Vietnam, Myanmar, and Taiwan (R.O.C), who are represented by 120 exhibitors in 173 booths.
These events will also facilitate a projected 1,000+ one-on-one trade meetings, expected to generate more than US$25 million in parts and power deals.
AUTO EXPO Myanmar 2017 spotlights a complete selection of Automobile Parts, Forklift Truck Replacement Parts, Trailer Accessories and Parts, Motorcycles, Motorcycle Parts, Car Accessories, Car / Motorcycle Care Products, Vehicle Equipment & Repair Tools, Adhesives & Sealants, Hand Tools, Consumer Electronics Products, Illumination Device and Springs, Batteries. Exhibitors include big names such as HER CHEE INDUSTRIAL and UNI AUTO PARTS MANUFACTURE.
POWER Myanmar 2017 also aims to plug Myanmar into the power grid by offering a full array of Power & Electrical Machinery Equipment, Test and Measuring Equipment, Industrial Electronic Equipment, Battery & Cell & Charger and Module, Choke & Coil, Fusible Resistors, Scientific & Measuring Instruments, Hardware & Pumps, Electrical & Electronics, Lights & Lighting and Communication Equipment. Key exhibitors include TAYA (VIETNAM) ELECTRIC WIRE & CABLE, GOOD WILL INSTRUMENT, ALLIS ELECTRIC, ETERBRIGHT SOLAR CORPORATION and MYANMAR TATUNG COMPANY.
This year we will welcome Thailand's first pavilion among four others. The "Taiwan Excellence Pavilion" will showcase 60 Taiwan Excellence award-winning products from 30 Taiwanese brands.
The twin events are being organized by TWTC (Taipei World Trade Center Co., Ltd.) and Yorkers Trade & Marketing Service Co., Ltd. We anticipate a massive turnout as the events are co-organized by MIA (Myanmar Industries Association) and supported by UMFCCI (the Republic of the Union of Myanmar Federation of Chambers of Commerce & Industry), MAMDA (Myanmar Automobile Manufacturers and Distributors Association) and AGTI (Associateship of Government Technical Institute).
Visitor Information:
Venue: Tatmadaw Exhibition Hall
U Wisara Road Yangon, Myanmar
Date and Time:Sept. 28 – 30, 2017 10:00AM - 5:00PM
Oct. 1, 2017 10:00AM - 4:00PM
Show Space: 6,500 sq. meters (Gross)
Exhibition Scale: 120 Exhibitors, 170 Booths
Exhibiting Countries: 8 countries: India, Thailand, China, Korea, Malaysia, Vietnam, Myanmar, and Taiwan (R.O.C).
Visitors: 5,000 people (Projected)
Admission: Trade Visitors and Professionals Only. Children under the age of 12 will not be admitted.