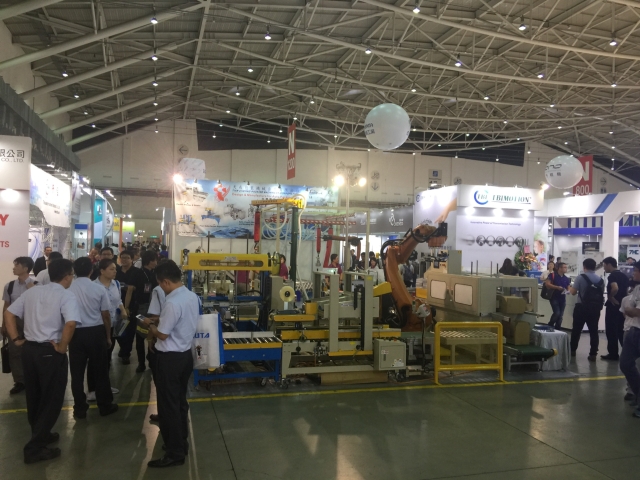 photographed by Alan Lu
With exhibitor and visitor turnout both on an upward trend to shatter records, the 2017 edition of Taipei International Industrial Automation Exhibition consolidates its status as Taiwan's largest exhibition to Industry 4.0.
The 2017 Taipei International Industrial Automation Exhibition, held on September 6th through September 8th, hosts over 800 exhibitors manning 2,500 booths at Taipei Nangang Exhibition Center, Hall 1, and has riveted intense attention from global buyers, machine industry insiders and Taiwan's governmental sectors.
Vise President of Taiwan Chen Chien-Jen, TAIROA's (Taiwan Automation Intelligence and Robotics Association) honorary chairman Juo Yung Tsai, TAIROA's new chairman Huang Han Pang, vise director of Economic Daily News Weng De Yuan, and other VIPs together opened the mega show.
During the opening remarks, Vise President Chen noted that, as industry 4.0 has become an unstoppable trend in the world's machine industry, Taiwan's government will also offer all the necessary resources to help develop smart automation technologies.
As a trend-setting automation exhibition, the show hosted several global known automation system providers namely ABB, Yaskawa Electric, Kuka, Siemens, Advantech, Teco, Epson, Hiwin, Tongtai, Gallant Precision, Nexcom, Syntec, and etc.
Worth mentioning is that, on the showground, Hiwin Technologies Corp, a leading manufacturer of precision machinery in Taiwan, amazed visitors on the first day of the exhibition by showcasing its robotic café concept, wafer robot, medical robot, packaging robot, and the robot carving system, all of which serve as a solution to dust collection.
Meanwhile, Teco, a Taiwan-based heavy electrical industrial brand, introduced global buyers its smart portable vibration diagnostic devices connected with Tecom's smart IoT (Internet of Things), and smart switchboard featuring mechatronics equipment managing platform system.
With ambition to tap the intelligent automation market, all the exhibitors have committed themselves in the development of industry 4.0 related technologies, and expected their participation in the trade fair to lead to a rosy future.