As the rapid economic development of ASEAN ( Association of Southeast Asian Nations) market has brought large market demands for fasteners used in industries of vehicle, machine and architecture, Taiwan External Trade Development Council (TAITRA), a non-profit government co-sponsored trade promotion organization in Taiwan, held an information session to promote the 2018 Taiwan International Fastener Show, hoping to solicit professional buyers to visit the show through introducing them the edges and competitiveness of Taiwan's fastener industry.

This session is hosted jointly by Bureau of Foreign Trade, TAITRA, Taiwan Trade Center in Yangon, Taiwan Trade Center in Bangkok, Taipei Economic and Cultural Office in Ho Chi Minh City, and Taiwan Trade Center in Manila.

The first information session took place in Yangon, the capital of the Yangon Region of Myanmar, attracting around 30 local manufacturers and importers namely, Good Brothers, a leading agricultural machine trader in Myanmar; Nav Pyi Taw, a well-known hardware and steel products importer; KO LATT, a famous hardware importer.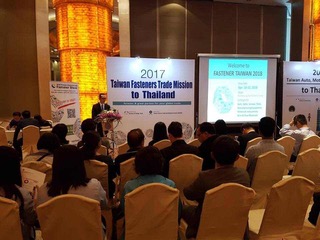 photo provided by TAITRA
During the visit to Pro1 Home Center and Asia Center, which are Myanmar's multinational DIY and home improvement retailing company and well-reputed hardware and building material shopping center, apart from products made from Stanley, a global leading hardware maker, Taiwan's officials also saw rivet products from Taiwanese fastener manufacturers, SRC, and PATTA.
The session's second stop was Bangkok, Thailand. In 2017, Taiwan has exported fasteners worth over US$ 60 million (NT$) to Thailand, Taiwan's biggest fastener exporting country in ASEAN market. The session, opened by Jason Hsu, the director of Economic Division of Taipei Economic and Cultural Office in Thailand, attracted over 30 local VIPs from several heavy-weight companies like, Siam Global House, Thailand's third largest distributor; Summit Chugoku Seiva (SCS), a car fastener manufacturer; Thai Mongkol Fasteners, a fast-growing fastener maker; and I.T.S Fasteners, a Thailand-based company providing a comprehensive range of cold formed fasteners.
Also notable is that many buyers including the earlier mentioned SCS; Taiyo Stainless Spring MFG, a stainless steel spring maker; Abpon, a stainless fastener maker; Aquip, a transportation engineering solution provider; and N.N Wattanakji, a building material and hardware offer, were all amazed by the quality of Taiwan's fasteners, and expressed high interest to attend the fastener show in 2018.
The third session was held in Ho Chi Minh City, Vietnam. As Taiwan's important fastener business partner and the seventh largest buyer at last year's Taiwan International Fastener Show, Vietnam has enjoyed satisfying growths in its economy and infrastructures. Around 30 representatives from well-known companies namely, An Hung JSC, Vinavit Corp, VitPham, and Lidovit, which are machine equipment traders and fastener importers, attended the session. Among the session participants, Lidovit, also a robust business partner with Taiwan's fastener makers, gave high recognition to Taiwan's fastener products, saying they will attend the show in Taiwan next year. Other Vietnam companies like Phan Anh Steel Structure and Trung Viet, which are building material provider and machine equipment trader, were also interested in joining the show to find partners.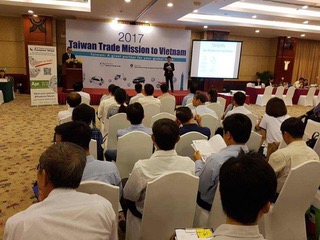 photo provided by TAITRA
The session's last stop was Manila, Philippine. The session hosted around 30 local industry insiders including Advance Fastener, Fastener Philippine, Rigid, Screwtech、Stronghold、Applied Machining。 Many companies like MESCO, a machine equipment importer; Crossflow, a hydraulic equipment agent; Dealer's Choice Hardware, a hardware maker; and Cathay Industrial, a company providing solution to industrial material process, all showed the intention to join 2018 Taiwan International Fastener Show.
Hosting around 400 exhibitors manning over 1,000 booths, the 5th Taiwan International Fastener Show, hosted by Bureau of Foreign Trade, and executed jointly by TAITRA and Taiwan Industrial Fastener Institute, will take place at Kaohsiung Exhibition Center on April 10th through 12th. This show will completely present the creativity and competitiveness of Taiwan's fastener industry. For more information, please visit www.FastenerTaiwan.com.

photo provided by TAITRA
Media contact
TAITRA
Mr. Li Ming Xuan
Tel: +886-2-2725-5200 ext.2988
E-mail: snake9370@taitra.org.tw