Together with Tsu-Chen Chou, general manager of Economic Daily News (EDN); Ching-Ting Chen, representative of Taiwan Transportation Vehicle Manufacturers Association, and secretary general Hsieh of Taiwan Forging Association, Ming-Shy Chen, Deputy Director General, Taipei Economic and Cultural Office in Los Angeles and Wen-Yi Lai, director of Taiwan Trade Center, visited Taiwanese exhibitors at this year's AAPEX on October 31st.

Ming-Shy Chen, who came to AAPEX for the fifth consecutive year, said the North American market absorbs 45 percent of Taiwan's overall auto-parts exports annually, and output value of the auto parts industry in Taiwan has even outpaced that of the automobile industry. In other words, auto parts production is a very important and highly competitive industry on the island.


Ming-Shy Chen spent 5 hours visiting exhibitors, including Jesse Lai, an oil supply and cooling system solution provider; Vei Sheng, a tire pressure sensor manufacturer; Eagle Eyes, an auto lamp offer, Hwang Yu, a steering and suspension systems maker; Hu Shan, a car-door handle manufacturer; and Sajones, a brake-system provider; and learned intensively every product introduced by Taiwanese exhibitors he met on the showground. Also notable is that the Deputy Director General showed great interest in whether the products showcased by Taiwan's exhibitors are completely "Made-in-Taiwan."

Apart from providing information on the North-American aftermarket to Taiwanese exhibitors for reference, Deputy Director General Chen listened to the advices from those Taiwan manufacturers. Deputy Director General Chen noted, all the exhibitors' feedbacks, especially one for government's tremendous support as granted to their South Korean counterparts, will be taken into serious consideration by the Taiwanese government.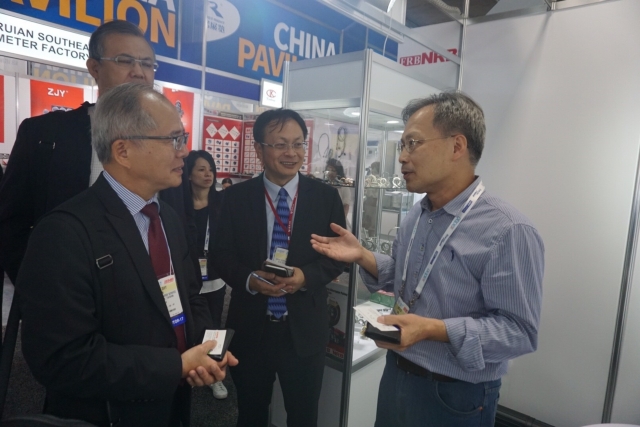 Ming-Shy Chen (first from left) spent 5 hours visiting each APPEX exhibitors