Expected to lure more than 200,000 professional buyers from over 140 countries around the world, AAPEX 2017, with 2,200 exhibitors manning 5,000 booths, has just begun at Sands Expo in Las Vegas, the U.S. since October 31, where Taiwan Pavilion is believed to impress global buyers with the strong manufacturing and R&D prowess of Taiwanese auto parts suppliers.

To assist Taiwan suppliers of auto parts, who have collectively enjoyed a high reputation among global buyers in both the OE and aftermarket segment, to rival against competitors from South Korea, Argentina, India, Thai and China, Economic Daily News (China Economic News Service), Taiwan's biggest business-focused newspaper and exhibition service provider, joins hands with TTVMA, IEAT (Importers and Exporters Association of Taipei), STARSA (Southern Taiwan Auto-Parts Research &Strategy Alliance), and Taiwan Forging Association to host Taiwan Pavilion at the show's 2017 edition.

Led by Economic Daily News (China Economic News Service), a total of 54 Taiwan manufacturers, namely Jesse Lai, Eagle Eyes, LC Fuel, Hwang Yu, Vei Sheng, Sportsman, CASP, Red Wood, Keenco, Sajones, Needle Roller, Duright, Hu Shan, Zenith Troop and Hunt Power, occupy 76 booths and showcase various items, including engine systems, cooling systems, chassis parts, electrical parts, air-conditioning systems, body parts, transmission systems, steering systems, auto electronics, accessories and etc.

To exhibitors, it has never been an easy task to book a booth at AAPEX, given that the exhibition is one of the most important events for insiders in automotive aftermarket and servicing sectors, including those from Taiwan. Therefore, most of Taiwanese exhibitors tend to bring their proudest products to the show.

Among them at this year's AAPEX, Hunt Power, for example, who participates in the trade fair for the second time, is showing off its fatigue driving monitor, which features infrared detector and head-angle sensor, providing drivers a safer journey.

Displaying its fuel supply system at the venue, LC Fuel's general manager, Jhan, noted that, through AAPEX, LC Fuel has effectively found out the chances to discuss further business details with regular customers while exploring more profession buyers.


Manufacturing needle roller bearings, Chiu, Hsien Shih, manager of Needle Roller, noted, despite the exhibitor being a first-timer, many buyers came to inquire its Overrunning Alternator Pulley products during the show, which means AAPEX's buyers are more willing to understand about new products. Needle Roller also said it will improve its competitiveness by sorting out its power consuming issues.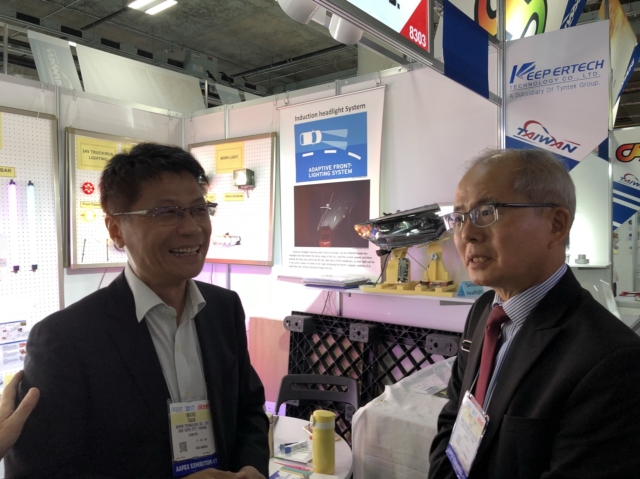 Wen-Hu Wang(left), general manager of Keeper Technology, is satisfied with the business opportunities APPEX has brought.