As the exhibitors from Changhua County, a central administrative division unit in Taiwan, accounted for the largest portion of the Taiwanese exhibitor group led by EDN to this year's AAPEX and SEMA, Ming-Ku Wei, magistrate of Changhua County, together with Yung-Pin Kuo, chairman of Changhua County Industrial Association; and Chih-Chieh Liang, director general of Industrial Development & Investment Promotion Committee of Changhua County, came to the trade fairs to visit exhibitors from the county, showing the county government's support to the sector.

Changhua County features the highest industrial cluster density of auto parts suppliers in Taiwan, and over 50 manufacturers exhibiting at the two shows are from the county. Many VIPs in the industry, namely Yin-Ming Yang, chairman of the well-known tire maker Kenda; and S. M. Hsu, chairman of auto lamp leading maker Depo, attended AAPEX and SEMA as well.

Wei said, he wants to support with actions industry insiders who are striving to explore overseas markets; therefore, he changed his personal schedules in order to be fully engaged in the two major events.

Yung-Pin Kuo added, if Changhua County's manufacturers have issues with the "one foxed day off and one flexible rest day" policy, Magistrate Wei and Labour Department would assist the companies and their staff to sort out the problems instead of fining the companies.

Chih-Chieh Liang stressed that, despite being the smallest county in size,
Changhua has 17,000 registered factories and around 7,000 plants without legal documents. To assist those 7,000 plants, the Changhua government will grant the plants that are not polluting water, air and land, not violating public security, not engaging in tax evasion and not building illegal structures a 2-year buffer period to relocate to local legal industrial zones or gain permission from the county government.

In addition to visiting the exhibitors from Changhua, Magistrate Wei hosted a dining party for distributors from Southern California, hoping to solicit more professional buyers to source auto parts from Changhua.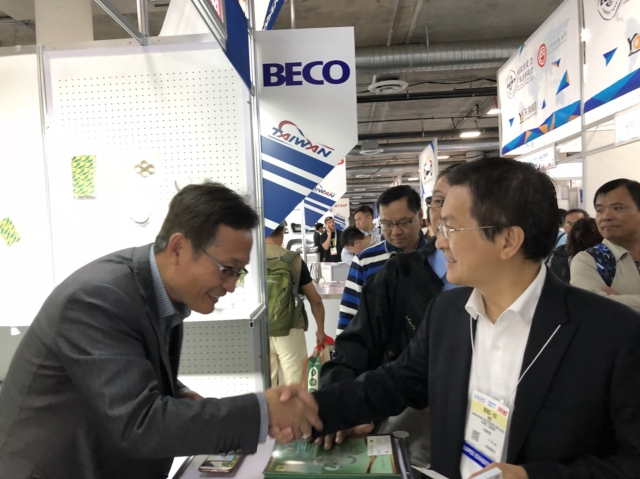 Ming-Ku Wei, Magistrate of Changhua County, (first from right) visited the exhibitors in person.