Hosting exhibitors from Germany, France, Italy, Korea, Taiwan, China, Iran and etc., the 12th Iran Auto Parts 2017, held on Nov. 13th through 16th, again serves as the largest and most influential auto parts trade fair in the Middle Eastern country.

Due to the long-term international economic sanction, the Iranian government has suffered from lingering shortages of funds for developing locally big-scale infrastructure. However, from a macroeconomic viewpoint, the Iranian market indeed has considerable potential to explore, given a couple of positive factors such as the country's vast land area, extremely low oil price and cheap domestically manufactured cars. Over the decade, ever more Iranians have cultivated growing thirst for private vehicles, like sedans.

Therefore, market size of automotive aftermarket products in Iran is enormous for sure, and local consumer demands for various auto parts like lamps, transmission system parts, and collision parts are vigorous.

At this year's Iran Auto Parts, the Taiwanese exhibitor group, which consists of 40 companies including several well-known auto parts providers, namely Eagle Eyes, a leading Taiwan-based headlamp manufacturer; Hwang Yu, a high-quality aftermarket automotive chassis parts and brake components maker; Ying Han, auto equipment solution provider; and many others, is Asia's third largest exhibitor group by member number. Among the 18 exhibition pavilions at the venue, Taiwanese exhibitors are mostly accommodated in Pavilion 6, Pavilion 27 and Pavilion 38 according to their product categories.

During the show, Economic Daily News (China Economic News Servic), Taiwan's biggest business-focused newspaper and exhibition service provider, holds a booth to assist Taiwanese suppliers to better explore the Iranian market for auto parts, by circulating TTG (Taiwan Transportation Equipment Guide), a long-lasting, well-established industry magazine that has been providing Taiwan-based supplier information since 1986, and e-buyers' guides about Taiwanese suppliers in USB drives. Both the publications have been popular among professional buyers starting from the first day of the show.

Although China-made products displayed on the showground generally come in much lower prices compared to those of the products from Taiwan, many international buyers still prefer the products offered by Taiwanese exhibitors, thanks to the higher quality and performance, and Taiwan companies' better services, according to EDN staffers distributing CENS's publications at the venue.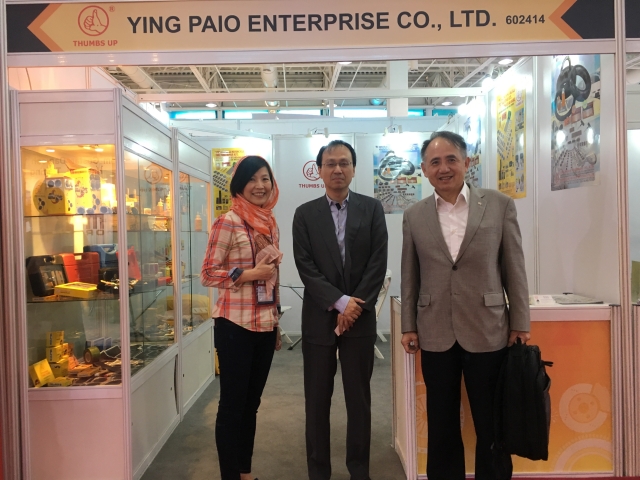 Wei, Sheng-Huang (second from left), Chairman of Taiwan-Iran Business Association; and Sheng-Yu Lu(right), Director of Taiwan Trade Center, Tehran, together visited Taiwanese exhibitors at the show.