With a population of more than 1.3 billion people, India has enjoyed robust economic growth over the past decade, which, in turn, has resulted in massive demands for fasteners for use in construction, mechanism, automotive and many other industries. To help Taiwanese fastener makers to tap the lucrative business opportunities, the fastener export promotion program "Taiwan Fastener Trade Mission to India" has been officially initiated with an aim to promote not just the industry on the island, but the upcoming Taiwan International Fastener Show (TIFS) 2018.

Increasingly influential over the global economy, India now is world's fifth-largest auto maker and the 13th-largest machine tool manufacturer, as well as Taiwan's biggest fastener trade partner in Southern Asia. In 2016, Taiwan's fastener export to India reached US$32 million (NT$960 million).

To boost fastener exports to the market, Taiwan's Bureau of Foreign Trade, Ministry of Economic Affairs (MOEA), Taiwan External Trade Development Council (TAITRA) and Taipei World Trade Center- Chennai, jointly kicked off "Taiwan Fastener Trade Mission to India" November 19-26, 2017, during which promotion meetings were held locally to introduce to local companies the competitive edges Taiwan's fastener industry possesses, and solicit more global buyers to attend TIFS 2018.

Understanding that Chennai-Bengaluru Indusrial Corridor (CBIC) is one of India's five main industrial corridors, where a large number of local auto makers and machine manufacturers cluster, Taiwan's Bureau of Foreign Trade chose Chennai as their first stop to host the meetings.

A total of 56 representatives from local companies, including Sundram Fasteners Limited, an super-giant fastener plant with annual turnover of more than US$5 billion (NT$150 billion); TI Cycle of India, a well-known large bicycle maker; Lakshmi, a major fastener dealer whose representative came to the meeting by flight from Coimbatore that is over 600 km away from the venue; Bharat Group, a company that has imported many Taiwanese products; and Rivit India, major fastener trader, attended the meetings.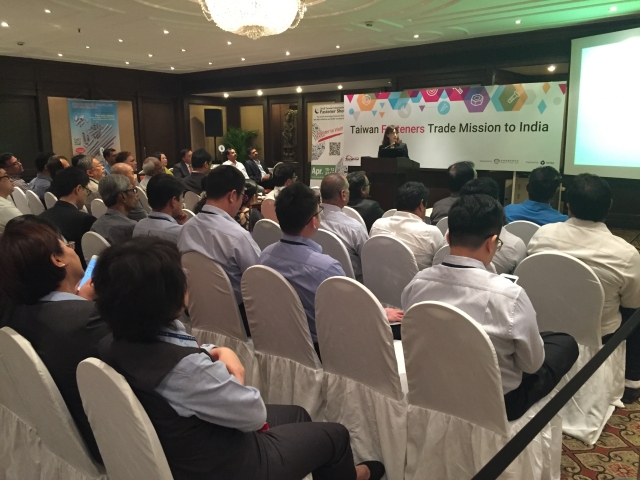 "Taiwan Fastener Trade Mission to India"in Chennai. (photo provided by TAITRA)
Also notable is that Lakshmi said it was satisfied with the layout of the exhibiting facility and exhibited products during its first visit to TIFS, and confirmed that it is going to the show again next year.
Apart from holding the meetings in India, the trade promotion delegation from Taiwan visited the 20-year-old vehicle assembly plant of Ford there, which is equipped with a highly intelligent manufacturing system and demands a great deal of fasteners; and Tamil Nadu Industrial Guidance & Export Promotion Bureau to learn the latest industrial news and information on investment related subsidies.
The second stop of the delegation was New Delhi. The meeting, opened by Mr. Sanjeev Gupta, chairman for Asian Pacific area of a business industrial association in New Delhi, PDH, successfully attracted 60 local companies, including Sterling Tools, India's main auto fastener maker and dealer; LLOYD INSULATION, a building material dealer, and three other auto parts providers namely NIPMAN, SIGMA Corporation, LPS BOSSARD, etc.
During the meeting, all participants gave positive feedbacks to Taiwan's manufacturing techniques and customer services. Among them, representatives from PHD business industrial association and Fasteners Association of India (FAI), both mentioned that their members once attended Taiwan International Fastener Show, and affirmed the quality of Taiwan's products. Thus, both the associations will organize visitor groups consisting of over 100 Indian importers in total to the show next year to seek more cooperation opportunities with Taiwanese firms.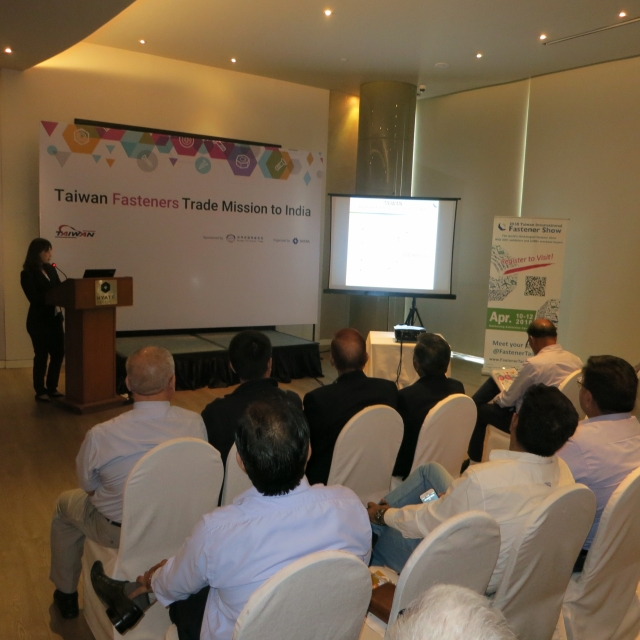 "Taiwan Fastener Trade Mission to India" in New Delhi. (photo provided by TAITRA)
With around 410 exhibitors manning over 1,100 booths, the fifth TIFS, organized by Bureau of Foreign Trade of Taiwan's MOEA and jointly executed by TAITRA and Taipei World Trade Center-Chennai, will take place at Kaohsiung Exhibition Center on Apr. 10 through 12, 2018, to showcase global buyers the innovative manufacturing capability and global competitiveness of Taiwan's fasteners industry. For more information, please visit www.FastenerTaiwan.com.