THTMA chairman shared his visions for future development of Taiwan's hand tool industry and association
Taiwan Hand Tool Manufacturers' Association (THTMA), an organization that has led Taiwan's hand tool industry into the world's second-largest exporter of hand tools in terms of value and has assisted Taiwan to earn a solid reputation as "the Kingdom of Hand Tools" among global professional buyers for years, proudly celebrated its 40th anniversary on Aug 18, 2017, witnessed by a large number of and members celebrities, including former chairpersons and directors.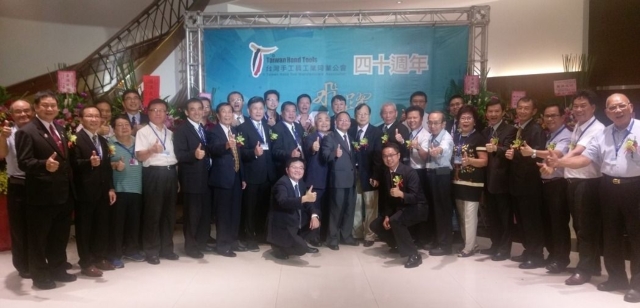 THTMA celebrated its 40th birthday. (photographed by Ching-Chong Wu)
Several VIPs from the government and related industries, including H.C. Yu, chairman of THTMA and Re-Dai Precision Tools Co., Ltd, a high-profile manufacturer of hand tools; S.D. Huang, deputy chairman of THTMA; Chang Kuang-yao, Taichung deputy mayor; Lu Chen Hua, director general of Taiwan's Industrial Development Bureau; and Shyi-Chin Wang, executive vise-president of China Steel Corp., attended the anniversary ceremony to together celebrate the 40th birthday of this significant industrial organization in Taiwan.
Under the leadership of the honorary chairman, Ko Chou, Yu said that THTMA was founded in Aug 15, 1977. And then, in order to provide its members better services, Mao-hsiung Hon, THTMA's third honorary chairman, bought an office in Taipei with the funds raised by partners in the industry; Ching-fong Hsieh, THTMA's 10th honorary chairman, with an intention to increase the working efficiency and service quality, bought another office in Taichung while starting to explore overseas business opportunities for the industry.
Over the past 40 years, Taiwan's hand tool manufacturers mostly have effectively upgraded from being copycats in the very beginning to nowadays well-reputed suppliers and innovators bolstered by the payoff of their decades-long efforts on the continuous improvements of manufacturing skills, as well as automation and digital technologies.
Ever since Lucky-Brand Industrial Co., Ltd won iF Design Award, a globally known industrial product design competition held in Germany, as the foremost hand tool maker in Taiwan, ever more Taiwanese hand tool manufacturers have been noted in world's major innovative product competitions. And their achievements have been recorded in the following awards: Taiwan Excellence, delivered by the Ministry of Economic Affairs (MOEA) and Taiwan External Trade Development Council (TAITRA) to encourage Taiwan industries to upgrade and incorporate innovation and value into their products; Good Design, an industrial design program organized annually by the Chicago Athenaeum Museum of Architecture and Design, in cooperation with the European Centre for Architecture, Art, Design and Urban Studies; Red Dot, an international product design and communication design prize awarded by the Design Zentrum Nordrhein Westfalen in Essen, Germany; and many others.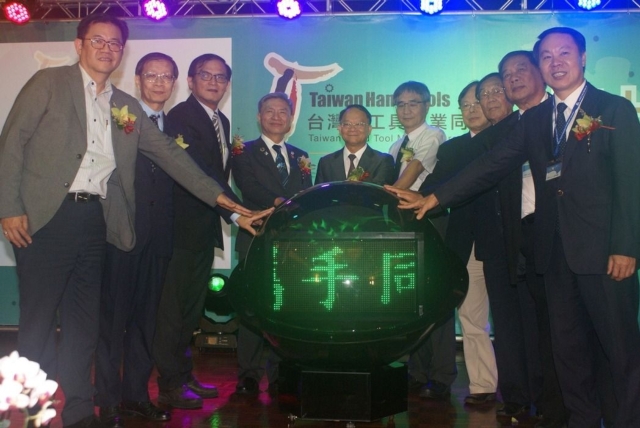 Several VIPs attended the anniversary ceremony to together celebrate with the association. (photographed by Ching-Chong Wu)
From the abovementioned facts, it is clear that Taiwan's hand tools, with robust structure and innovative design, are increasingly recognized in the global market, the chairman stated.
THTMA Actively Cooperates with Government to Explore International Market
Thanks to the efforts of THTMA's honorary chairman, Lin Chien-kuo, the association effectively convinced the organizer of Taiwan Hardware Show (THS) in cooperation with Taichung City Government to move the island's most professional trade fair for hand tools and hardware products out of Taipei to Taichung five years ago, writing a new page in the industry's history. Over the years, the exhibition has continuously grown in size and benefited considerably local hand tool suppliers, given that Taichung is home to Taiwan's hand tool industry.
In light of the relatively small size of the domestic market for hand tools, Yu said it is increasingly imperative and exigent for industry insiders to upgrade in tune with market trends through advanced technologies and partnership with Taiwan's international trade organizations such as Bureau of Foreign Trade and Taiwan External Trade Development Council (TAITRA), so as to better tap overseas markets.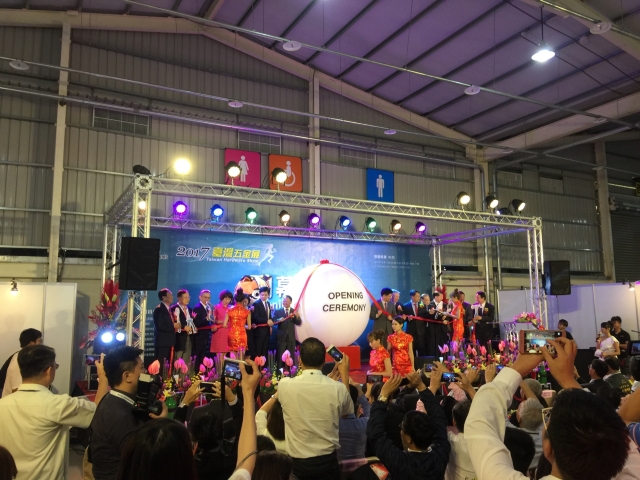 THS 2017 has taken place in Taichung for five consecutive years, with its scale constantly growing year by year. (photographed by Alan Lu)
Regarding global marketing, Yu indicated that THTMA will continue to assist its members to overcome the obstacles brought by other countries' trade protectionism and regional economic integrations, at a time when the Taiwanese government has actively promoted its "New Southern Policy" to encourage local exporters to attain market diversifications. In the meantime, the association will also help enhance exchanges with foreign partners and buyers and seize business opportunities overseas, particularly those brought by China's "One Belt, One Road" initiative.
Yu emphasized that in the face of industry 4.0 trends initiated in world's advanced countries, Taiwan's hand tool makers, which are versed at OEM (original equipment manufacturing)/ODM (original design manufacturing) business models, must speed up their transformations, to build intelligent production lines and upgrade their manufacturing capabilities to globally recognized levels.
In that logic, THTMA has sent quite a few delegations to visit several significant industrial institutes in Taiwan, namely Industrial Technology Research Institute (ITRI), Metal Industrial Research & Development Center (MIRDC), and Corporate Synergy Development Center (CSDC), to acquire newer and necessary knowledge.
THTMA's Efforts on Development of APP and e-Commerce
Understanding that the e-Commerce industry has been well developed in many countries as the U.S., China and even Indonesia, Yu confirmed that THTMA, apart from publishing hard-copy magazines, has worked with China Steel Corporation (CSC) to establish "Hand Tool Cloud" and planed to promote its e-Commerce platform in the near future. On another front, to better connect with members, the association will also launch specific apps, in a hope of keeping its users updated with the latest development and news of the global hand tool market with their smart devices.
THTMA to Deepen Cooperation with CSC and Colleges
Two years ago, CSC assisted Taiwanese companies to conduct reverse engineering research, and develop better steel materials. THTMA members revolved in the projects have learned a lot about the techniques of hand tool design, steel material choosing and heat treatment.
This year, in cooperation with CSC and National Yunlin University of Science and Technology (NYUST), a university paradigm for other technological universities in Taiwan, which is known for its College of Engineering, THTMA visited VDE Association for Electrical, Electronic & Information Technologies, one of the largest technical and scientific associations in Europe, and EMO Hannover 2017 (Trade Fair), the world's most important international meeting point for production technology specialists and trade fair for metal-cutting and forming machine tools and related production systems, bringing in new ideas and concepts of product development and technique improvements, and exchanging experiences not only with overseas companies, but also with the abovementioned CSC and NYUST during the trips.
THTMA Strives to Increase Industry's Global Connection
To assist hand tool companies to interact with other industries, THTMA signed an alliance contract with The Taiwan Society of Metal Heat Treatment. Meanwhile, THTMA welcomes more cooperation requests from more public sectors. Also notable is that this year, seven members, on behalf of THTMA, were invited to join the ISO international forum held in Shanghai for the first time, which is a significant milestone for the industry and Taiwan.
THTMA Plans to Set Up Museum for Hand Tool Industry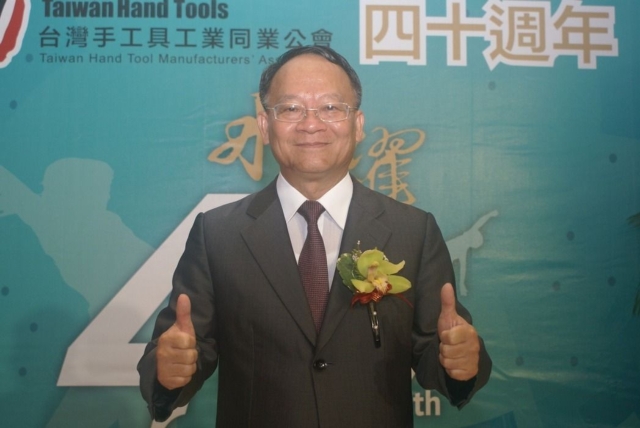 H.C. Yu, chairman of THTMA and Re-Dai Precision Tools Co., Ltd, a high-profile manufacturer of hand tools. (photographed by Ching-Chong Wu)
In order to attract more young workers and talents to Taiwan's hand tool industry, and further promote the industry's images and capabilities to the public, THTMA plans to build a hand tool museum in the future. Worth mentioning is that at the association's 40th anniversary event, THTMA drafted a blueprint of a museum to showcase hand tool products made by Taiwanese suppliers and the industry's development in Taiwan. THTMA chairman noted that the establishment and operation of a real museum is one of the association's visions in the coming years, and with the collective effort from every partner, THTMA will strive to realize it.
Facing multiple challenges including the intensifying competition in the global market, the growing rivalry of competitors from other countries, impacts brought by industry 4.0 trends and challenges from underselling rivals, THTMA will enhance interactions and cooperation with overseas partners, introduce new techniques and business models, and tap more synergies, to assist Taiwan's hand tool industry to maintain its global competitiveness for at least another 40 years.