China's steadily growing market turns out to be among reasons behind trade show's growing appeal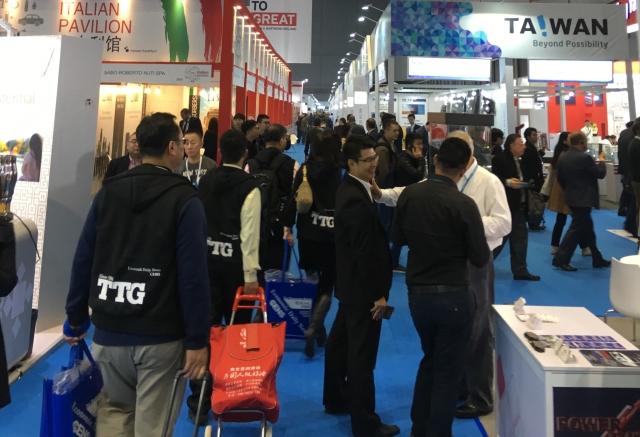 Automechanika Shanghai has again consolidated its statusas the world`s second-largest Automechanika brand show. (photographed by Yushann Lin)
Held annually at the National Exhibition & Convention Center (Shanghai), China, Automechanika Shanghai is the world's second-largest Automechanika brand exhibition, as well as Asia's No.1 business platform for automotive OE and aftermarket industries.
According to Messe Frankfurt, the show organizer, Automechanika Shanghai 2017, held on November 29 through December 2, hosted a total of 6,051 exhibitors, up 5 percent from the corresponding figure achieved in 2016 and a new high; and attracted over 130,000 professional buyers attending the show.
Increasing Global Appeal
With market demands for and sales of new cars and auto parts in China and Asia steadily growing, Automechanika Shanghai 2017 again saw a large number of suppliers, visitors and buyers flock into the venue, which together made the exhibition a hustling, lucrative marketplace for automotive aftermarket goods and services.
During the four-day span, the show hosted exhibitors from different countries of the world, which included Pakistan, Poland, Russia, France, Malaysia, the U.S., Japan, Spain, Thailand, Turkey, Singapore, Italy, the U.K., Taiwan and Hong Kong. While the United Emirates attended the annual trade fair the first time, exhibitors from Germany increased 44 percent in number compared to the last edition. The proportion of overseas firms in overall exhibitors rose 14 percent.
On another front, to accommodate continuously increasing exhibitors, the organizer used 15 halls, totally spread over 340,000 square meters, at the venue, with the used gross exhibition space breaking a record.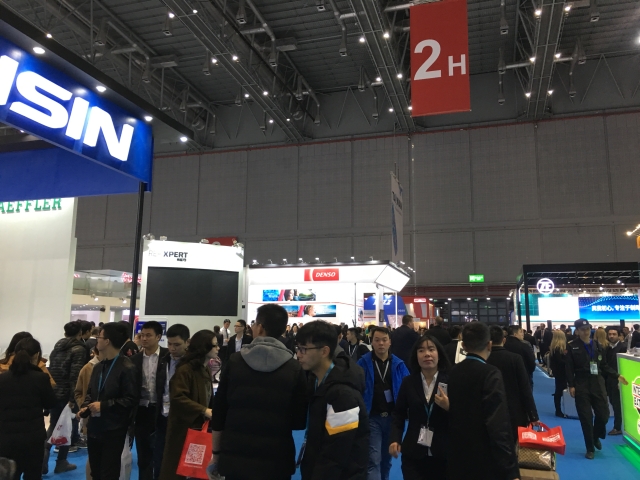 Over 130,000 visitors attended Automechanika Shanghai 2017 (photographed by Yushann Lin)
According to the abovementioned facts, it is not overstated to say that the exhibition enjoyed a growing global appeal.
Seeing such an encouraging result of the trade fair, Shao-lan Chou, vise-president of Messe Frankfurt Shanghai, noted that, Automechanika Shanghai, with years of development, has become a one-stop shopping platform, providing its visitors information exchange opportunities, advertising chances, trade services, and educational news. Also notable is that the numbers of both exhibitors from home and abroad, as well as global buyers, all shattered the show's records, hence making the 2017 edition the most globalized compared to the previous ones.
China's Vigorous Auto Market Powered by Massive Demands
Most would agree that Automechanika Shanghai's ever-growing success can be attributed to its offering of an effective access to the enormous automotive market in China.
According to "China Auto Industry Development Annual Report-2016" made by China Association of Automobile Manufactures (a social organization founded in Beijing in the May of 1987, with the approval of the Ministry of Civil Affairs of the People's Republic of China), the production and sales volume represented a rapid surge to 28,119,000 and 28,028,000 units, respectively, in the year. Besides, another analysis report for 2017 global auto parts market scale, China's turnover and output volume, noted that between 2011 and 2015, turnover in China's auto parts market saw a compound annual growth rate of 12.4 percent, and it is estimated that by 2017, China will contribute 38.8 percent to overall turnover of the world's auto part industry.
In the meantime, the AM markets in the countries and regions around China will also see bright prospects. The Asia Pacific market, for example, has experienced a rapid expansion and is expected to post an 8.3 percent compound annual growth rate during 2015 and 2022.
Messe Frankfurt Shanghai's vise-president Ms. Chou noted, with stable financial growth of China and other areas in Asia, China's auto industry has enjoyed a friendly environment for future development and related researches. Summing up, he continued, Asia's role in the global auto parts market has become increasingly significant.
6,051 exhibitors from all over the world took part in the show to tap tremendous market potential in China. (photographed by Yushann Lin)
Features of Automechanika Shanghai
Riding on the uptrend on China's auto market, the 2017 edition of the trade fair had lots of features that bolstered its stance as an increasingly influential, effective trade fair of this kind.
Among those, the addition of new exhibition zone, REIFEN Zone/ Wheels & Rims, to the trade fair was remarkable, for it not just expanded the show's coverage of exhibits to OE and aftermarket auto products and services, but provided visitors a close look at the latest developments of such products. As REIFEN is a globally leading brand of wheel related products, its cooperation with Automechanika has also indicated that such products are increasingly needed by buyers in the AM market.
Sizes of the Electronics & System and E-mobility & Infrastructure zones in West Hall both were expanded significantly this year, with several heavy-weight multinational brands including Mobiletron Co., Ltd., a firm dedicated to the development of automotive parts and components and industry tools; Hang Sheng, a China-based leading electronic company; Jing-Jin Electric, a world leader of motor systems and electric drive assembly for new energy vehicles (NEV) and many others, being present there.
Located in North Hall, the E-mobility & Infrastructure zone, designed to showcase new energy solutions and highlighted the development in the automotive industry, proved to be successful arrangement, for it not only kept visitors updated with the latest products for new energy vehicles, but brought together carmakers, manufacturers of batteries, electric controls and management systems for electric and hybrid cars, as well as renowned research institutes, to collectively foster the development of these emerging areas.
Noteworthily, new products launched by big-name players in the industries at the E-mobility & Infrastructure zone were also a hit with visitors. Firms bringing their new ideas and products to the venue included APG, Potevio and VIE and other 300 globally known companies, and jointly made the over-10,000-square-meter exhibition zone a hot spot for professional global buyers.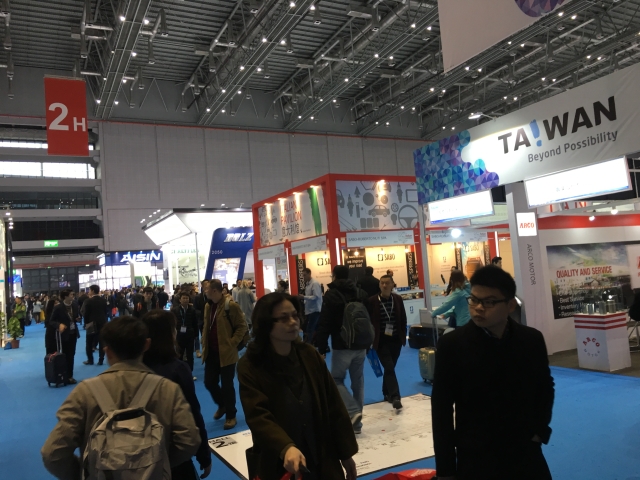 Several national pavilions were established on the fairground (photographed by Yushann Lin)
To buyers looking forward to staying ahead of the competition in an era of speed and high-performance components for race, visiting Hall 6.2 were considered worthwhile, for a full spectrum of products and forums regarding performance vehicles, and the future development of the racing industries were presented at the zone. Besides, what made car race lovers excited was that Shelby GTE, a lightly modded Mustang that gains about two dozen horsepower, and Japan-based GTR, a race car listed in the 0-400 accelerated global record, were also exhibited at the show.
Educational Program
A total of 57 unique events of the fringe program also added spark to Automechanika Shanghai 2017, including Connected Mobility Conference Shanghai, a forum discussing about the development, technology challenge, application, standardization in the unmanned driving industry, and AIAG Auto Parts Purchasing Leadership and Suppliers Summit, a meeting which invited globally well-known purchase leaders to discuss purchase strategies in the auto industry and supply chain development in China and Asia.
Also, China Auto Technology Achievement Transformation & Investment Forum, jointly organized by Automechanika Shanghai and the China Electronics Chamber of Commerce (CECC), talked about the hottest issues, such as electronization, automation, artificial intelligence, and Internet of Vehicles (IoV) in the global auto industry.
The multifaceted fringe program focused on experience-sharing sessions to promote dialogue between exhibitors, users and buyers. There were also ample opportunities for education and networking among business leaders involved in the future of the automotive industry. Organizers collaborated with several industry associations, leading business and media to arrange the extensive fringe program.
Powers from Taiwan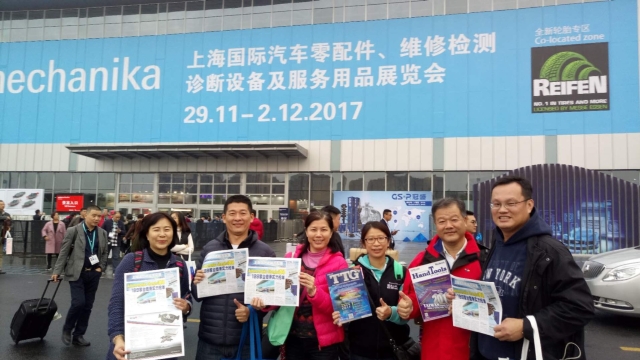 EDN, jointly with CENS, held a joint booth at the fair to promote Taiwan-made auto parts. (Photographed by Yushann Lin)
At Automechanika Shanghai 2017, nearly 200 exhibitors from Taiwan impressed visitors with their manufacturing and R&D prowess through various innovative, high-quality and marketable products and services displayed. Those included TYC, a world class automotive and motorcycle lighting equipment manufacturer for OE & aftermarket segments and headquartered in Tainan; Tong Yang, the largest auto-parts manufacturing conglomerate on the island; Tong Hong, a manufacturer of all kinds of engine gaskets, rubber parts and other automobile parts; Nan Hoang, a developer and maker of advanced friction materials with globally recognized testing/inspection techniques; Hwang Yu, a TS16949- and ISO 140001-certified company specializing in the development and production of high-quality aftermarket automotive chassis and brake components; Taiwan Brake Technology (TBT), a professional manufacturer and well recognized supplier of automotive brake friction products, specializing in brake pads and shoes; Antrc, a professional auto parts supplier; Chuan Jieen, a specialized manufacturer with wide-ranging product portfolio covering fast idling control devices, actuators, vacuum solenoid valves, one-way valve, etc.; Yuan Cherng, a producer of rubber sealing, packings and vibration control parts for automobiles since 1963, and many others.
It is stating the obvious that Taiwan plays a pivotal role in the global auto-parts supply chain, with exports having remained on an upward trajectory over the years. Presently, the industry is composed of about 2,800 makers on the island, including about 300 original equipment (OE) suppliers, many of whom also produce AM products.
To assist Taiwan auto parts suppliers, who have collectively enjoyed a high reputation among global buyers in both the OE and aftermarket segment, tap business chances brought by Automechanika Shanghai, CENS and its parent company, EDN (Economic Daily News), the island's largest business-focused newspaper publisher, held a booth at the show.
With a variety of effective buyer guides and informative industry magazines, as well as real-time business matchmaking services, provided on spot, CENS and EDN's booth attracted a large number of foreign buyers in need of reliable Taiwanese suppliers and partners who can help shore up their business in China and all areas of the world.
The next Automechanika Shanghai will be held on November 28th through December 1st at the same venue in China.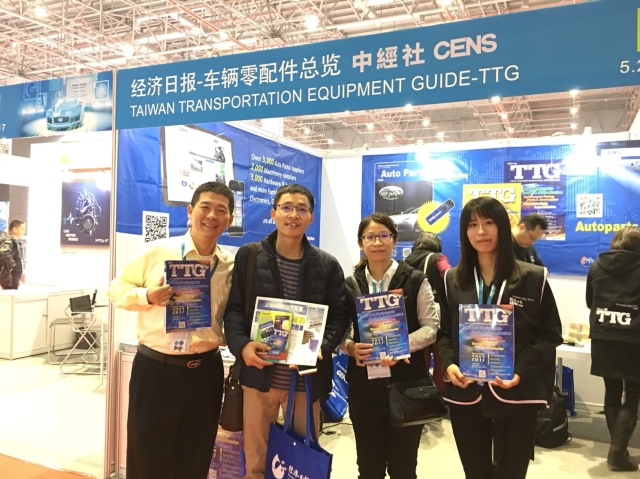 With effective buyer guides, as well as real-time business matchmaking services, provided on spot, EDN`s booth attracted a large number of foreign buyers in need of reliable Taiwanese suppliers. (photographed by Yushann Lin)