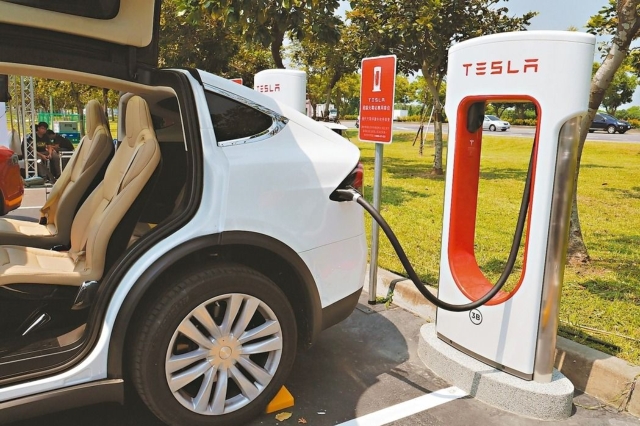 Tesla`s supercharger station at Chimei Museum in Tainan, southern Taiwan. (photo courtesy of UDN.com)
Taiwan's electric vehicle (EV) parts industry is very likely to see a rosy year in 2018 or later, as the Germany-based globally known auto maker BMW and American EV maker and energy storage company Tesla, both of whom are demanding more supply of parts and components to make their EV models, are reported to have placed or increased orders to Taiwanese suppliers, namely Hota Industrial Mfg. Co., Ltd. and BizLink Holding Inc.
Both already parts suppliers to Tesla, Hota, one of world's largest precision auto transmission component maker by size, and BizLink, a leading global interconnect solution provider, have been widely regarded as shoo-ins for orders from BMW, though neither of them has made comments on the new customer.
According to market observers, the news, from another point of view, indicates that ever more globally prestigious EV makers are willing to resort to Taiwan to secure a stable, reliable supply of parts and components.
If the news on BMW's orders is proven true, however, these Taiwanese suppliers will have to try anything they can to ramp up current capacity to fill the new orders, given that the plan of their current client Tesla to raise its weekly production volume from 5,000 units to 10,000 units starting in the first season of 2018 has forced them to keep their production machines humming around the clock to meet the customer's requirement for the time being. Some insiders said that the said two suppliers have plans to increase their production capacities once orders from Tesla continue to increase.
In addition to capacity expansion, market observers point out that one more issue concerning Hota and BizLink, as well as other Taiwanese suppliers involved in the supply chain, is whether or not to raise prices quoted to their customers in the future, when their production lines are formally booked by BMW.
It is reported that for now, Hota, in order to fill orders from the two abovementioned heavy-weight auto makers, has been working on capacity expansion.
So far, Hota has mainly supplied Tesla some key components like reduction gear boxes; and a source noted that Hota and related companies have passed BMW's certification and will receive the customer's orders before Christmas at the earliest.
To fulfill demands from Hota's "big client", the firm's existing production lines have been running at full capacity, according to David Shen, chairman and CEO of Hota, who added that in addition to ocean freights, the firm has even chosen air freights to ship its products to customers within the soonest possible time.
Market observers noted that BMV's move to outsource EV parts from Taiwan will become a great chance to local auto parts suppliers who attempt to establish a closer relationship with the globally reputed German carmaker, as well as an incentive for Taiwanese firms to join together to directly tap supply chains of international large-sized automotive companies.
Thanks to German government's active promotion of EVs in the country, BMW plans to produce 300,000 EVs annually starting in the third season of 2019. With outstanding production and R&D capability, Taiwanese suppliers have together become a main partner for BMW in the latter's EV business.