Being recognized by the market as a leading maker of CNC rotary & tilting tables, horizontal CNC rotary tables, 5-axis rotary tables and auto pallet changers (APCs), Parkson Wu Industrial Co., Ltd, has been dedicated to the R&D of more advanced 5-axis tables and multi-axis tables so as to help high-end machine firms shorten manufacturing time.

Hsi-Bin Cheng, the deputy general manager of Parkson Wu, noted that the flexible machine system (FMS) of APCs can automatically arrange its working schedules, replace parts like mold, fixtures, blades components, etc. Also notable is that users can switch the machine's production modes through adding programs to the computer rather than changing any equipment. In addition to operating solely, FMS supports a multi-machine system and smart chip recognition system, to increase efficiency.

Noteworthily, Parkson Wu offers various FMS options, including parallel type, array type, storage type and etc., all of which are well-received by globally known machine tool companies thanks to perfect repetition accuracy and multiple designs. Plus, with Parkson Wu's SNC swing head series, the firm's FMS can be applied to precision production as required by the 3C industry, medical equipment industry and aerospace industry, as well as 5-axis processing.

Cheng said, as companies in some manufacturing industries, like aerospace firms, ship makers, auto manufacturers, mold manufacturing plants, are increasingly demanding components and parts with higher precision and more complicated structures, global market demand for multi-axis machine tools is surging as well.

Understanding that a 5-axis rotary table, which can help minimize production processes, reduce working hours and control geometric tolerancing more effectively, is a necessary element for the development of high-end machine tools, Parkson Wu launches large-size, heavy-load rotary tables, large-size 5-axis rotary tables and APCs, so as to fulfill the needs of the abovementioned industries.

Measuring 2.5-3 meters in size, Parkson Wu's large-size heavy-load rotary tables, for instance, feature maximum loading capacity of 40 tons and excellent performance for application in the fifth-axis machining of workpiece with a diameter of up to 1,000mm. The products can also be applied, along with a flexible manufacturing system, SNC swing head series and D.Dmotor large rotary table with a maximum diameter of 1,650mm and speed of up to 200 rpm, in double-column machining centers to work like a vertical lathe.

Cheng added, global market is seeing needs for automation thanks to the industry transformation trend and labor shortage; the high costs and complicated operation modes, however, have set a high threshold for investors to put resources on the machine. Aiming to cater to the needs of the markets and end-users, Parkson Wu offers automation solutions with high efficiency and flexibility as well as flexible manufacturing units with more reasonable price compared to that of overseas firms. Summing up, Parkson Wu is the most reliable business partner and rotary table maker of its kind.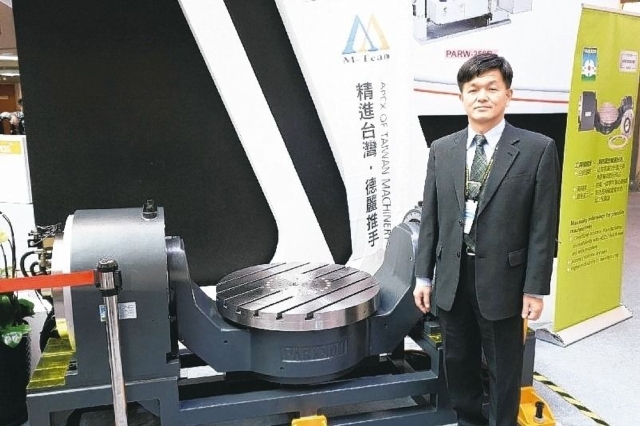 Hsi-Bin Cheng, the deputy general manager of Parkson Wu (photo courtesy of Parkson Wu).
For more information, please dial: 886-4-2335-9935 or visit www.wenson.com.tw and www.parksonwu.com.tw