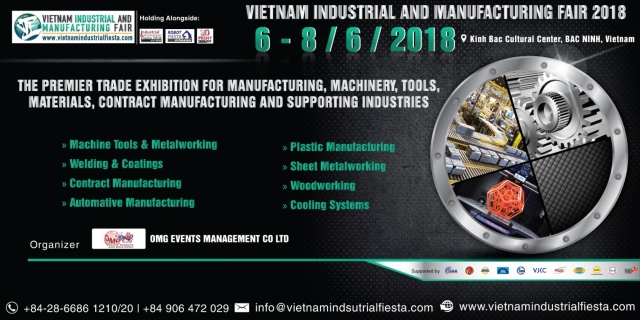 Vietnam Industrial & Manufacturing fair 2018 will be staging the specialized high profile event on technologies, equipments, machines & tools, systems, industry materials and engineering services, for manufacturing, metalworking and subcontracting industries. Coming to VIMF 2018, you may join in interesting, professionally organized and industry related activities as follows:
Vietnam Industrial & Manufacturing Fair (VIMF) 2018 are featuring on: Machine Tools & Metalworking, Welding & Coating, Automotive & Contract Manufacturing, Sheet Metalworking, Plastic Manufacturing, Woodworking and Cooling Systems
Industrial Automation Fiesta 2018 is focusing on: Industrial Automation, Factory & Process Automation, Logistics & Material Handling, Process And Packaging, Pumps And Valves, Robotics Automation, Test And Measurement.
CONFERENCES
6th June 2018, from 10.30am: CONNECTED MANUFACTURING CONFERENCE (Industry 4.0, IOT and Smart Factory)
7th June 2018, from 9.00am: 3D DESIGN AND PRINT CONFERENCE
8th June 2018, from 9.00 am: VIETNAM ROBOTIC DAYS 2017 (Robot and Vision Systems Conference)
EXPERIENCE KOREAN TECHNOLOGY 2018
The exhibitions are having this special Country Technology theme call EXPERIENCE KOREAN TECHNOLOGY 2018 promoting Technology, Equipment, Supplies and Services from Korea and its affiliated companies at these specialized exhibitions.
NATIONAL PAVILIONS.
We are forming Singapore Pavilion, Japan Pavilion, Korea Pavilion, European Pavilion and Taiwan Pavilion. Manufacturer Pavilion will highlight fully demonstrate the most advanced application solutions of industrial technologies and products in the process manufacturing industry, and is the only trade and sourcing platform providing industrial solutions for manufacturers and equipment suppliers.
REASONS WHY YOU MAY JOIN VIMF/ IAF 2018
Has Potential and advantages of geographic location for industry development. Bac Ninh strategically located in a crucial economic area in the North and a key point of economic of Ha Noi – Hai Phong – Bac Ninh – Hai Duong – Bac Giang
Is one of the province's most dynamic industrial economies in Vietnam Attracted well known investors and multinational economic groups and the best platform to showcase your product and services to meet the north of Vietnam manufacturers needs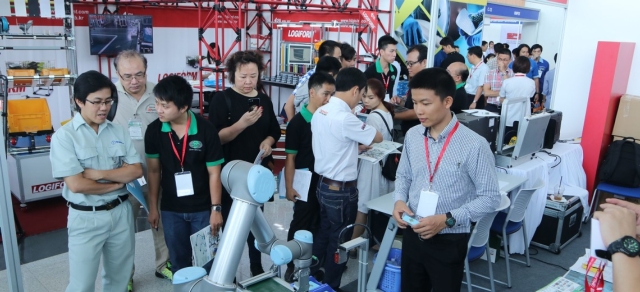 Has more than 15 concentrated industrial parks approved by the Government, more than 15 countries and territories have so far invested in Bac Ninh and many projects are calling for investment.
Has very high Foreign Direct Investment ( FDI) attraction and carrying out investment attraction effectively
For Booking A Stand : Click http://vietnamindustrialfiesta.com/to-exhibit-offer-package/
For Online Single Pre-Registration Visitors : Click http://vietnamindustrialfiesta.com/online-pre-registration/
For Online Group Pre-Registration Visitors : Click http://vietnamindustrialfiesta.com/register-for-group/
With more than 250 exhibiting companies from over 15 countries, VIMF 2018 is the ideal platform for international/ local manufacturers and suppliers to launch new products, meet targeted buyers, appoint agents and distributors, generate new business delegates & visitors, govt. authorities, industrial associations, international trade consulates, etc and establish business networks