With ASEAN (Association of Southeast Asian Nations) member countries having cut their import duties on merchandise originating and traded within the bloc from around 30 percent to zero since the beginning of 2018, ever more automakers have actively set up their production in Vietnam, to bring significant changes to the fast-growing Southeast Asian auto market.

Before the removal of the tariffs, an imported car could be sold at a unit price 4-5 times its gate price in Vietnam, or 2-3 times that in other ASEAN member countries. From this point of view, it makes sense to some degrees that a couple of Vietnamese companies in the wake of the tax reforms have actively sought for cooperation with foreign automakers to further develop the local auto market.

For instance, Truong Hai Auto Corporation, one of vehicle manufacturers of Vietnam, has invested US$500 million (NT$1.46 billion) in an automobile production and assembly plant planned by Mazda Motor Corporation, a Japanese multinational automaker, in the country. Scheduled to start up in April, 2018, the plant will be equipped with industrial robots and advanced automated production lines, with maximum output of 50,000 cars initially. Later on, its annual capacity will be doubled to 100,000 units.

In fact, the establishment of the plant jointly with Mazda is just part of Truong Hai Auto's investment project. With a bigger ambition, the Vietnamese automaker put aside US$1.3 billion (NT$38 billion) to set up 8 vehicle assembly plants, 19 auto parts manufacturing factories and an R&D center in 2017, in a bid to help boost a ratio of locally made sedans, trucks and passenger vehicles to imported ones in Vietnam's auto market to over 40 percent in the near future.

On another front, Hyundai Thanh Cong, a joint venture between a Vietnamese company and Hyundai Motor Company, a South Korean multinational automotive manufacturer headquartered in Seoul, has decided to establish a plant with production capacity of 120,000 cars in Ninh Binh, a province of Vietnam. Is it reported that once being online, the plant will supply around 90 percent of total cars branded by Hyundai for sale in the Vietnamese market a year.

Showing great interest in tremendous potential of Vietnam's auto market, Hyundai has also poured US$881 million (NT$23.7 billion) into building a modern auto manufacturing plant, an R&D center and a regional operations center in the country.

Also notable is that Vingroup Joint Stock Company (Vingroup JSC), a large-sized real estate company in Vietnam, has launched the country's first local auto brand, VinFast, in September, 2017.

To engage in rolling out cars and electric scooters, VinFast's factory in Haiphorn, northern Vietnam, will reach a capacity of 500,000 units by 2025, the firm said.

Moreover, compared to Truong Hai, VinFast has an even more ambitious vision of raising a ratio of locally assembled vehicles to those made outside Vietnam in the local auto market to over 60 percent.

The company has announced to launch 5-seat sedans, 7-seat SUVs and electric motorbikes in the short term. As a well-established firm in Vietnam, VinFast is expected to break new ground for the Vietnam auto industry.

With an objective to become a major industrialized country of the world by 2020, Vietnam regards the domestic auto industry as one of main growth engines for its economy. Dampened by growing consumer hesitance resulting from the new duty rules as planned to come into effect in 2018 among ASEAN member nations, new-car sales in Vietnam dropped around 10 percent to 272,750 units in 2017 from 300,000 units seen in 2016. However, in the long run, the local auto market will gain increasing steam from a steadily growing numbers of rich and middle-class people, with local market demands for new vehicles expected to expand to 600,000 units per year by 2025.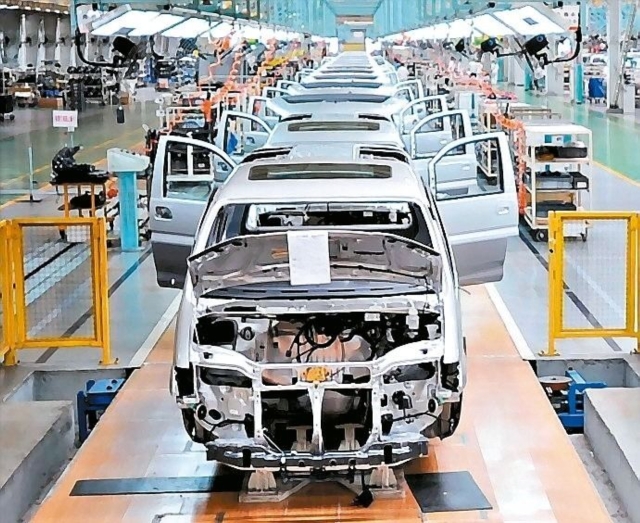 ever more automakers have actively set up their production in Vietnam, to bring significant changes to the fast-growing Southeast Asian auto market (photo provided by UDN.com).