In an exclusive interview with United Daily News Group, a local news agency and parent company to CENS, Soddy Huang, chairman of Taiwan Lighting Fixture Export Association (TLFEA), noted that special-purpose lightings, such as industrial lighting and auto lighting, will emerge as a new blue ocean for the local lighting industry, as ever more insiders are dedicated to such applications this year.

Amid the trend, the chairman suggests that Taiwan's lighting firms stand the chance to develop the market in Vietnam, especially when the Taiwanese government has actively promoted the so-called New Southbound Policy, which is designed to encourage domestic companies to expand their business deployments in Southeast Asian nations while reducing the island's over dependence on the Chinese market as seen in the past decade.

Huang indicated that popularity of LED lighting has increased at an incredible pace over the past few years. With related know-how and technology in the industry increasingly maturing, many of lighting companies around the world have been dedicated to R&D of special-purpose lightings.

Global market size of special lighting is likely to reach US$4 billion (NT$116 billion) this year, and the figure is expected to further expand to US$5.687 billion (NT$166 billion) in 2021, according to the chairman, who cited a report by LEDinside, a Taiwanese well-known information sharing platform for the lighting industry.

Also notable is that in addition to providing lighting products, some of the companies offer integrated services, including smart lighting control systems, energy saving solutions, and many others, to increase the value of their products and brands.

On another front, recently, the Taiwanese government has promoted a series of energy efficiency programs, including Minimum Energy Performance Standard (MEPS) and Voluntary Energy Conservation Label, to not just improve the quality of local people's lives, but create a friendlier environment to domestic LED lighting makers.

As part of the programs, the government has budgeted NT$5.7 billion (NT$166 billion) this year, to subsidize the replacement of T8 and T9 grille lamps in commercial buildings, as well as energy-saving lightings in residences in the next three years.

Huang added that Taiwan has been striving to enter the Comprehensive and Progressive Agreement for Trans-Pacific Partnership (CPTPP), in an effort to ensure sustainable development of its export-driven economy.

Besides, under the New Southbound policy, Vietnam, one of the member countries in CPTPP, has been a major exporting market for Taiwanese lighting suppliers in Southeast Asia. If Taiwan can be included in CPTPP, Taiwanese lighting suppliers will be able to enjoy exemption from import duties levied on their products in the member states, and attain more significant growth in sales and gross profits.

Last March, TLFEA, jointly with the local government in Bình Dương, a province of Vietnam, held a Taiwan-Vietnam lighting industry exchange conference in Taiwan, which attracted numerous companies at home and from abroad and underlined the intense interest of Taiwanese participants in exploring the Vietnamese market as an early foothold before Taiwan is allowed to join CPTPP.

Huang added, TLFEA will continue to strive for the sustainable development of Taiwan's lighting industry and to boost the industry's presence in the global market through enhancing exchanges between local suppliers and overseas partners.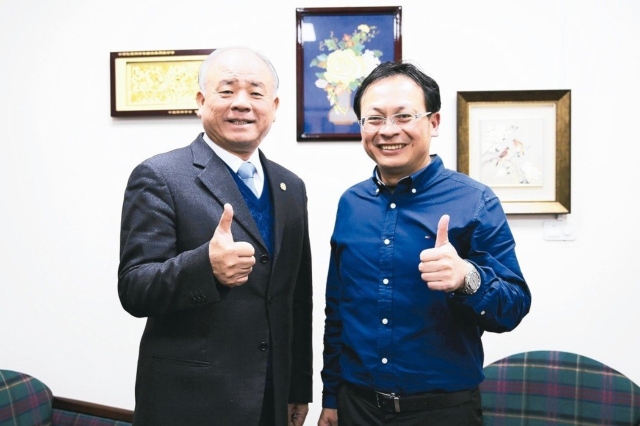 Soddy Huang (left), chairman of Taiwan Lighting Fixture Export Association (TLFEA),Chou Tsu-cheng, general manager of Economic Daily News, holds optimism about the special purpose lighting industry (photographed by Stark Tsao).