With over 2,700 exhibitors from 55 countries and 80 percent of them coming abroad, International Hardware Fair Cologne 2018 (IHF 2018), held on March 4 through 7 in Cologne, Germany, again lives up to its reputation as the world's most influential show for the global hardware industry.

A wide array of hardware products and solutions, including hand tools, locks, security systems, furniture parts, screws, products for home decorations and many others, have been exhibited in a total of six halls.

To further boost the presence of Taiwan's hardware industry, H.C. Yu, chairman of Taiwan Hand Tool Manufacturers' Association (THTMA), headed an exhibitor group of 48 companies, which totally occupy 65 booths at the show. Noteworthily, THTMA holds the booth of B035 in Hall 2.2 on the fair ground to provide comprehensive services to its member exhibitors.

On the first day of the show, several celebrities from Taiwan, namely Jiang Cheng-wei, senior executive officer of Economic Development Bureau, Taichung City Government; Chiu Hui-li, director of Industry Marketing Dept of Taiwan External Trade Development Council; Chou Siou-lung, director of Taiwan Trade Center, Duesseldorf; S.D.Huang, deputy chairman of THTMA and Lin Jian-kuo, honorary chairman of THTMA, visited the show and gave supports to Taiwanese exhibitors.

Also notable is that CENS, Taiwan's most experienced and authoritative global B2B (business-to-business) media, holds a booth at C-071 in Hall 5.2.

With a variety of effective buyer guides like Guidebook to Taiwan Hand Tools 2018, e-magazine, Taiwan Furniture Guide, and sourcing guides stored in USB flash drives, as well as real-time matchmaking services provided, CENS has attracted a large number of foreign buyers in need of reliable Taiwanese suppliers.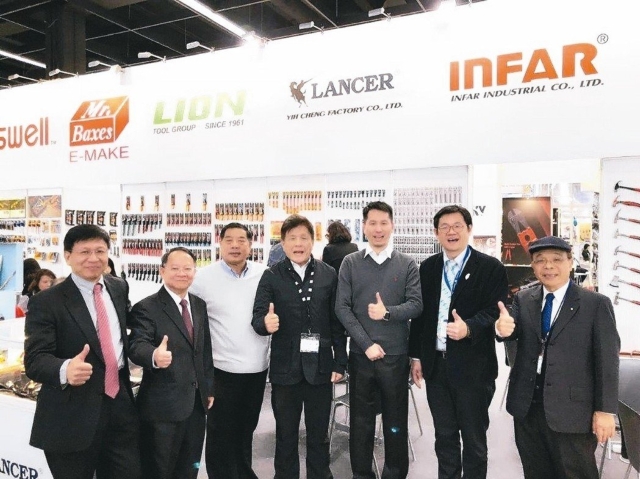 several celebrities from Taiwan, including H.C. Yu (second from left), chairman of THTMA, came to jointly gave support to the Taiwan exhibitors (photo provided by THTMA).