Fashion Auto Parts Enterprise Co., Ltd. (FST) has been dedicated to developing shock absorber assembly, shock absorber, shock strut mount kit, and other related parts. With satisfying after-market (AM) services and products of fine quality, FST has successfully built robust grounds in several overseas markets including Southeast Asia and North America.

Howard Ching, sales manager of International Trade Department of FST, noted, a shock absorber assembly is composed of multiple parts such as dampers, mount kits, springs, boots, etc., which are generally outsourced from different suppliers. Such a shock absorbers assembly would tend to be comparatively pricey and cause inconvenience to its users during repair and maintenance. To address the said problems, FST offers a one-stop shopping solution to auto suspension products, which can effectively reduce the time for installation and maintenance while keeping product's prices competitive.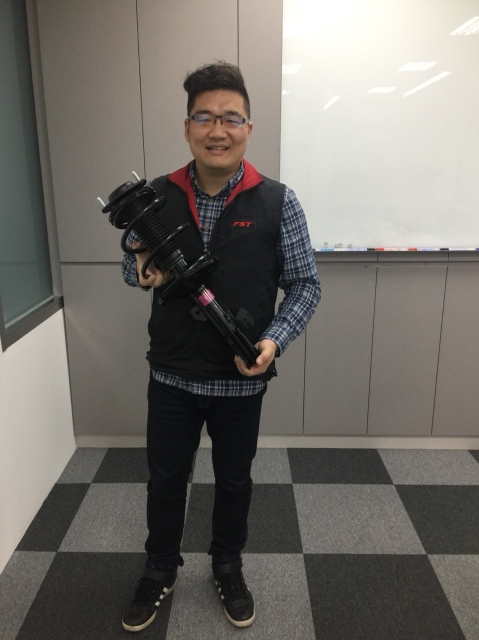 Howard Ching, sales manager of International Trade Department of FST. (photographed by Alan.Lu)
Manager Ching said, FST has put much effort on the R&D of products, material selection, quality control and resources integration. The firm insists on using original design products as a model to develop new samples. Noteworthily, during the R&D process, the firm would draft a CAD drawing clearly noting the sizes and dimensional tolerances of all the parts while using the material that meets the industry norms to make sure the manufacturing process go well.
As shock absorbers are necessary consumables for all cars, it is important for the companies to be fully aware of the material and the dimensional tolerances while assembling them; otherwise, improperly installed shock absorbers due to dimensional deviations are very likely to be worn quickly during use.
Therefore, to build a higher profile over its peers in the industry, FST insists that its products pass the demanding inspections before launch.
For instance, to make sure the durability of its buffer stoppers meet requirements, FST would carry out destructive tests with a load of 500 kgs on its stoppers 300,000 times. Only those that pass the test can be delivered to the customers.
Worth-mentioning is that FST has received the assembly orders from KYB, a global well-known shock absorber manufacturer based in Japan, thanks to its well-honed assembly technology and good product quality. Ching said that KYB has been selling the products made by FST to the OES and AM market segments in North America and Taiwan.
FST's shock absorber assemblies can be categorized into ASIASTAR (economy type), OEM5100 (OEM type) and HP5100 (sport type). Manufactured by the partnered plants of FST, ASIASTAR, with attractive price and nice quality, is designed for relatively older cars. Meanwhile, made by the company's OEM factory in Taiwan, OEM5100 has comparable quality to that of OE-caliber products but a more competitive price. On another front, HP5100 can provide enhanced stability and comfort to the driver through the adjustment of damping ratios.
Ching added, overseas markets account for 20 percent of FST's total sales. To boost the company's business abroad, the firm is actively participating in several international auto parts exhibitions, namely AAPEX in the U.S., Automechanika Shanghai in China, and AMPA in Taiwan.
FST possesses an outstanding R&D team, high precision inspection equipment and strict quality control process. Thus, the firm is capable of providing an array of shock absorber assemblies and related parts to meet demands in the OES and AM segments of the global market for shock absorber assemblies.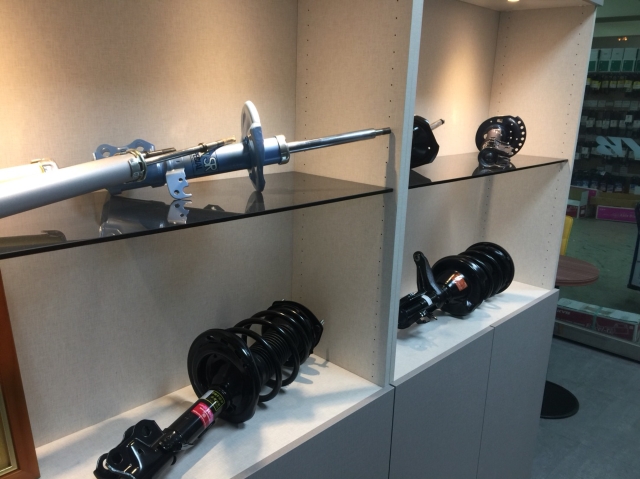 FST`s products are well-received by domestic and overseas market. (photographed by Alan Lu)