It is reported that after receiving massive orders from the globally known automaker, BMW, Hota Industrial Mfg. Co., Ltd., one of the largest precision auto transmission component makers by size, has continued to land a new contract order for its reduction gearboxes for use in electric vehicles (EVs) from Ford, an American multinational automaker. Presently, Hota's existing capacity has been almost fully booked by the new orders in the next three years.

The rumor says that Hota has been contracted by Tesla, BMW and Ford as their main supplier of reduction gearboxes, the core element for EVs. While Tesla is now the world's leading EV maker, BMW and Ford are aiming to catch up with the competitor in the big league.

Market observers noted that Hota has been supplying reduction gearbox for Tesla for a decade. With rich know-how and well-honed manufacturing skills, Hota has emerged as a reliable business partner in the EV industry. With contract orders from the said three car manufacturers, the Taiwanese firm is very likely to help boost Taiwan's presence in the global EV parts industry.

Facing the rumors, Hota confirmed that it has just won new contract orders for reduction gearboxes from two big-name automobile makers in Europe and the U.S., but it declined to reveal the further details of its customers.

To fill the overwhelming orders, Hota is actively setting up more AI-controlled production lines to ramp up its capacity and production efficiency.

It is said that Hota's new client from Europe is exactly BMW, which has placed an order for reduction gearboxes for production of 300,000 EVs. Hota is scheduled to start mass production of the ordered component in the third season next year.

Meanwhile, the firm's another client from the U.S. is believed to be Ford, which is reported to have ordered the component for making an estimated 500,000 EVs, and Hota will fill the order starting in the first season of 2020.

Market insiders said that in addition to BMW and Ford, many other famous car makers and EV startups from Europe, the U.S. and China have been in talks with Hota for the possibility of cooperation.

Driven by explosively increasing orders from customers, Hota scored annual revenue of NT$6.716 billion (US$230 million) last year, representing for a year-on-year growth of 16.7 percent and a new high record for all time. Worth mentioning is that the company has posted double-digit YoY growths in its annual revenue for consecutive eight years.

More notable is that the firm's revenue for the past two months of this year totaled NT$1.137 billion (US$39 million), also a new record.

Market insiders noted that the global EV industry will experience a significant expansion by 2020, by which Hota is very likely to build a solid ground in the industry.

According to schedules from several automobile makers, their mass production for EVs will begin continually between the fourth season of 2019 and the second season of 2020. To prepare for the booms, many of EV parts makers, including Hota, have been busy applying for certification by their customers.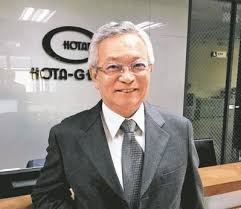 David Shen, Chairman of Hota. (photo provided by UDN.com)